First lady Melania Trump defended her choice of red Christmas tree decorations after they generated criticism on social media.
"We are in 21st century and everybody has a different taste. I think they look fantastic," the first lady said during a panel discussion on the opioid epidemic at Liberty University. "I hope everybody will come over and visit it. In real life they look even more beautiful and you are all very welcome to visit the White House, the people's house."
The criticism about the Christmas trees came after Trump posted a video on Twitter Monday, revealing the red-colored holiday theme inside the White House. Despite its festive look, some Twitter users pointed out that the blood red Christmas trees resembled costumes from a popular Hulu series, "The Handmaid's Tale." Set in a dystopian future about a woman living in a totalitarian society, the streaming service's drama has won six Emmy Awards during its first two seasons and recently confirmed it will have a third season.
According to the White House, the color red was a symbol of valor and bravery, matching the stripes found in the presidential seal.
Vickie Wenstrup, a florist from Amelia, Ohio, designed the now-iconic red berry Christmas trees. She was one of dozens of florists and decorators chosen for the volunteer job.
"It's something I've always wanted to do," Wenstrup, who runs Amelia Florist Wine and Gift Shop, told Cincinnati ABC affiliate WCPO. "I just never dreamed I would do it or get to do it.
"It is literally a miracle that we finished them and they turned out and looked as perfect as they did, because mechanically it was a lot of work."
When asked by Eric Bolling, a political commentator and author, if she gets "enough credit from the media," Trump replied, "They would like to portray different stories and focus on different, unimportant stuff really. And I'm here to shine the light on important stuff."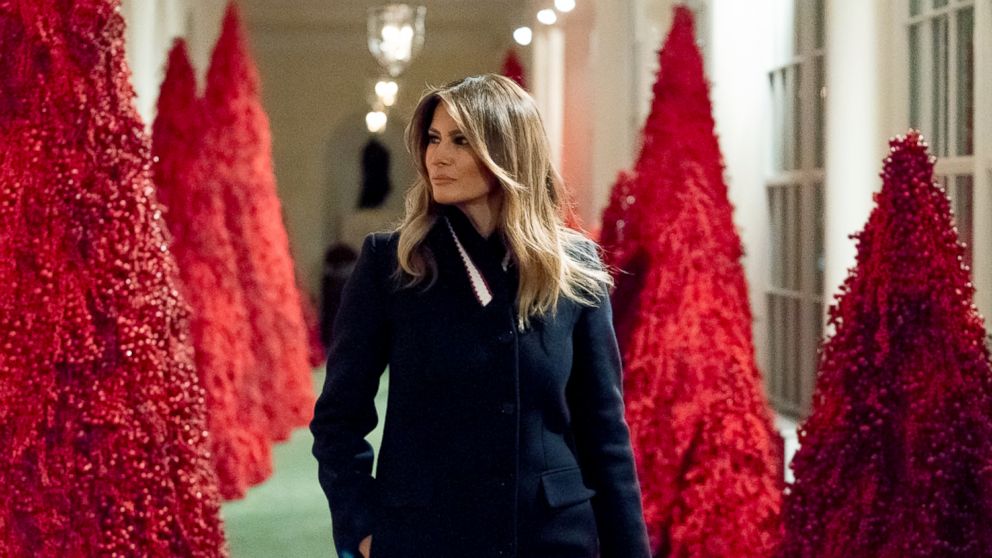 During the discussion, Trump also mentioned that she knew she would be criticized once she began her "Be Best" campaign. The first lady's "Be Best" campaign focuses on her anti-bullying and anti-drug use initiative, promoting children's well-being.
"But I will do what is right for the next generation and to be focused on helping how to use it and how much to use it -- the social media." she said. "So next generation can be respectful and kind and also sometimes you need to fight back."
Along with Trump, Homeland Security Secretary Kirstjen Nielsen and Health and Human Services Secretary Alex Azar took part in the town hall discussion at the university in Lynchburg, Virginia.