— -- Miley Cyrus isn't happy with Sen. Tom Cotton.
The pop star took issue with the Arkansas Republican's comments about his home state's religious freedom bill when he told CNN on Wednesday that Americans "need a sense of perspective about our priorities."
Miley Cyrus Expresses Outrage Over Controversial Indiana Law
Indiana Lawmakers Propose Change to Religious-Freedom Law
Religious Freedom: The Difference Between Indiana's Law and All the Others
"In Iran they hang you for the crime of being gay," Cotton said Wednesday evening, before moving on to Iran's nuclear program. "We should focus on the most important priorities our country faces right now," he said.
Cyrus weighed in today about the comments, tweeting Cotton's Washington office number to her 19 million followers, urging them to call and "stir some s*** up!"
When asked today in Washington about his comments and Cyrus' reaction, Cotton did not mention the singer, instead saying, "I'll always stand up to defend religious freedom."
"Religious freedom is a founding principle of this country," Cotton said. "In fact it goes way back past our founding -- that's one of the reasons the puritans and pilgrims came here. So I'll always stand up to defend religious freedom. I'll also always stand up to keep America safe."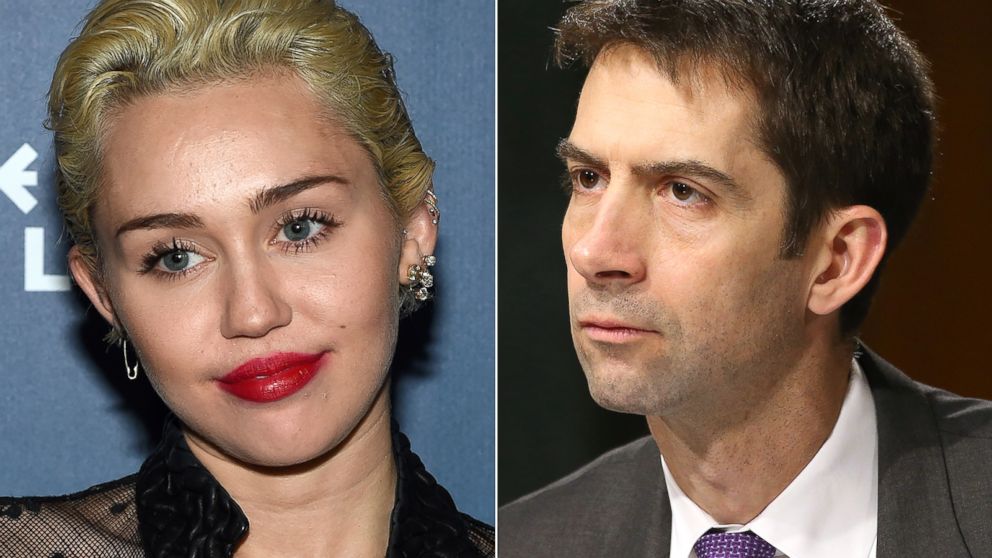 Arkansas Gov. Asa Hutchinson, a Republican, signed an updated version of the religious freedom bill into law today, after requesting changes to the initial bill on Wednesday.
This isn't the first time Cyrus has spoken out on the subject of religious freedom laws. She criticized Indiana Gov. Mike Pence soon after he signed that state's religious freedom law, and, in a recent interview with TIME Magazine, described supporters of the Indiana law as "dinosaurs" that are "dying off."