Vice President Kamala Harris issued a call to action Sunday, commemorating the 50th anniversary of the Roe v. Wade decision and lambasting bans on abortion in several states since constitutional protection for the procedure was removed by the Supreme Court last year.
In a speech in Tallahassee, Florida, where state lawmakers are considering more stringent abortion restrictions, Harris compared the fight for abortion access to that for various other civil rights and warned that existing bans put both women and health care professionals at risk.
"For nearly 50 years, Americans relied on the rights that Roe protected. Today, however, on what would have been its 50th anniversary, we speak of the Roe decision in the past tense. Because last June, the United States Supreme Court took away that constitutional right, a fundamental right, a basic freedom from the people of America, from the women of America," she said.
"The right of every woman in every state in this country to make decisions about her own body is on the line. And I've said it before, and I'll say it again: How dare they! How dare they!" the vice president said to cheers.
"Today, we are fighting back," she said. I'm pleased to announce that President Biden -- I'm announcing it today -- has issued a presidential memorandum on this issue."
In the memo, Biden directed the secretary of health and human services, along with the U.S. attorney general and the homeland security secretary, to explore ways to make it easier for patients, providers and pharmacies to access, prescribe and provide abortion medication. It also directs them to work to ensure patients can get abortion medication from pharmacies "free from threats or violence."
The abortion pill mifepristone, which is approved by the Food and Drug Administration, is increasingly being targeted for restrictions in Republican-led states that want to limit abortions.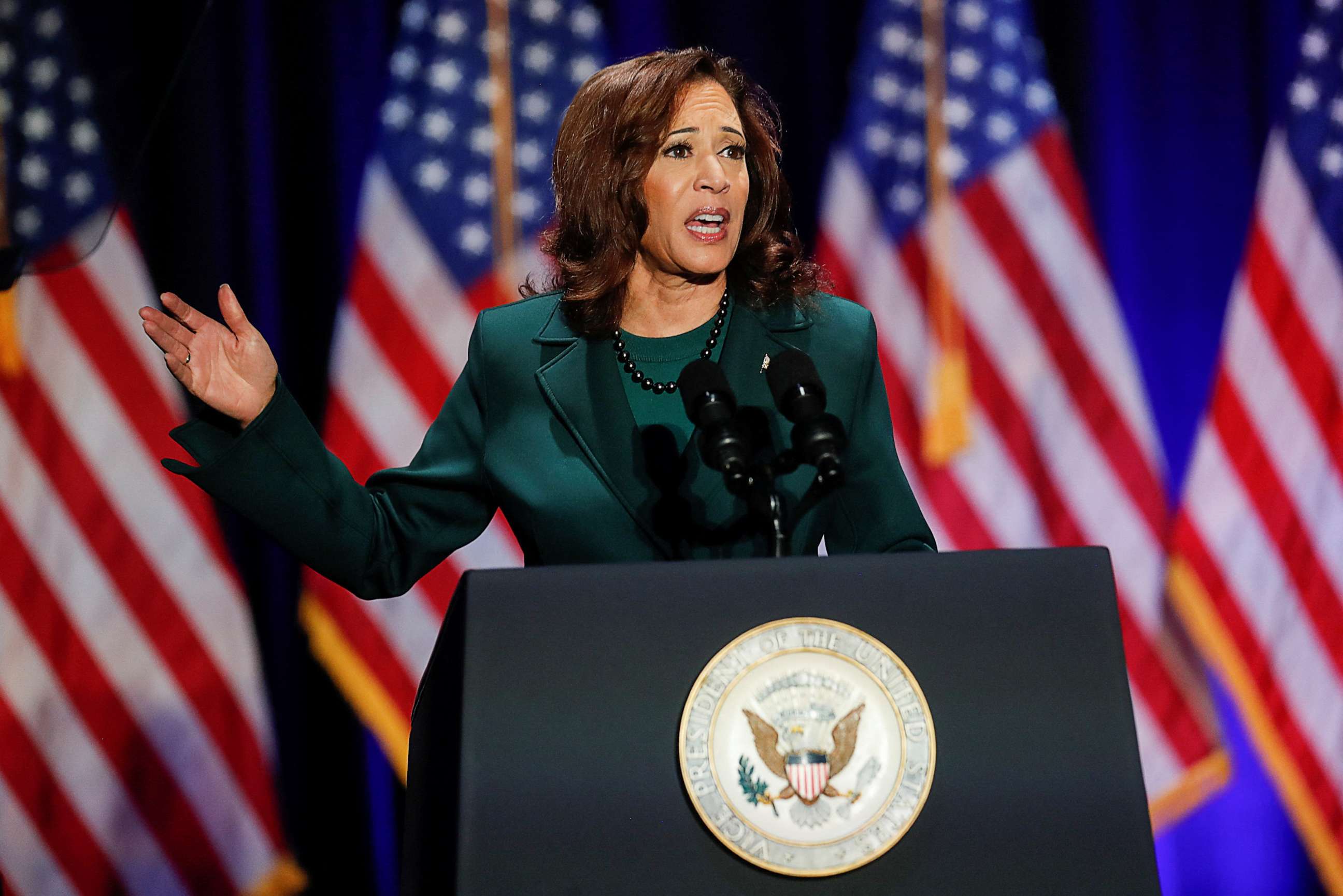 Many states with abortion bans restrict the availability of mifepristone either by making the drug illegal or cutting down on who can dispense it.
However, the FDA said earlier this month that it will permit pharmacies to offer abortion pills to patients with a prescription who live in states where abortion is legal.
"Members of our Cabinet and our administration are now directed, as of the president's order, to identify barriers to access to prescription medications and recommend actions to make sure that doctors can legally prescribe, that pharmacies can dispense and women can secure safe and effective medication," Harris said in her speech in Tallahassee.
She also called for a federal law to codify the right to access abortion, a proposal that has stalled with legislators.
"Know this, President Biden and I agree, and we will never back down," she said. "And we know, we know, this fight will not be won until we secure this right for every American. Congress must pass a bill that protects freedom and liberty, a bill that protects reproductive rights, and President Biden will sign it."
Since Roe was overruled, Republican-led states across the country have imposed various bans on abortion, some with exceptions for rape, incest and considerations for the life of the mother.
A 5-4 majority on the Supreme Court ruled in June that Roe was "egregiously wrong from the start" and that the Constitution "does not prohibit the citizens of each State from regulating or prohibiting abortion."
Some anti-abortion activists are pushing for more sweeping regulations such as a federal ban, which has divided Republicans in Washington but united Democrats in opposition.
"Let us not be tired or discouraged, because we're on the right side of history," Harris said in her speech. "So we will continue to stand together in the fight to protect the freedom and liberty of all people, of all women everywhere," she said. "And here now, on this 50th anniversary, let us resolve to make history and secure this right."
Harris led a call-and-response with the audience, asking, "Can we truly be free?"
"Can we truly be free if a woman cannot make decisions about her own body?" she said as attendees replied, "No!"
"Can we truly be free if a doctor cannot care for her patients?" she asked. "No!" they said.
President Joe Biden commemorated the 50th anniversary of the Roe v. Wade decision in a statement, saying that Republicans are bent on curtailing access to abortion even more after last year's Supreme Court ruling and despite the failure of anti-abortion measures in Kansas, Kentucky and elsewhere.
"Since the Supreme Court's decision, Americans, time and time again, have made their voices heard: women should be able to make these deeply personal decisions free from political interference," Biden said. "Yet, Republicans in Congress and across the country continue to push for a national abortion ban, to criminalize doctors and nurses, and to make contraception harder to access. It's dangerous, extreme, and out of touch."
The president, like Harris, urged Congress to act.