The White House on Wednesday announced Vice President Kamala Harris would travel to El Paso, Texas, on Friday, to make her first trip to the border amid growing pressure from Republicans, and some border Democrats, to view the migrant crisis firsthand.
Harris was tapped by President Joe Biden on March 24 to lead the administration's effort to tackle the root causes of migration from Central America and challenges dealing with the flow of migrants, especially families and unaccompanied children, at the U.S-Mexico border.
At Wednesday's White House briefing with reporters, press secretary Jen Psaki defended the timing of Harris' trip, which she will make with Homeland Secretary Alejandro Mayorkas, but she did not give a clear answer as to why now was deemed the moment to visit.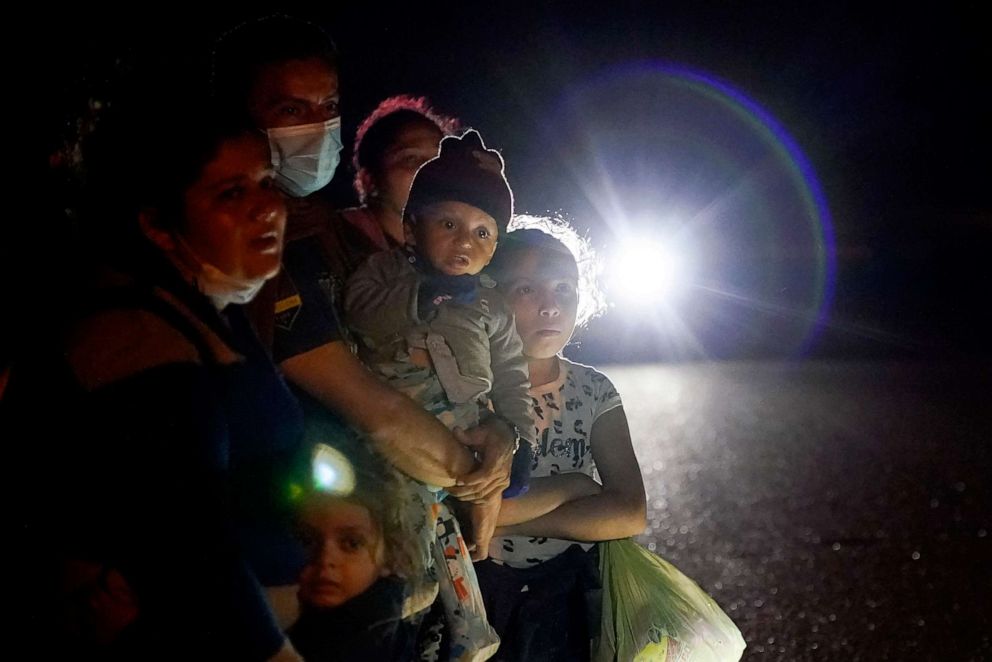 The White House had previously cited COVID-19 and security concerns for Harris and President Joe Biden not going to assess the crisis in person, but Psaki couldn't definitively say what's changed to finally have Harris go there, only that the vice president's office "assessed" with DHS that had become "the appropriate time to go."
"I will note that we're at this point, in part, because we've made a great deal of progress," Psaki said. "And if you look just to a couple of months ago when 6,000 children were in border patrol facilities, we're now at the point where there's far less than 1,000. If you look to just a couple of months ago when there were children who were waiting in border patrol facilities for more than 100 hours and they were certainly overcrowded, now it's less than 30 hours. In April, there were 22,000 kids in HHS facilities, and now that number is 14,000. Is there still more work to do? Absolutely."
Earlier this month, when asked by NBC News' Lester Holt in Guatemala, during her first foreign trip as vice president, why she hadn't yet visited the border, she appeared to dodge the question, replying she would be going "at some point," and that other administration officials have been there. When Holt pressed her on why she herself hadn't gone, Harris answered, "and I haven't been to Europe" and that she "didn't understand the point" he was trying to make.
Her trip also comes ahead of a visit to the southern border by former President Donald Trump announced for June 30, after he was invited by Texas GOP Gov. Greg Abbott.
Psaki claimed that political concerns didn't play into the timing of Harris' trip.
"I would say that we have no way to predict what president -- former President Trump will say when he -- when he goes to the border, we can only guess" she said. "I don't think our view is that the vice president making a trip to the border with the secretary of Homeland Security to assess and take a look at progress that's been made is going to prevent or change what the former president of the United States says when he goes to the border in a couple of days."
Even though Harris is headed to Texas, she'll be visiting El Paso, not the Rio Grande Valley, where a temporary U.S. Customs and Border Patrol facility in Donna is located and was overwhelmed for months earlier this year with the amount of unaccompanied minors arriving in record levels. Border crossings are also more prevalent in the RGV than El Paso.
Republicans were quick to keep up their drumbeat that it's taken 91 days for Harris to schedule a trip to the border.
In a statement, GOP Sen. John Boozman, R-Ark., said Harris' trip was "long overdue," Texas Republican Sen. John Cornyn tweeted out a map showing the how far El Paso is from where the influx of border apprehensions are taking place in the Rio Grande Valley, and his fellow Texas Republican, Sen. Ted Cruz, said El Paso "does not happen to be the focus of the crisis."
"She is going where the height of the problem isn't," Cruz said on Fox News Wednesday. "She does not want the cameras to see the Joe Biden cages with kids in cages."
Going to El Paso also gives Harris better political optics because Democratic Rep. Veronica Escobar, who represents the city, has been a friendlier to the Biden administration, compared to Democratic Rep. Henry Cuellar, whose district represents part of the Rio Grande Valley, and has publicly and continuously urged both Biden and Harris to visit the border.