House Republicans took their attack on Manhattan District Attorney Alvin Bragg to New York City on Monday, holding a hearing on what they say is a local crime crisis, a move Democrats lambasted as a "political stunt" aimed at protecting former President Donald Trump.
GOP Rep. Jim Jordan convened the House Judiciary Committee Monday morning at the Jacob Javits Federal Building in Manhattan -- just around the block from the Bragg's office.
"In this country, justice is supposed to be blind, regardless of race, religion or creed. However, here in Manhattan, the scales of justice are weighed down by politics," Jordan said. "For the district attorney justice isn't blind; it's about looking for opportunities to advance a political agenda, a radical political agenda."
Before the hearing, at Mayor Eric Adams' office, the top Democrat on the committee, Jerry Nadler of New York, swiped at Jordan, saying he "should know better than to take his tired act to Broadway." He continued to admonish his colleague for the field hearing in his opening remarks.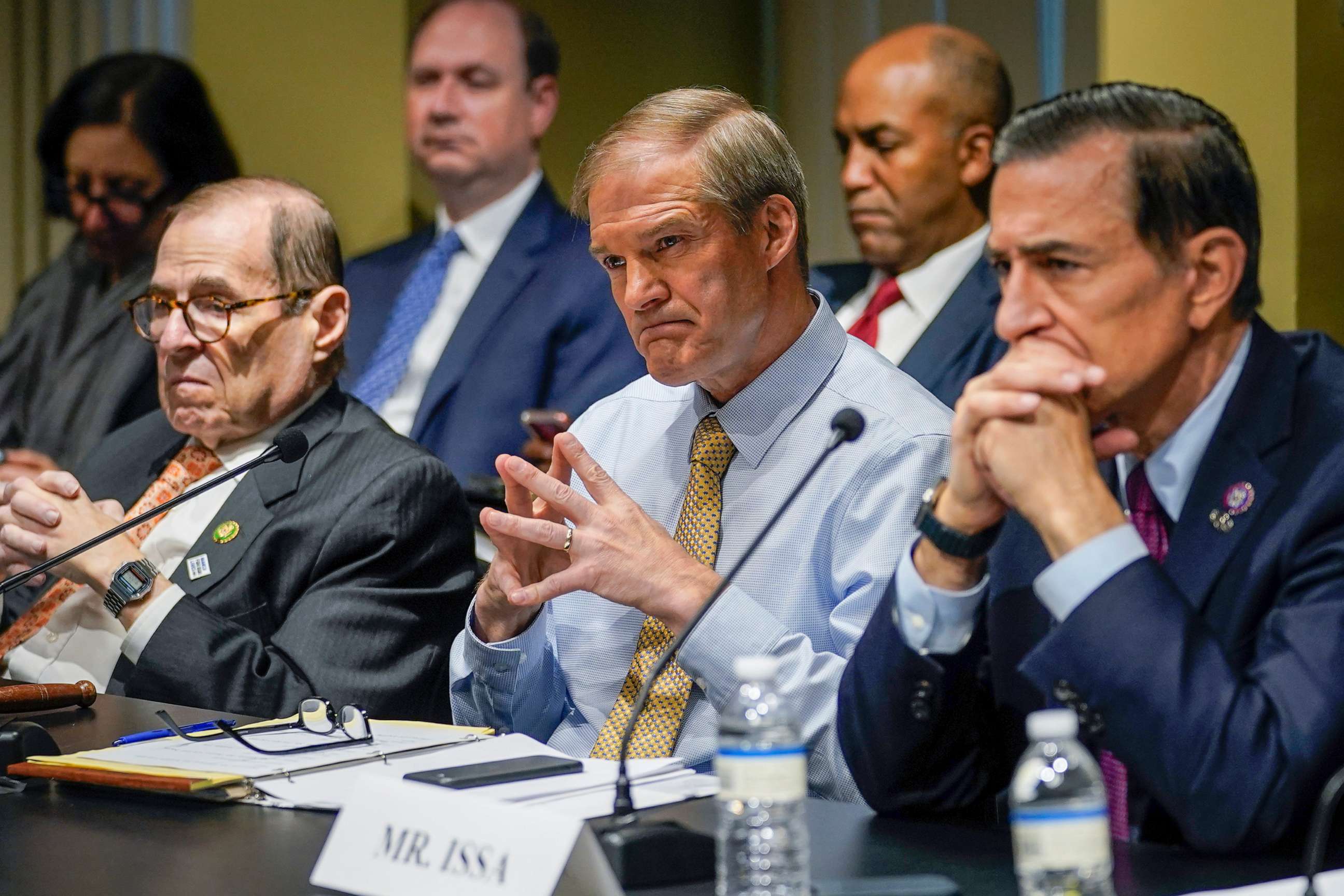 "We are here today in lower Manhattan for one reason and one reason only: the chairman is doing the bidding of Donald Trump," Nadler said. "Committee Republicans designed this hearing to intimidate and deter the duly-elected district attorney of Manhattan from doing the work his constituents elected him to do."
"They are using their public offices and the resources of this committee to protect their political patron, Donald Trump. It is an outrageous abuse of power. It is, to use the chairman's favorite term, a weaponization of the House Judiciary Committee," he added, referring to the Select Subcommittee on the Weaponization of the Federal Government, which Jordan also chairs.
Earlier this month, Bragg brought up Trump on a 34-count indictment, drawing fire from Republicans who claimed he should be focused on city crime instead.
At a sometimes raucous hearing interrupted by protesters angry at Bragg, Republican-picked , witnesses told lawmakers that the prosecutor's policies had made the city more dangerous while Democrats pushed back with statistics to claim other cities were much more so.
Among the witnesses were Jose Alba, a former bodega clerk who faced a murder charge after fatally stabbing an attacker in 2022; Joseph Borgen, the victim of an antisemitic attack in Times Square; as well as Madeline Brame and Jennifer Harrison, two women affected by violent crime who've become advocates for victims'rights in New York. Harrison recently told Fox News that crime victims are "distraught" over Bragg's leadership.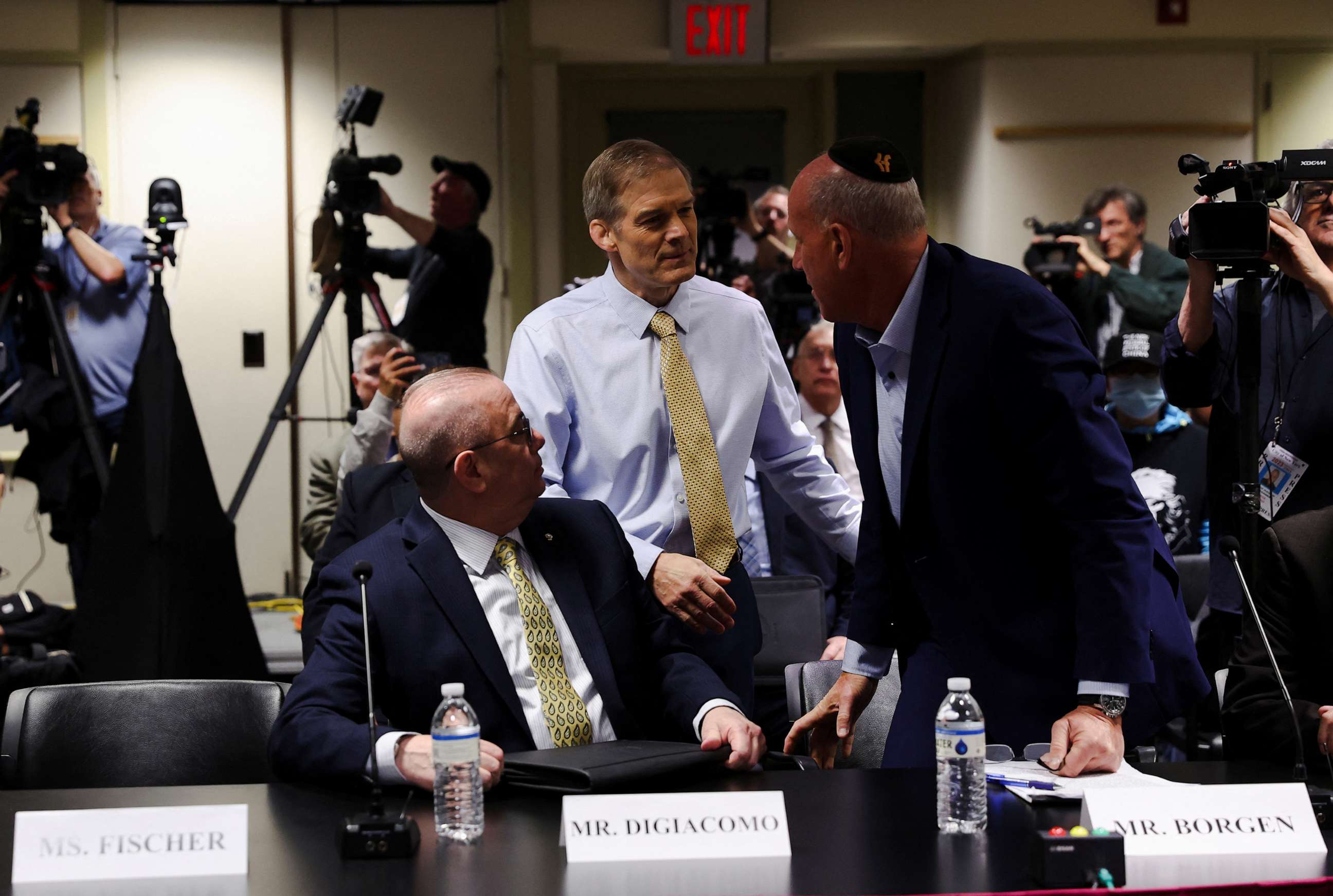 Jordan said they were "victimized by a justice system that cares more about political correctness than punishing the criminals who've harmed victims and harmed their family."
Robert Holden, a Democratic New York City councilman, and Paul DiGiacomo, the president of the New York City's Detectives' Endowment Association, also appeared before the committee, critical of Bragg's policies.
Bragg's record as district attorney is a frequent target of Republicans, but the issue intensified in recent weeks over his prosecution of Trump. Jordan in particular has emerged as one of Bragg's biggest foes on Capitol Hill as he leads a congressional probe into Bragg's investigation of Trump.
Tensions boiled over last week when Bragg suedJordan for what he called an "unprecedentedly brazen and unconstitutional attack by members of Congress."
Jordan and the Republican-controlled Judiciary Committee responded Monday to the lawsuit, calling it "extraordinary and unconstitutional" for Bragg to attempt to prevent a witness from complying with a congressional subpoena.
Bragg has sued to stop enforcement of a subpoena to Mark Pomerantz, a one-time leader of the criminal investigation into former President Donald Trump, calling the subpoena and the investigation it resulted from a partisan attempt to "intimidate and attack" the district attorney.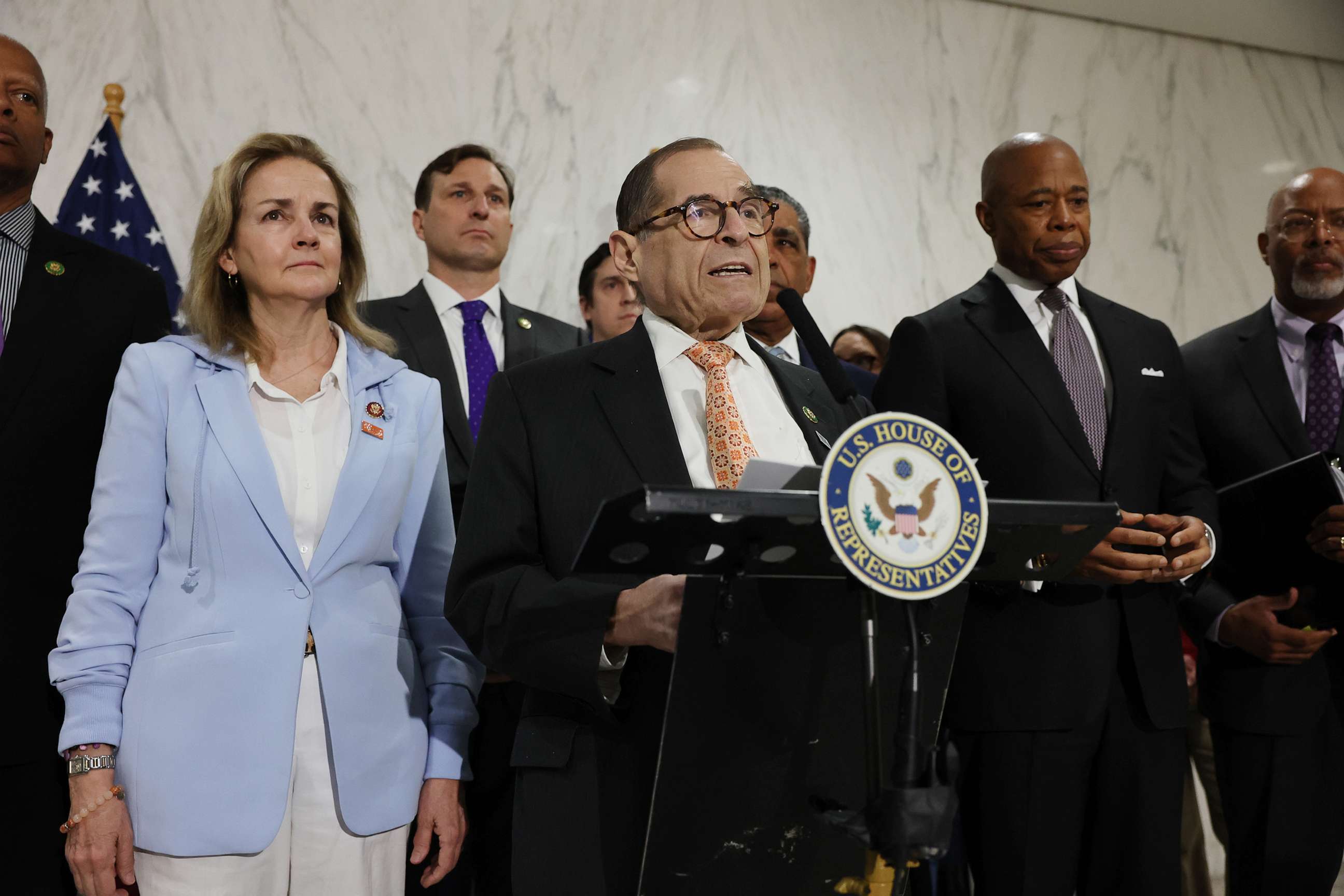 In a filing Monday, lawyers for the House Republicans argued the investigation is legitimate because "the prospect of a politically motivated prosecution of a former President could give rise to issues of substantial federal concern."
The Monday committee hearing has prompted fierce debate over crime in Democratic and Republican areas, with each side pointing to various statistics to make its case.
Adams, during a recent news conference, said the House GOP's field hearing made "no sense."
"I'm a little disappointed that they're coming here complaining about crime here when per capita, their crime is through the roof," Adams said.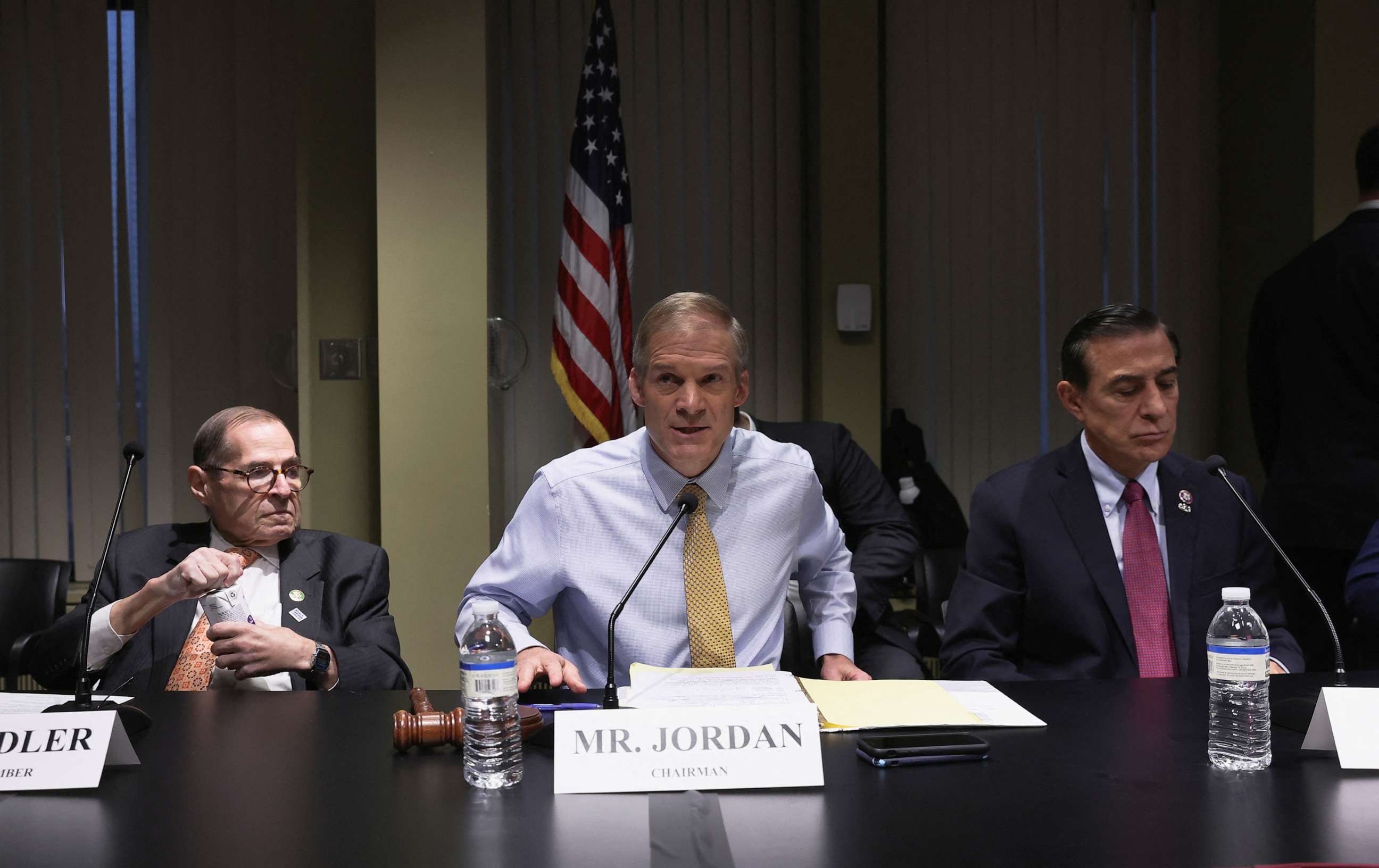 "Don't be fooled, the House GOP is coming to the safest big city in America for a political stunt," a spokesperson for Bragg's office quickly fired back after the hearing was announced.
Bragg's office has highlighted data that showed violent crime in Manhattan has dropped in the first quarter of 2023 compared with a year ago. Murders are down 14%, shootings fell 17% and burglaries dropped 21% in the borough, per data from the NYPD.
They have also taken aim at Jordan specifically, pointing to one analysis which found the murder rate in New York City is lower than that of Columbus, Ohio.
"In D.A. Bragg's first year in office, New York City had one of the lowest murder rates of major cities in the United States (5.2) nearly three times lower than Columbus, Ohio (15.4)," Bragg's office said.
Jordan responded on Twitter, "If New York City is the 'safest big city in America,' then why are so many people leaving?"
While New York County had a population decline of 98,505 in 2021 mostly attributable to net domestic outmigration, the county -- home to Manhattan -- had population growth of 17,472 in 2022, according to data released last month by the United States Census Bureau.
The GOP caucus of the House Judiciary Committee pointed to a website that provides neighborhood statistics called NeighborhoodScout.com, which showed that the violent crime rate for Manhattan was 5.21 per 1,000 residents, compared to 4.26 for Mansfield -- though both cities had higher rates than most U.S. cities.
ABC News' Aaron Katersky contributed to this report.