Increasing threats to Homeland Security include burned animal carcass left on staffer's porch
DHS said in a letter to employees that threats against staffers are increasing.
Department of Homeland Security employees are seeing violent threats with greater frequency because of the president's immigration policy, according to an official with knowledge of a recent threat assessment.
The department determined that there was a "heightened threat against DHS employees" in response to recent government actions surrounding immigration, according to a letter sent to employees over the weekend.
"This assessment is based on specific and credible threats that have been levied against certain DHS employees and a sharp increase in the overall number of general threats against DHS employees," Claire Grady, acting deputy secretary of Homeland Security, wrote to employees on Saturday.
In early May, the Trump administration announced it would begin enforcing a zero-tolerance immigration policy -- criminally charging everyone who illegally crossed the southwest border. This led to around 2,300 children being separated from their parents as they faced prosecution.
The family separations sparked outrage among advocates and lawmakers across the country, and on Wednesday Donald Trump signed an executive order that said he would keep families together during criminal proceedings.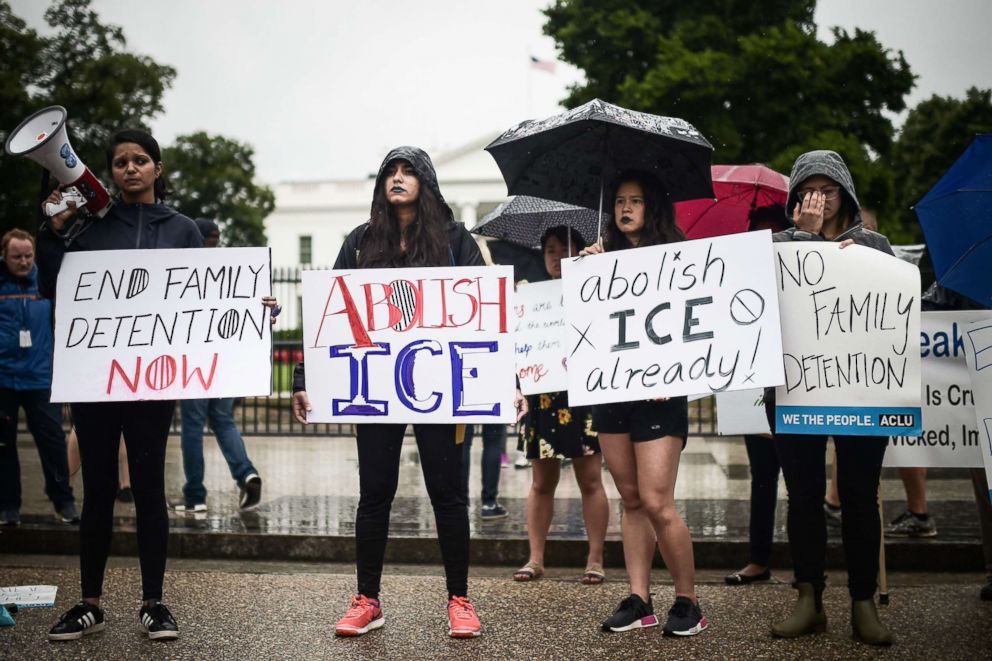 Around two dozen threat reports were issued in the past few days, primarily against Immigration and Customs Enforcement officers, according to the same official. Each of these reports is generally related to a specific online threat. All employees are personally contacted by DHS security if they are the target of a violent threat, the official said.
In one example, a senior DHS official living in the Washington. D.C. area found a burnt and decapitated animal on his front porch, according to an official with knowledge of the incident.
The uptick in threats comes amid multiple protests directed at ICE and Customs and Border Protection officers, as well as the DHS secretary. It's unclear exactly how much the threats have increased.
In Portland, Oregon, protesters calling themselves Occupy ICE PDX camped out in front of an ICE field office for days, The Oregonian reported.
Portland Mayor Ted Wheeler said he supported the protesters, tweeting on Wednesday that he did not want the Portland Police Department "to be engaged or sucked into a conflict, particularly from a federal agency that I believe is on the wrong track."
He added that the demonstration "seemed to be very peaceful."
Last week, Homeland Security Secretary Kirstjen Nielsen was heckled while eating at a Mexican restaurant in Washington, D.C., by group calling itself the Metro DC Democratic Socialists of America.
"You're eating a Mexican dinner as you're deporting tens of thousands of people separated from their parents," chanted the protesters.
And last Friday, demonstrators played ProPublica audio of crying children outside her Virginia home while chanting "shame!"
In addition to the protests, thousands of employees have had personal data leaked on social media, the letter to employees said. On Thursday, WikiLeaks published information on more that 9,000 supposed current and former ICE employees, saying it is important for "increasing accountability," according to The Washington Post.
"People can disagree on policy," ICE spokeswoman Liz Johnson said in a statement to ABC News, "but it is unconscionable to target our employees and advocate violence against federal law enforcement officers."