Special Counsel Robert Mueller and his team have interviewed dozens of witnesses since his appointment nearly one year ago, but the process is largely the same.
In most cases, witnesses arrive at a nondescript office building in Washington, D.C., a discreet government annex maintained by the Department of Justice. Some have walked right through the front door, in full view of the swarm of reporters scanning the foot traffic, while others have opted to slip through the underground parking garage, where cameras cannot capture their arrivals.
They are typically ushered into a small conference room, greeted by a team of prosecutors and presented with a list of about 100 names.
The first question is simple: 'Whom do you know?'
A book of photos is used to refresh memories, and as hours of questioning gets underway, Mueller himself has been known to slide into the room to listen, and then just as quietly, slide out.
Little is known about the size, scope and direction of Mueller's highly secretive probe Russian efforts to interfere in the 2016 election beyond the clues offered by the few guilty pleas and handful of indictments, but according to one witness, a years-worth of interviews has yielded no small amount of information.
"I'll tell you, they know a lot," former Trump adviser Michael Caputo told ABC News following his own interview with Mueller's team. "They have everything."
A similar story is emerging from these individual encounters. Several sources who have met with the special counsel were asked about specific individuals: when they first met, how often they spoke, what they spoke about, as well as anything they might heard about them. Should a witness not recognize a name, investigators might move on or offer hints, sources said, to jog their memories.
One source who's been interviewed by the Special Counsel told ABC News they'd describe the prosecutor and investigators the person met with as "polite and professional." The source added that investigators they met with made it clear they "just wanted to know the facts."
"They said that we should have no concerns and just wanted clarification," the source told ABC News. The source added that the investigator then made a joke about the use of colorful language in emails the source sent and was being asked about, which made the Mueller prosecutor in the room laugh.
Three former Trump campaign aides – George Papadopoulos, Lt. General Michael Flynn and Rick Gates – have agreed to cooperate after pleading guilty to lesser charges. As part of their cooperation agreements, both Flynn and Gates have met with the special counsel's investigators at that same Washington office building several times over the last several months to answer questions about their time on the campaign and about other individuals associated with its activities.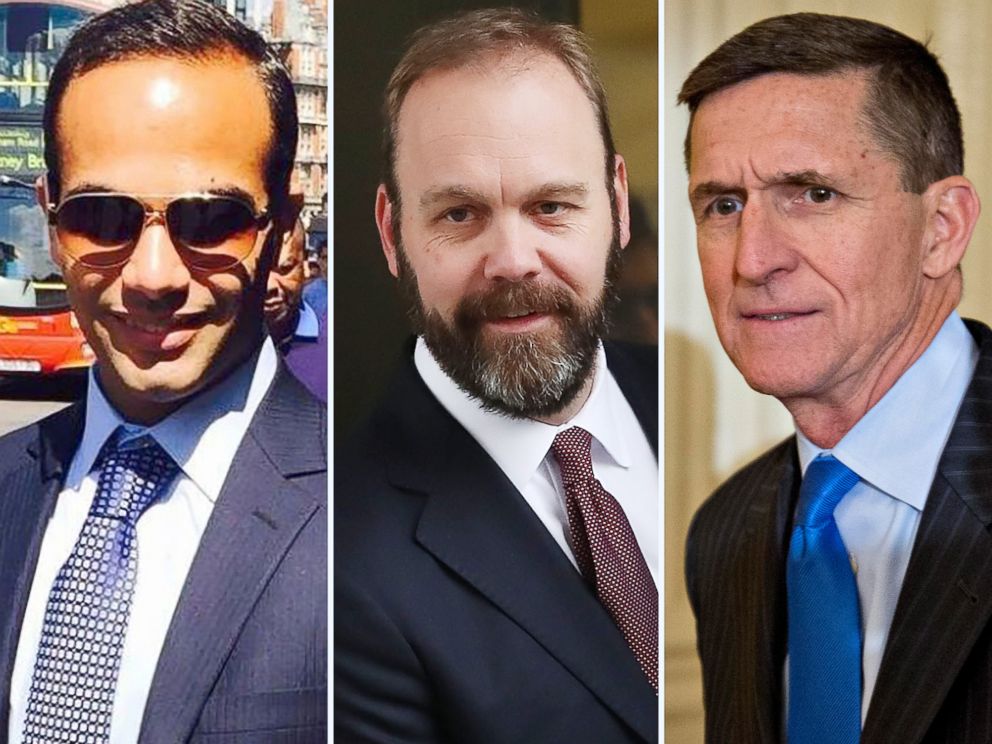 Other interviews have taken place offsite. Simona Mangiante, whose husband George Papadopoulos, became the first former Trump aide to agree to cooperate with the Mueller team, said she was summoned to an interview at the FBI's offices in Chicago, where she was living, and was struck by in her interview the focus of investigators' questions.
"You are questioned about a single segment of some [topic where there is a] bigger picture that you don't necessarily understand in the moment you answer these questions," Mangiante said.
Still others, usually those involving witnesses who live overseas, have been conducted in the bowels of U.S. airports after federal agents have surprised them in passport control lines and escorted them to customs offices.
Ted Malloch, controversial author and Trump supporter who lives in London, was stopped in Boston's Logan Airport and said agents were "extremely professional" and even "humorous."
"They talked to me for about 50 minutes, and it was actually quite friendly," Malloch said.
Stephen Roh, a German lawyer with ties to the suspected Russian agent -- a professor who is described in court papers as having introduced Papadopoulos to Russian officials, recounted a far less pleasant interaction in a paper published by the energy firm where he works. Roh wrote that he "was fished from the passport control queue by the FBI and his family was retained with armed police force. There followed hours of interrogation and search by the FBI, a team of Special Counsel Robert Mueller investigating Russia-Gate."
In an email with ABC News, Roh said that while the encounter was "intimidating" to his children, he now considers the entire affair "irrelevant."
Robert Anderson, a 20-year veteran of the FBI who is now in private practice, said the airport has proven to be a convenient place for federal agents to interview witnesses in a controlled, safe environment.
"It's a choke point," Anderson said. "You know someone has to come through there. Once they are in the country they are lost."
A year into the probe, the special counsel has shown no signs of slowing down. Multiple individuals who have been contacted by the special counsel for an interview told ABC News they are still waiting on an interview date, and other sources said that some witnesses have been told that they will need to return for follow-up interviews.
As Trump's allies have begun calling for a swift end to the probe, one of his associates told ABC News he believes there is still much work to be done.
"These guys have been doing a lot of digging but I think they're still following leads on things that they're not really quite close enough to yet," Caputo said. "They have probably more people to talk to."
ABC News' Ali Dukakis and Katherine Faulders contributed to this report.