Iowa's Most Oddball (Edible) Political Rites of Passage
Politicians must run the Iowa culinary gauntlet to be considered a contender.
October 25, 2013, 6:15 PM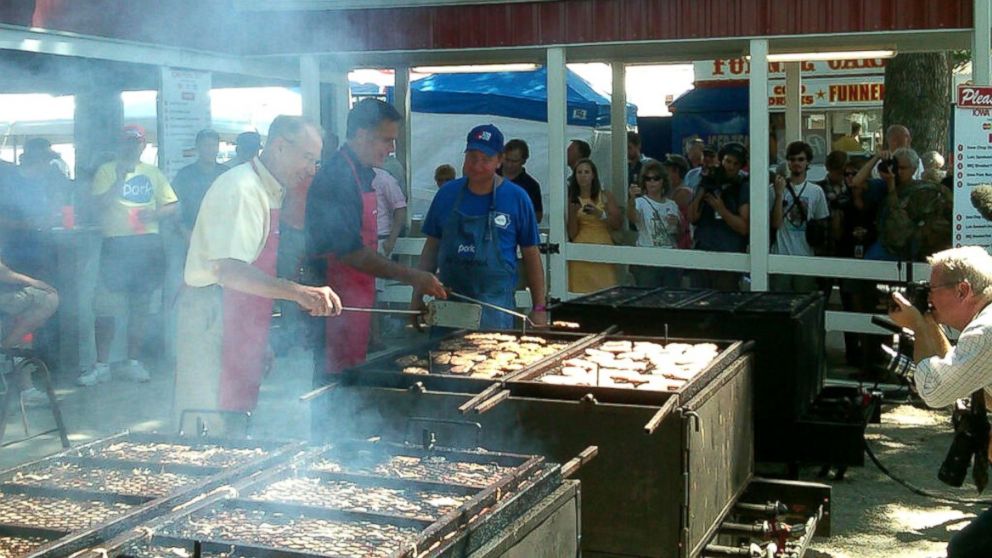 Oct. 25, 2016— -- intro: As the drumroll for the 2016 presidential race begins, would-be candidates in both parties have already begun trekking to early voting states.
Iowa has received the most attention, by far. And to win the caucuses in the Hawkeye State, kissing babies and shaking hands is hardly enough.
To be considered a legitimate contender in the state that traditionally kicks off the presidential nominating process, candidates need to do a lot more than just campaign -- they have to run Iowa's culinary gauntlet, grubbing on state delicacies that range from fried pork chops on a stick to a pizza buffet to ice cream sundaes.
And all the eating, snacking and chewing often leads to presidential hopefuls take out a couple of notches on their belts.
Here's a look at the seven most oddball -- edible -- political rites of passage in the all-important state of Iowa:
quicklist: 1title: The Iowa State Fairtext: A state institution since 1854, the Iowa State Fair, now held in Des Moines, attracts over one million visitors a year.
Potential presidential candidates can often be found at the fair's "Pork Tent," flipping chops and patties courtesy of the Iowa Pork Producers Association.
A number of recent presidential hopefuls have donned the association's "Pork: Be Inspired" apron and shown off their sometimes questionable grilling skills, including Mitt Romney (who famously dropped a chop), Rick Santorum, Newt Gingrich, Tim Pawlenty, and, in 2007, Hillary Clinton and Barack Obama.
Along with the fair's famous 102-year-old Butter Cow (yes, it's literally a cow made of butter), a number of politicians always dig into the fair's numerous offerings of fried treats on a stick. With choices including corn dogs, pickles and Snickers bars -- even fried butter -- it's often not a pretty sight.
Politicians' stomachs finally get a break at the fair's "soap box," which was a major draw in 2011 for a number of stumping GOP candidates, including Herman Cain, Ron Paul, Gingrich, Santorum and Michele Bachmann. Sarah Palin also made an appearance.media: 20686771
quicklist: 2title: Rubber-Chicken Dinnerstext: Rubber-chicken dinners have become so infamous on the political campaign trail that they scored their own definition on Dictionary.com: "a monotonous round of dinners, often featuring chicken, that a lecturer or political candidate is obliged to attend."
Iowa has its fair share of these political meals.
Republicans have their Reagan dinner, and for Democrats, it's the Jefferson-Jackson dinner, a.k.a. the "JJ" dinner.
In 2007, both Obama and Clinton gave speeches at the JJ dinner, and the Reagan dinner in 2011 reads like a GOP primary debate card, with Ron Paul, Michele Bachmann, Newt Gingrich, Rick Santorum and Rick Perry, making speeches one right after the other in 10-minute intervals.
Already hitting the rubber-chicken circuit in Iowa this year was Sen. Rand Paul, Santorum and Wisconsin Gov. Scott Walker. It's the appearance of Sen. Ted Cruz, R-Texas, at this week's Reagan dinner that's getting the real attention as a curtain-raiser for a 2016 campaign.
quicklist: 3title: Steve King's Pheasant Hunttext: Adding fuel to the 2016 speculation is Cruz's appearance at Republican Rep. Steve King's annual pheasant hunt this year. It's an opportunity for aspiring presidential contenders to impress the competition by killing their dinner.
The hunt, which kicks off today, comes a day after Cruz's scheduled speech at the Iowa Republican Party's annual fundraiser in Des Moines.