James Comey blasts Trump administration 'lies,' efforts to 'defame me'
James Comey was fired by President Donald Trump in May.
— -- Former FBI Director James Comey laced into President Trump and the White House during his much-anticipated congressional testimony today, accusing the administration of working to "defame" him and the FBI, and telling "lies" to the American people.
"Although the law requires no reason at all to fire an FBI director, the administration then chose to defame me and, more importantly, the FBI by saying that the organization was in disarray, that it was poorly led, that the workforce had lost confidence in its leader," Comey said in his opening remarks to the Senate Select Committee on Intelligence in a hearing room on Capitol Hill.
"Those were lies plain and simple. And I am so sorry that the FBI work force had to hear them and I am so sorry that the American people were told them."
The White House denied that the president is a "liar."
Comey, among other things, also said during the course of his testimony:
The Trump administration tried to smear his reputation;
The president had said Comey was "doing a great job" before his firing;
He leaked his notes hoping for a special counsel;
He believes he was "fired because of the Russia investigation";
And Trump never explicitly told him to drop the Michael Flynn investigation.
Comey also described a series of uncomfortable interactions with Trump, in which he says the president requested his loyalty and pressed him to drop the investigation into former national security adviser Michael Flynn, who was fired after the White House said he had misrepresented the nature of his contact with the Russian ambassador to the United States. Comey also said he told the president that he was not the subject of an FBI investigation.
Some of the allegations have been directly contradicted by the White House in the past. On May 12, press secretary Sean Spicer rejected the notion that Trump ever asked Comey to pledge loyalty, and on May 18 Trump himself said he never urged Comey to back off the investigation into Flynn.
"The president disputes that he ever asked for Jim Comey's loyalty and he disputes that he ever asked Comey to let the Flynn investigation go in any way," a source familiar with the president's thinking told ABC News today.
Trump's longtime lawyer Marc Kasowitz delivered an on-camera statement this afternoon, disputing Comey's allegation that the president requested his loyalty and blasting him for leaking information to the media.
"Today, Mr. Comey admitted that he unilaterally and surreptitiously made unauthorized disclosures to the press of privileged communications with the president," Kasowitz told reporters. "We will leave it the appropriate authorities to determine whether this leaks should be investigated along with all those others being investigated."
He added that the president "feels completely vindicated."
In a hearing room packed with journalists, guests, as well as interns and young staffers, Comey told the intelligence committee that he first learned of his firing from media reports on television, which he said "confused" him because the president had "repeatedly" praised him for "doing a great job."
Trump administration's 'shifting explanations'
Comey said he believes the Trump administration tried to smear his reputation and provide "shifting explanations" for his firing that were untrue.
"The shifting explanations confused me and increasingly concerned me," Comey told the committee. "They confused me because the president and I had multiple conversations about my job, both before and after he took office. And he had repeatedly told me I was doing a great job and he hoped I would stay.
"I repeatedly told him I did intend to stay and serve out the remaining six years of my term. He told me repeatedly he had talked to lots of people about me, including our current attorney general and had learned that I was doing a great job and that I was extremely well liked."
Comey concluded his opening remarks to the committee with a heartfelt statement to his former colleagues at the FBI.
"The FBI is honest, the FBI is strong and the FBI is and always will be independent," Comey said. "And now to my former colleagues, if I may, I am so sorry that I didn't get a chance to say goodbye to you properly. It was the honor of my life to serve beside you, to be a part of the FBI family and I will miss it for the rest of my life."
A 'very, very awkward' relationship
Comey, responding to questions from committee members, described his relationship with Trump as "very, very awkward," as the president pressed him to stop pursuing the investigation into Flynn.
"He was asking for something and I was refusing to give it," Comey said.
Sen. Marco Rubio, R-Fla., was among several committee members who pushed Comey on why he never told Trump that his request was inappropriate. Comey said he was too "stunned" by their conversation and didn't have the "presence of mind" to respond more forcefully.
"Maybe if I were stronger, I would have. I was so stunned by the conversation that I just took it in," Comey told the committee. "I was playing in my mind to remember every word he said. I was playing in my mind, 'What should my response be?' That's why I very carefully chose the words."
Comey also said, "I'd seen the tweet about tapes," referring to Trump's Twitter suggesting their conversations might have been recorded. "I hope there are tapes. I remember saying, 'I agree, [Flynn] is a good guy' as a way of saying, I'm not agreeing with what he asked me to do."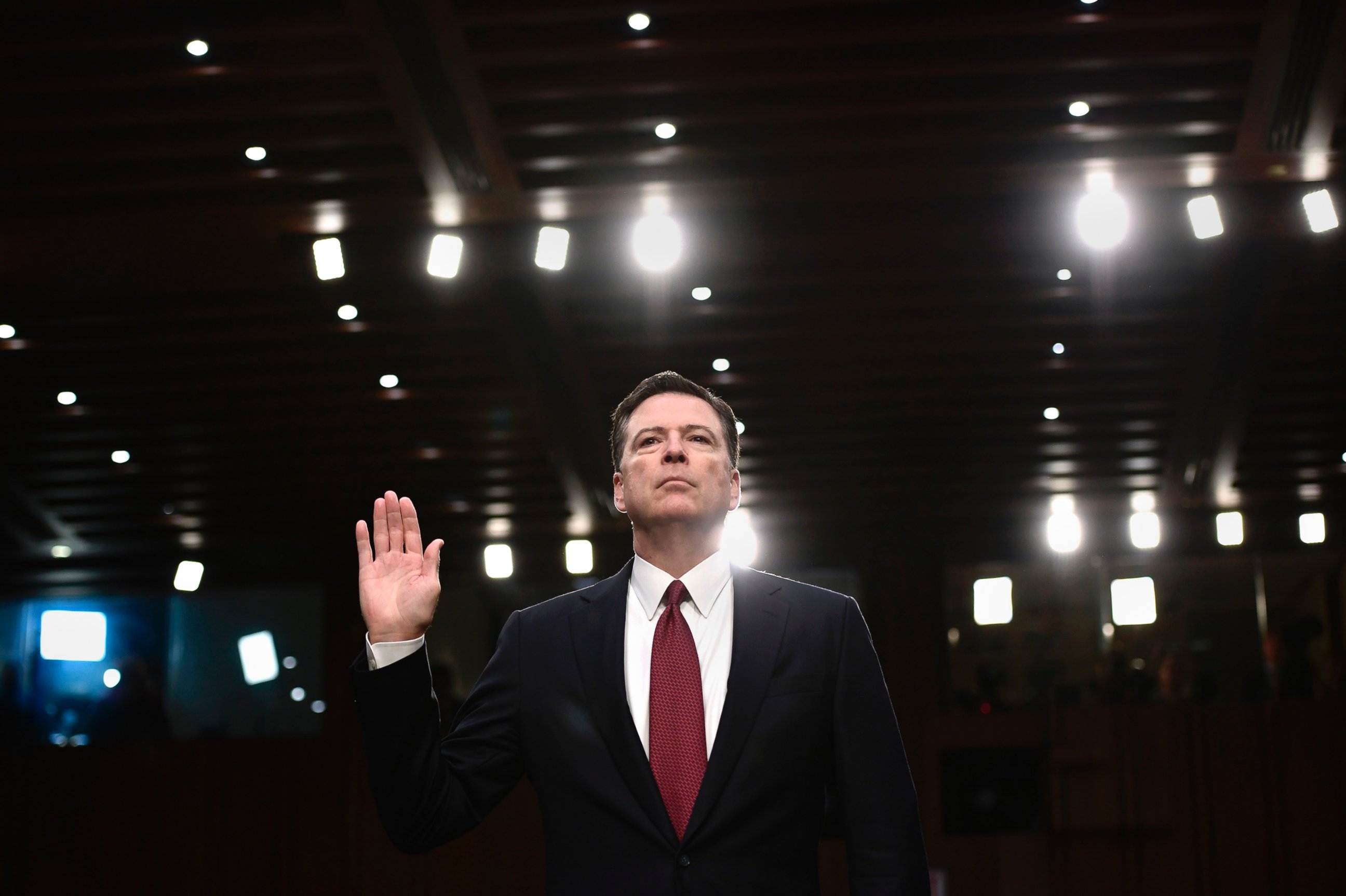 Comey told the committee he decided to take notes of his meetings with Trump because of "the nature of the person" with whom he was dealing.
"I was honestly concerned he might lie about the nature of our meeting, so I thought it really important to document," Comey told the committee.
One committee member asked Comey whether he ever shared his notes on his meetings with the president with anyone outside the Department of Justice. Comey admitted that he once shared the contents with a close friend, who he said is a professor at Columbia Law School, and asked him to leak it to the media, in hopes of getting a special counsel appointed in the Russia probe.
"I asked a friend of mine to share the content of the memo with a reporter," Comey said, without naming his friend. "I didn't do it myself for a variety of reasons but I asked him to because I thought that might prompt the appointment of a special counsel."
A 'slippery slope'
According to Comey's testimony, Trump also asked for the then-FBI director's loyalty and requested that he reveal to the public that the president personally was not under investigation. Committee members, including Rubio, repeatedly asked Comey why he opted not to make such an announcement. Comey told the committee he felt it was a "slippery slope."
"It creates a duty to correct, which I've lived before, and you want to be very careful about that," he said.
Comey later admitted he didn't think it was unreasonable for a president to want the FBI director to publicly announce that he or she is not the subject of a probe, in order to lift a "cloud" over the administration.
"I think that's a reasonable point of view," Comey told the committee. "The concern would be, obviously, because that boomerang comes back, it's going to be a very big deal because there will be a duty to correct."
Comey acknowledged that Trump never directly said the FBI should drop the probe into Flynn. But the former FBI director made clear that he believes that's what the president wanted, based on how their conversation unfolded.
Comey recalled that, during their conversations, Trump had said he felt it would be good for the FBI investigation to uncover any inappropriate contact between his associates and Russian officials.
Trump fired Comey from his position as FBI director on May 9 after receiving letters recommending he do so from Attorney General Jeff Sessions and Deputy Attorney General Rod Rosenstein.
Sources told ABC News at the time that the firing came as a surprise to Comey. As one source said, he was "angry" and wants the public to know why.
Sitting before the intelligence committee today, Comey noted that he believes he was "fired because of the Russia investigation."
"Something about the way I was conducting it, that the president felt created pressure on him he wanted relieved," Comey told the committee. "Again, I didn't know that at the time. But I've watched his interview. I read the press accounts of his conversations. So I take him at his word there."
Asked whether Trump's alleged actions amount to obstruction of justice, Comey said, "I don't know, it's Bob Mueller's job to sort that out," referring to the special counsel who was chosen to oversee the investigation into potential ties between the Kremlin and Trump's presidential campaign.
Comey informed the committee he has handed over all memos on his conversations with Trump to the special counsel.
The White House reacts
Trump watched Comey's hearing and testimony with his legal team and senior advisers from the president's personal dining room near the Oval Office in the White House, ABC News has learned.
After the hearing, White House deputy press secretary Sarah Huckabee Sanders firmly rebuked the former FBI director's accusation that the president had lied.
"I can definitively say the president isn't a liar," Sander told reporters, adding that she thought it was insulting that such a question be asked.
ABC News' Jonathan Karl, Mike Levine and Pierre Thomas contributed to this report.