Former Vice President Joe Biden took a moment from debating his fellow candidates to accidentally endorse one, and later blunder his own promo, at Wednesday's night Democratic debate.
Biden was criticizing Sen. Cory Booker, D-N.J., and his criminal justice reform plan when his first gaffe happened.
"The fact is that the bills that the president, excuse me, the future president, that the senator is talking about, are bills that were passed years ago and they were passed overwhelmingly," Biden said.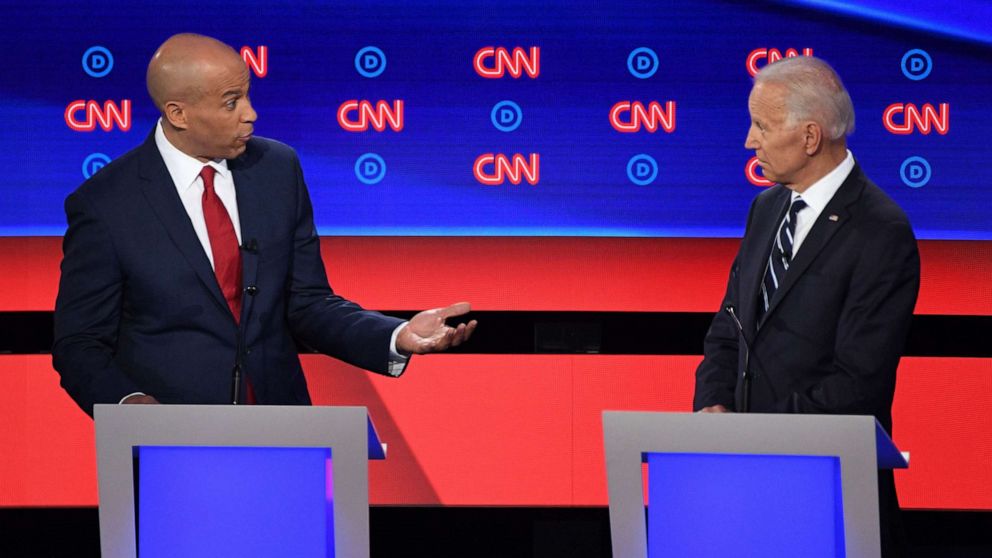 Booker quipped, "Well first of all, I'm grateful that he endorsed my presidency already."
Biden's snafus didn't stop there.
In his closing remarks, Biden asked supporters to "go to Joe 30330 and help me in this fight."
He quickly tweeted the correct way for supporters to show their love.
"If you liked what you heard tonight, text JOE to 30330 and let's get to work," he wrote.
Back in May, at his campaign kick-off speech in Philadelphia, Biden similarly messed up the number for supporters to text.
"If you want to be part of this campaign, pick up your phones ... Send a text to the word 'United' to the number 30330. OK? That's 'United' 30330. Or 303330 or 300 … but you got it. It's on the back there," he said through a laugh.