Joe Biden, Lady Gaga team up for sexual assault PSA
The video, released Wednesday, is part of the "It's On Us" campaign.
October 26, 2017, 12:56 AM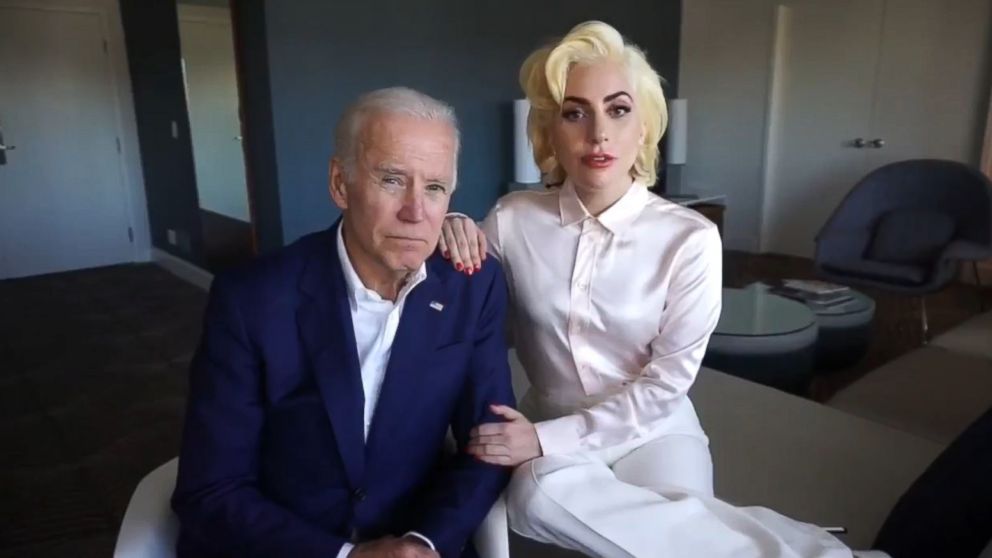 — -- Lady Gaga debuted a PSA Wednesday with her "buddy," former Vice President Joe Biden, urging action against sexual assault.
"I'm not only with a great friend, but a fierce advocate," Biden says of Lady Gaga in the PSA, which is part of the "It's On Us" campaign, launched in 2014 by Biden and former President Barack Obama, aimed at ending sexual assault on college campuses.
Biden, 74, seated next to the singer continues, "Lady Gaga has been the voice for people who have been forgotten and people who have been abused ... Well it happened to her. She's shown enormous courage. And we want to make it real clear. It's on us, it's on everyone to intervene -- to stop abuse when they see it and when they hear about it, to intervene. No man has a right to raise a hand to a woman for any reason other than self-defense. Ever. Period."
Lady Gaga, 31, says in the PSA, "I am a sexual assault survivor, and I know the effects, the aftermath, the trauma – psychological, physical, mental. It can be terrifying waking up every day feeling unsafe in your own body."
With one arm on Biden's shoulder and another on his arm, she continues, "But we're here to remind you that it's important to reach out to someone in your life that you can trust, and to know that they will be there to help you; there will be someone to listen. Because you know what? It's on us."