A federal judge in Texas said Wednesday that he plans to rule soon on whether to overturn the federal government's approval of an abortion medication some 23 years ago -- a decision that could pull the drug from the market nationwide, even in states where abortion is legal.
The promise by U.S. District Judge Matthew Kacsmaryk followed a daylong hearing in Amarillo, Texas, that attracted local church members lining up before dawn and filling the 19 seats open to the public.
Several media outlets were blocked from getting inside due to a lack of space while demonstrators, both for and against abortion access, marched outside the courtroom steps.
"Let us pray" were the first words spoken in the hearing by a court assistant kicking off four hours of arguments.
Abortion rights supporters said they weren't optimistic after the hearing, noting the judge appeared open to siding with the conservative plaintiffs in the case, who argued the U.S. Food and Drug Administration was wrong to approve the medication mifepristone.
"There are a whole host of reasons why this court should just dismiss [the lawsuit] out of hand … But we're obviously very concerned that that's not going to be the case," said Carrie Flaxman, senior director for public policy litigation and law with Planned Parenthood Federation of America.
Erik Baptist, senior counsel with Alliance Defending Freedom, the group that filed the lawsuit, said the judge needed to provide a check on the FDA, which he said ignored safety concerns with mifepristone -- an allegation the government and most medical doctors refute.
"As we stated in court, the FDA never had the authority to approve these drugs and remove important safeguards, despite the substantial evidence of the harms women and girls who undergo this dangerous drug regimen could suffer," Baptist said.
In addition to curbing access to a common form of abortion -- about half of all abortions rely on mifepristone -- the ruling could have sweeping implications for how drugs are approved in the U.S., potentially curbing the regulatory powers of the FDA and emboldening advocacy groups to challenge other medications and vaccines.
In attendance on Wednesday were mostly local church members from Amarillo, including several from the Central Church of Christ.
As the small number of public attendees looked on, the plaintiffs laid out their case: They told the judge that doctors were unfairly burdened by having to treat complications arising from the abortion pill and that it causes harm to women who take the medication. They spoke about how many states are prohibiting abortion, yet their residents are still finding access to this medication.
"Relief must be complete and nationwide," Baptist told the judge.
Government lawyers defending the FDA said the government has reviewed extensive data and found no safety concerns.
"The public interest would be dramatically harmed" by siding with the plaintiffs, said Julie Straus Harris, an attorney for the Justice Department.
For his part, Judge Kacsmaryk didn't tip his hand on how he'd rule and an appeal from either side is likely. But he zeroed in on whether it is legal to mail a substance causing an abortion. Under the Comstock Act, a 19th-century law, that remains illegal. But the Justice Department has said that law doesn't apply in this case because no one can ever know exactly how a drug will be used when it's mailed.
The judge also asked questions about other fast-tracked medicines and why the FDA would swiftly approve a drug when pregnancy wasn't an "illness." Government lawyers said pregnancy was a "condition," while advocates noted that the drug is still used to treat miscarriages.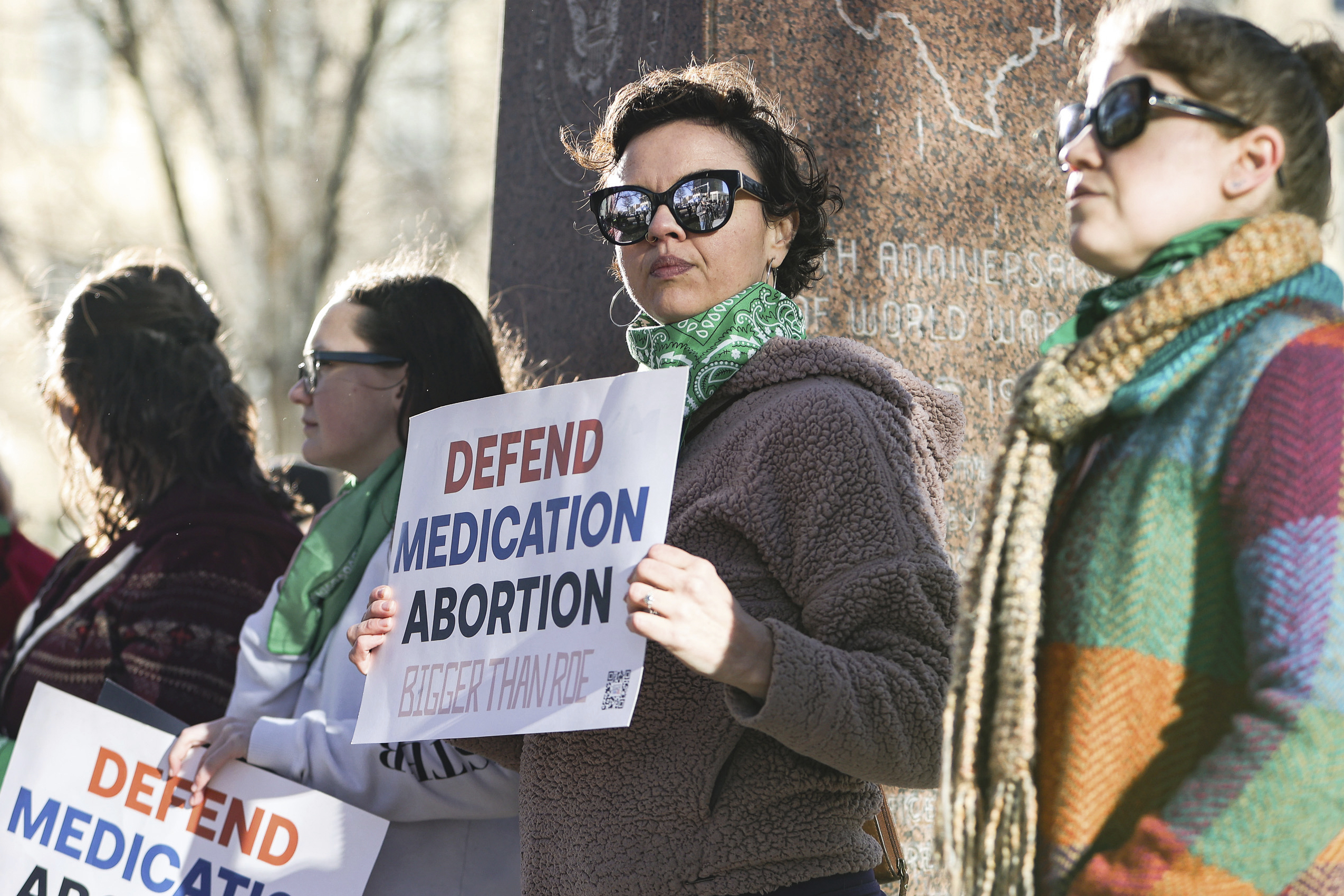 Julie Sims, a church member who watched the hearing in the courtroom, said she left in disbelief such a medication is legal in some states and frustration that they didn't talk more about babies.
"Some people don't even know how to take an aspirin properly. How can they be expected to take something like this?" she said.
Outside the courtroom was a very different scene, with protestors shouting and one dressed as a kangaroo to suggest an illegitimate "kangaroo court."
They argued the Trump-appointed judge was biased.
"He's a lifelong activist," said Rachel O'Leary Carmona, executive director of the Women's March.
ABC News' Jim Ryan contributed to this report.