Justice Anthony Kennedy hand-delivered his letter to President Donald Trump Wednesday saying he is retiring after more than three decades on the nation's highest court.
Interested in
Supreme Court?
Add Supreme Court as an interest to stay up to date on the latest Supreme Court news, video, and analysis from ABC News.
The court also announced his retirement – effective July 31 – in a statement Wednesday, noting his decision to step aside was largely based on his desire to spend more time with his family.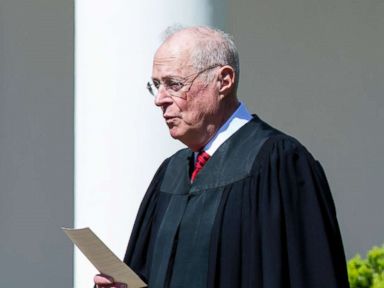 An ideological conservative, Kennedy has frequently been the swing vote in high-profile cases, including Obergefell v. Hodges, the Court's landmark 2015 decision to uphold the legality of gay marriage in all 50 states. Kennedy also cast the deciding vote in the controversial 2010 Citizens United v. FEC case, which prohibited restrictions on independent campaign finance expenditures.
In his letter to President Donald Trump, Kennedy expressed "profound gratitude" for having had "the privilege to seek in each case how to best know, interpret, and defend the Constitution and the laws that must always conform to its mandates and promises."