Rep. Keith Ellison said he is leaving Congress to take his battle against the Trump administration policies to the state level to push back against such issues as corporate monopolies and to advocate for issues like "commonsense gun safety laws" and criminal justice reform.
"You know, the Trump administration's behavior ... really illustrates how critically important state attorneys general are," Ellison, the first Muslim elected to the U.S. Congress, told ABC News on Thursday adding that the "legal resistance" has primarily come from states attorneys general.
The Minnesota Democrat who is the deputy chair of the Democratic National Committee and a rising star in the Democratic Party, made the abrupt decision to leave Congress hours ahead of the filing deadline on Tuesday. His announcement came and a day after Minnesota Attorney General Lori Swanson made a last-minute bid for Minnesota governor.
"(Trump) has no respect for the rule of law, he wants to do what he wants to do," Ellison said. "He doesn't like the accountability of law and he doesn't like oversight, which is why he's been trying to undermine the Mueller investigation and discredit it."
Robert McCaw, the Council on American Islamic Relations' National Government Affairs Director, told ABC on Thursday that although the Muslim community is "losing a great ally" in Congress, "we believe that his district is very well capable of electing another representative who will carry out his mission and legacy."
"Keith Ellison has always been a champion for justice," McCaw said adding that the organization feels Ellison will fight what they see as the administration's anti-immigrant and discriminatory agenda.
Ellison, a former civil rights attorney, said he is not just running to fight Trump, but to fight for a host of issues, including net neutrality and civil rights.
The White House did not return ABC News' request for comment.
State attorneys general have repeatedly challenged the implementation of the Trump administration's ban on travelers from majority Muslim countries and have taken the Trump White House to court on a number of issues, ranging from the Environmental Protection Agency's pollution requirements, to the administration's proposal to add a citizenship question on the U.S. Census.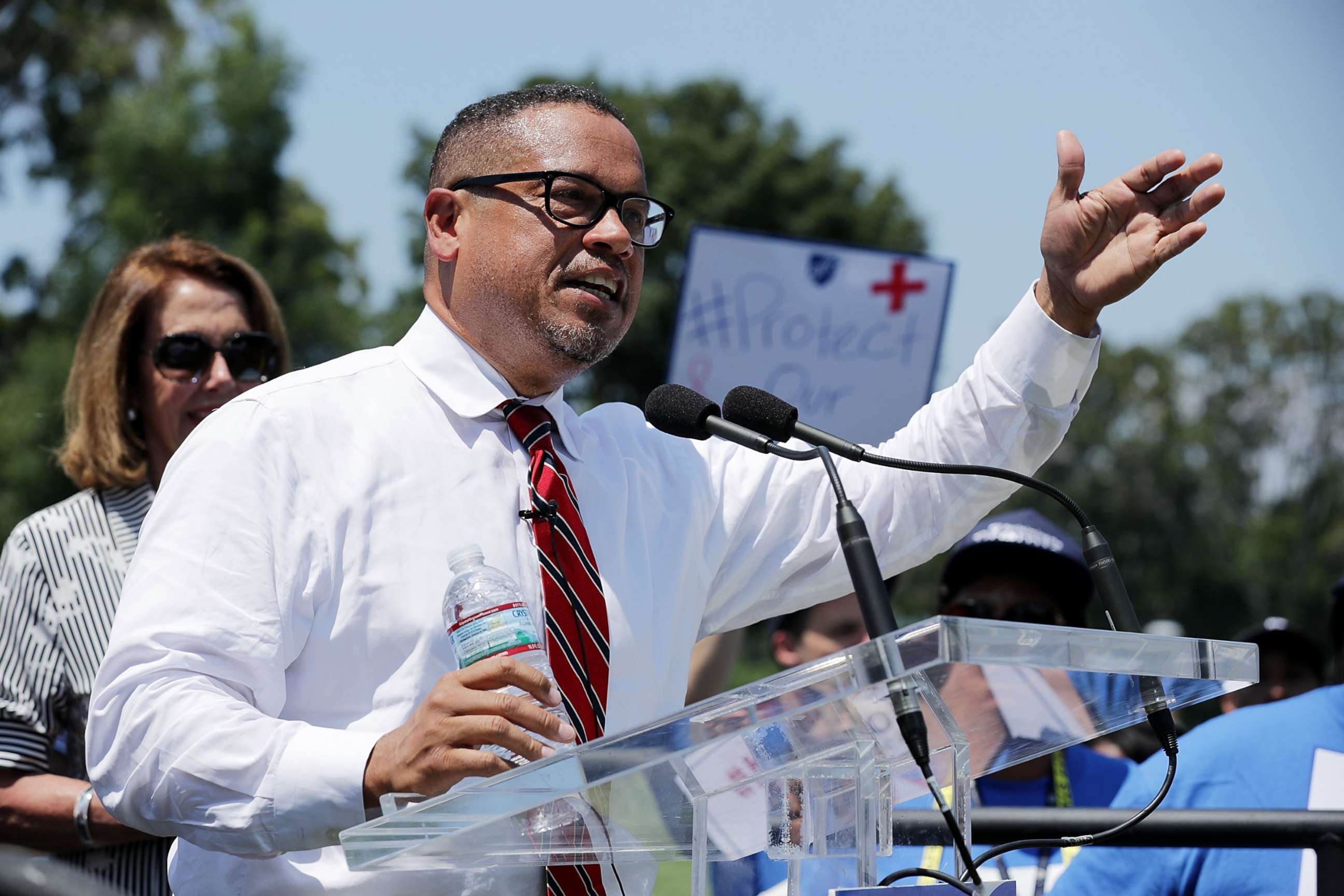 He said that although running for attorney general was something he "always" wanted to do, he did not expect to have to make the decision so abruptly.
"Honestly, (leaving Congress) was one of the hardest decisions I've ever made in my life because I've always kind of wanted to run for attorney general ... but I didn't want to do it in a sudden, abrupt way in a course of 24 or 48 hours."
"The seat is now open and so I had to take a chance on winning it."
Congressional gridlock has been frustrating for many members of Congress and several prominent lawmakers in the House and the Senate have announced their retirement from Congress over the last year, but when asked whether this played a role in his decision, Ellison said, "I'm not running from anything, I'm running to something."
"I'm not leaving because of gridlock," he added. "I'm leaving because I'm kind of a people's lawyer at heart and I want to fight for peoples rights … Other people, they may feel that the gridlock is too much for them."
Ellison said he will keep his leadership role at the DNC and said that while "his "national profile may diminish a little bit," he will continue to participate in the national dialogue and will have a public role in "offering a vision for Minnesotans on a regular basis."
When asked whether he plans to endorse any of the Democrats running for his seat, he said "no," but added, "There are a bunch of really fine people running and I have no doubt that they will represent the 5th district well," and urged them to make a "commitment to maximizing voter turnout … no matter how 'safe' the district becomes."
When asked about Senate Minority Leader Chuck Schumer's Thursday comments that Democrats "can't just be anti-Trump," Ellison said, "Chuck Schumer is right about that ... to just dwell on (Trump), I think is a mistake."