Ten days after the allegations that rocked Supreme Court nominee Brett Kavanaugh's path to confirmation first arose, Christine Blasey Ford came before the Senate Judiciary Committee — and the country — for a day filled with emotional testimony, first from her, and then from the man she's accused of sexually assaulting her more than three decades ago when they were both in high school.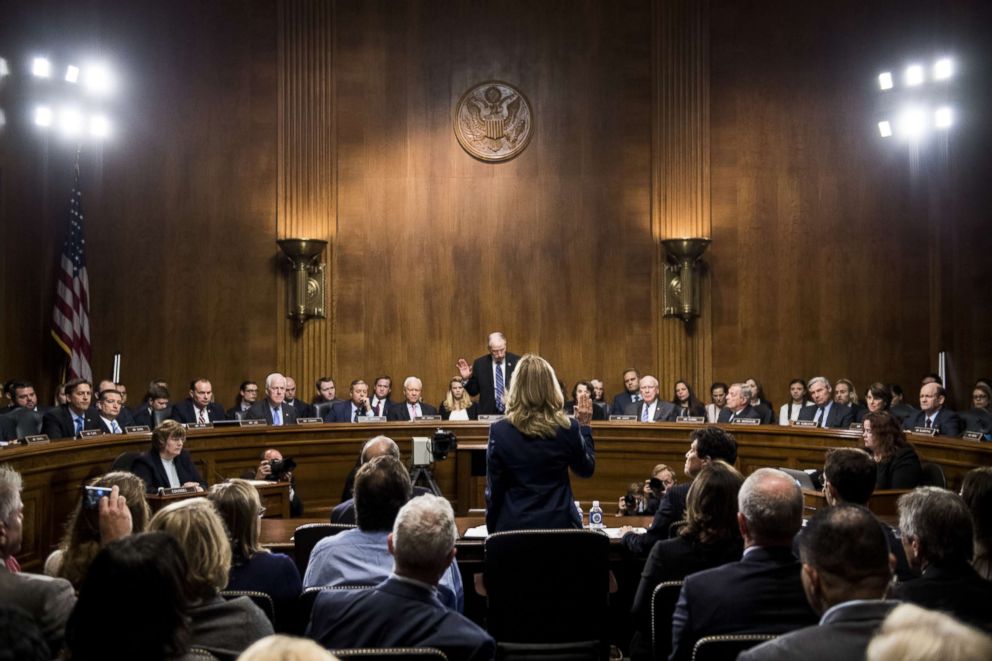 "My name is Christine Blasey Ford," she began, putting an uncertain face and quavering voice to go with the name Americans knew only from explosive news stories. But her credibility seemed to grow as she told her story with confidence and little hesitation.
She would be followed in the afternoon by Kavanaugh, angry and determined to deny, fight back, and often choked with emotion.
The drama lasted for more than eight hours -- with Ford and then Kavanaugh holding senators and the nation spellbound for about four hours each.
Here are some of the key takeaways:
Christine Blasey Ford's credibility
Although Ford appeared before senators who seemed already decided whether they would vote for or against Kavanaugh, her recounting of the attack she said happened in the summer of 1982 was challenging to hear.
Protesters watching from the halls of the Capitol and on the Supreme Court steps, aides seated behind their senators, members of the audience — even Ford's legal team, who were familiar with her testimony before she read it aloud Thursday — teared up hearing her voice crack as she described, in detail, the trauma she said she suffered as a 15-year-old.
Senators nodded as she spoke, many leaning forward, on the edge of their seats.
"I believed he was going to rape me," Ford said. "I tried to yell for help. When I did, Brett put his hand over my mouth to stop me from yelling. This is what terrified me the most and has had the most lasting impact on my life."
"It was hard for me to breathe and I thought that Brett was accidentally going to kill me," she said.
Sen. Patrick Leahy, a Vermont Democrat, asked Ford what her strongest memory was of the incident — something she couldn't forget.
"Indelible in the hippocampus is the laughter," said Ford, now a psychology professor in Northern California. "The uproarious laughter between the two. And their having fun at my expense," Ford responded, adding, "They were laughing with each other."
The outside lawyer hired by the GOP, Arizona sex crimes prosecutor Rachel Mitchell, went over each detail of her story.
Over and over, senators asked Ford if she could've possibly confused Kavanaugh with someone else.
"With what degree of certainty do you believe Brett Kavanaugh assaulted you?" asked Democratic Sen. Dick Durbin.
Ford responded: "100 percent."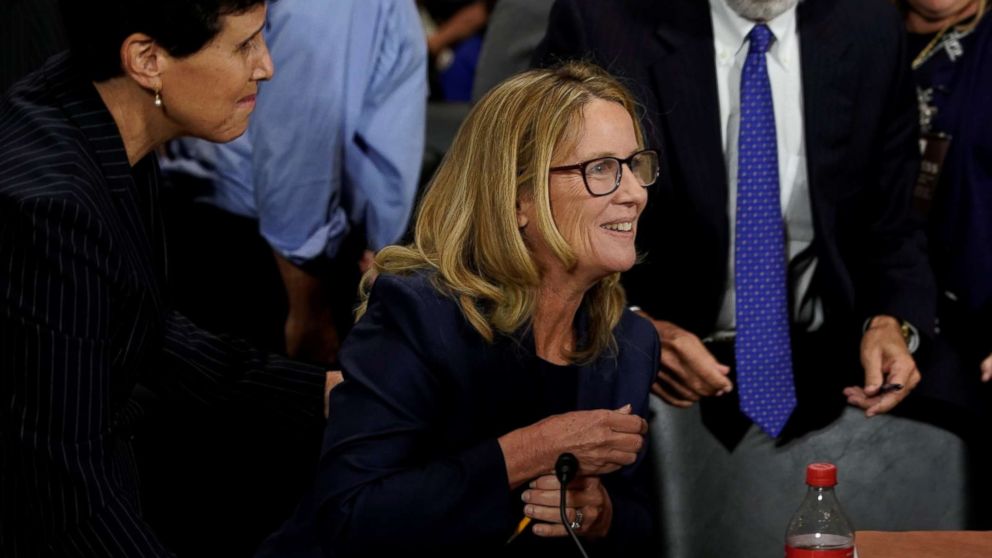 During a break, Democrats called Ford "100 percent credible" and "highly believable," while Republicans were careful to remain respectful of her and her story.
Chairman Chuck Grassley, an Iowa Republican, asked if he found Ford credible, said the committee needed to "take her very seriously."
And on his way out of the hearing room after Ford's testimony, Texas Republican Sen. John Cornyn said he "found no reason to find her not credible."
Brett Kavanaugh's defiance
Mid-afternoon, Kavanaugh entered the hearing room on a mission: to clear his name. He spoke loudly and defiantly, as his wife, Ashley, seated just behind him, held back tears.
"This has destroyed my family and my good name," a visibly agitated Kavanaugh said, reading from a statement he said had written the night before.
"I am innocent of this charge. I intend no ill will to Dr. Ford and her family. The other night Ashley and my daughter, Eliza, said their prayers and little Eliza, all of 10 years old," Kavanaugh said, pausing to regain his composure, "said to Ashley, we should pray for the woman."
"That's a lot of wisdom from a 10-year-old," Kavanaugh said after another pause. "We mean no ill will."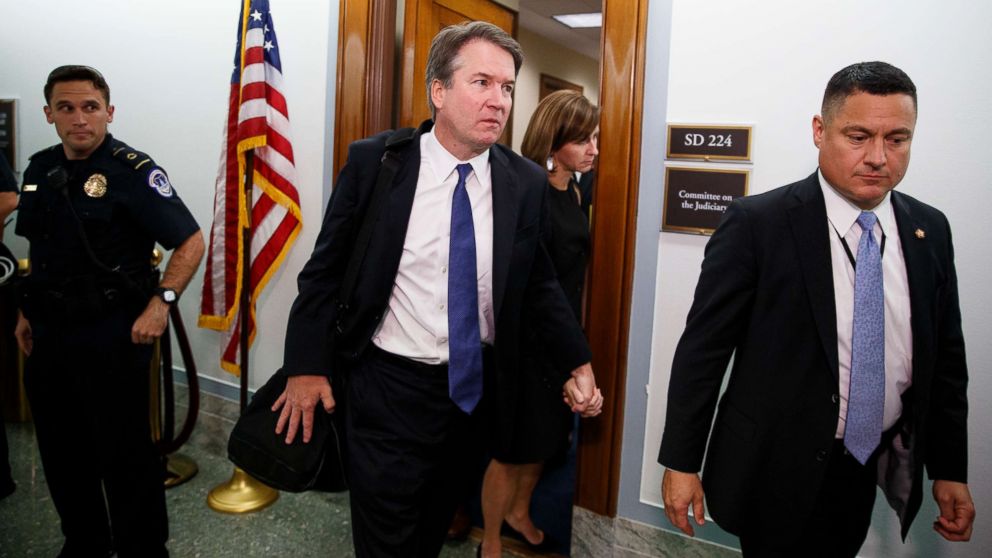 "My family and I intend no ill will toward Dr. Ford or her family, Kavanaugh continued, his voice rising, "but I swear today under oath before the Senate and the nation, before my family and God, I am innocent of this charge."
As he emphatically denied wrongdoing, Kavanaugh said he'd demanded a hearing the day after the allegations first came out.
"Unfortunately, it took the committee ten days to get to this hearing and in those ten long days, as was predictable and as I predicted, my family and my name have been totally and permanently destroyed by vicious and false additional accusations," he said.
His voice breaking, and often on the verge of tears, he spoke of the "frenzy on the left to come up with something, anything, to block my confirmation" and called the process a "national disgrace."
"This grotesque, character assassination will dissuade confident and good people of all political persuasions from serving our country, and as we all know in the political system of the early 2000s, what goes around comes around," he said, barely containing his anger.
The political animus alleged by Republicans
Kavanaugh not only aired his grievances about the impact the allegations have had on him and his family, he also passionately went after committee Democrats, accusing them of turning the confirmation process into what he called "a calculated and orchestrated political hit."
Their opposition, he said, was fueled by "pent-up anger about President Trump and the 2016 election, fear that has been unfairly stoked about my judicial record, revenge on behalf of the Clintons, and millions of dollars in money from outside, left-wing opposition groups," he said, his voice just below a yell.
But it was Republican Sen. Lindsey Graham who elevated the anger in the room to its highest point of the day, calling out his Democratic colleagues, he said, for playing dangerous political games and, turning to his fellow Republicans, imploring them to vote for Kavanaugh or else risk "legitimizing the most despicable thing I've seen in politics."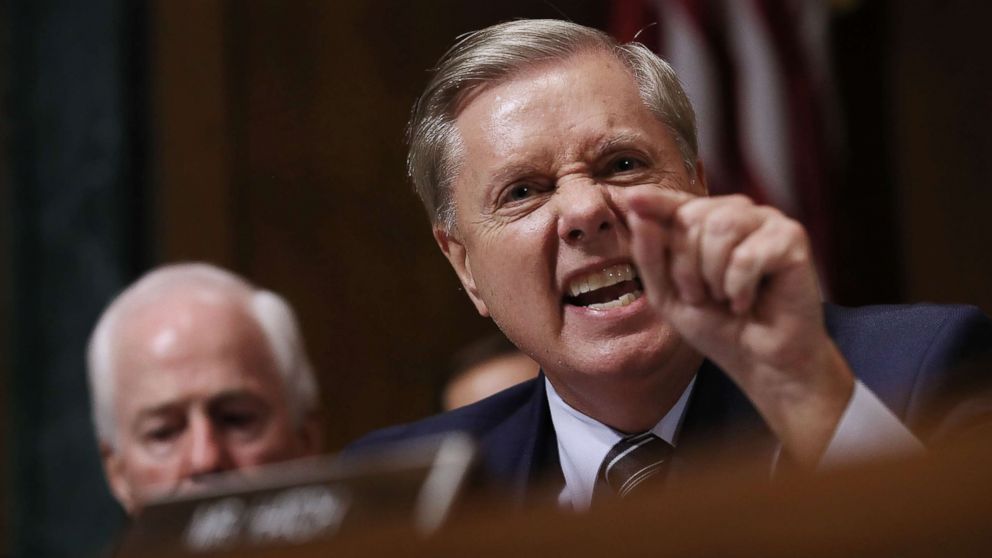 "If you wanted an FBI investigation, you could have come to us, Graham said, referring to the drumbeat complaint made by Democrats before and during the hearing. "What you want to do is destroy this guy's life, hold this seat open and hope you win in 2020. You said that, not me," he said.
Then, he turned to Kavanaugh.
"You've got nothing to apologize for," he said.
Sen. John Cornyn, a Texas Republican, then compared the moment to the "Red Scare" McCarthy hearings in the 1950s.
In order for the committee to vote against his nomination, against his complete denial of the allegations, Cornyn said, his colleagues would have to "conclude that [Kavanaugh] is a serial liar."
He implored Kavanaugh to keep moving forward and let the American people decide.
"Judge, judge, don't give up," he said.
What's next? Likely not an FBI investigation
Despite the unanswered questions that remain after hours of public testimony from Ford and Kavanaugh, there's no plan for further investigation.
Republicans argue that pleas by Democrats for an FBI investigation are just an effort to delay Kavanaugh's confirmation vote past the 2018 midterm elections. If Democrats gain control of the Senate, they could deny President Trump a Supreme Court nominee for the rest of his time in office.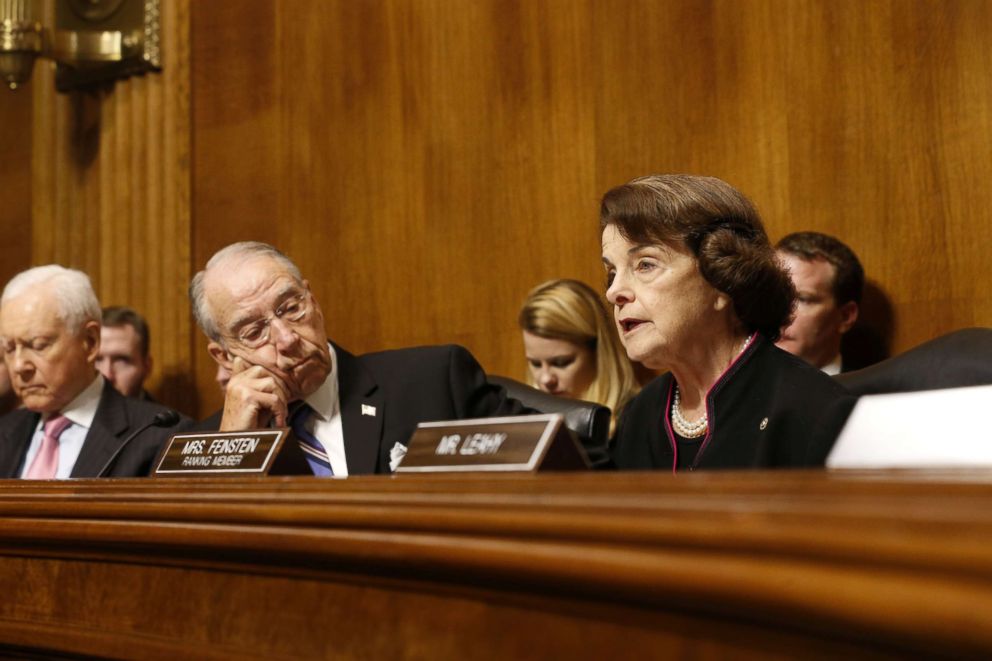 Democrats like Sen. Diane Feinstein, the top Democrat on the committee, said an FBI investigation would allow for "outside authority" and more information from witnesses.
Kavanaugh, when pressed by Democrats to ask right then and there for an FBI investigation, repeatedly avoided a direct answer, saying it was a matter for the committee to decide.
"Senator, I'll do whatever the committee wants. I wanted a hearing the day after the allegation came up. I wanted to be here that day. Instead ten days past where all this nonsense is coming out," Kavanaugh said.
He added that whatever the committee decides, he's "all in."
"Immediately. I'm all in immediately," he said.
But pressed by Durbin, the second-ranking Democrat in the Senate, Kavanaugh argued that FBI investigations would do nothing more than provide senators with information already at hand.
"They don't reach conclusions, you reach conclusions, senator," Kavanaugh said.
And because the president would have to order the FBI background check reopened, which would ultimately delay Kavanaugh's vote, that step remains unlikely.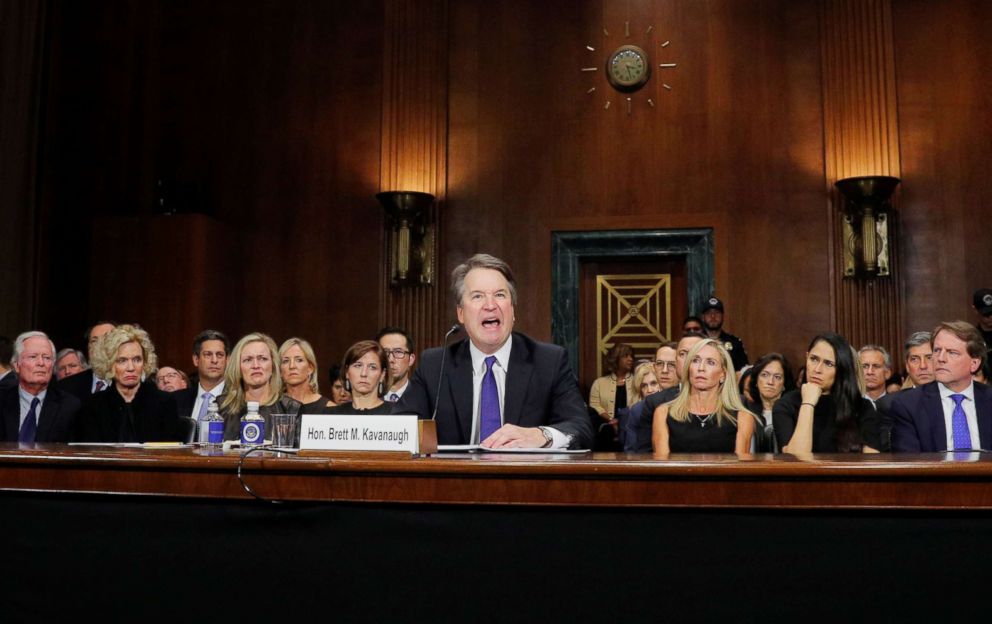 Two individuals whose lives are changed forever, and little resolved
Both Ford and Kavanaugh told senators, under oath, that they believe categorically and unequivocally in their versions of the truth.
Ford told senators that she doesn't have all the answers, and doesn't remember as much as she'd like to.
"But the details about that night that bring me here today are ones I will never forget," she said. "They have been seared into my memory and have haunted me episodically as an adult."
Kavanaugh, just hours later, directly disputed Ford's account.
"I'm not questioning that Dr. Ford may have been sexually assaulted by some person in some place at some time, but I have never done this to her or to anyone. That's not who I am. It is not who I was. I am innocent of this charge," he said in his opening statement.
And both said that they've faced stress, threats from strangers and pressure on their family members that they never imagined.
Ford said that her "greatest fears" had been realized and that they were far worse than what she'd expected.
"Apart from the assault itself, these last couple of weeks have been the hardest of my life," she said. "My family and I have been the target of constant harassment and death threats. I have been called the most vile and hateful names imaginable. These messages, while far fewer than the expressions of support, have been terrifying to receive and have rocked me to my core."
Kavanaugh, who choked up numerous times talking about the pain people close to him have endured over the last 10 days, spoke of physical threats against his family and violent emails to his wife.
"Explaining this to our daughters has been about the worst experience of our lives," he said.
But the predictions of Thursday as a "he said, she said" match-up prevailed. As did the politics.
Republicans, while they didn't openly question Ford's story of trauma, hammered their Democratic colleagues for what they claimed was a political ploy to keep their nominee off the highest court in the land, while Democrats, who have made respect for women a central issue in their midterm campaigns, stood squarely behind Ford's allegations.
On Friday, senators from both parties meet again as a committee — and for a possible vote on Kavanaugh. After Thursday, all that can be said for sure is that the confirmation process has become even more politicized.