LA City Council votes to look into legal action against Texas governor over migrant busing
The motions also call to investigate whether Gov. Greg Abbott committed crimes.
The Los Angeles City Council is pushing for a probe into Texas Gov. Greg Abbott over his busing of migrants to the city, including whether he has committed any crime and if the city can pursue a lawsuit.
The council voted unanimously on Wednesday to approve two motions filed days after Abbott first bused dozens of migrants from Texas to Los Angeles in June. Nearly a dozen buses have since been sent in its wake, in what one council member called a "callous disregard" for the migrants' lives.
"These motions are about investigating whether Gov. Greg Abbott committed kidnapping, human trafficking or any other crimes when he sent vulnerable families on a 23-hour bus ride with little or no food or water," LA City Council member Hugo Soto-Martínez said during Wednesday's city council meeting prior to the vote on the two motions.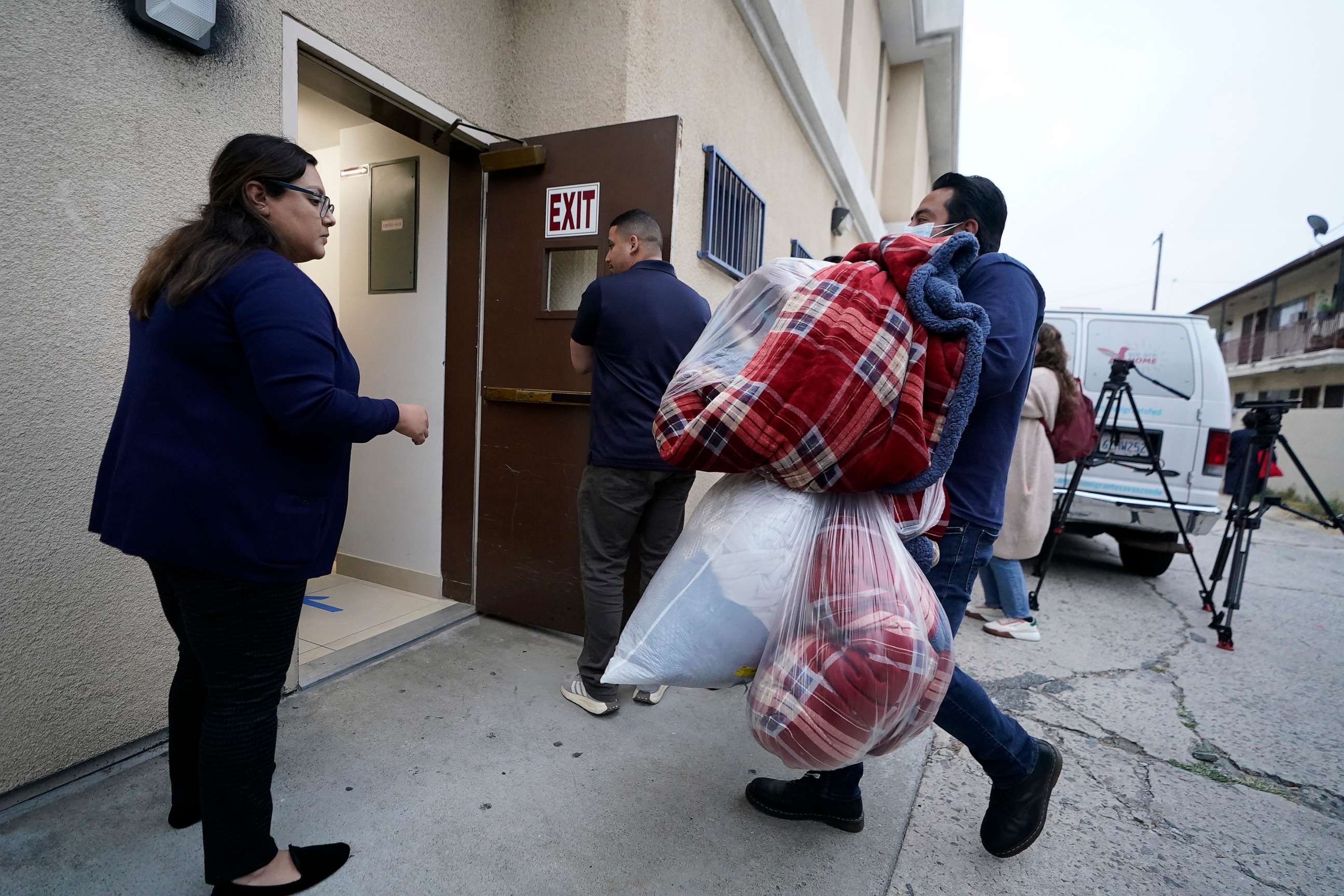 One motion directs the city attorney to investigate whether any crime was committed by Abbott and if there's any potential civil legal action that can be taken against him and Texas regarding the initial busing incident.
The other is a resolution calling on LA County District Attorney George Gascón, California State Attorney General Rob Banta and U.S. Attorney General Merrick Garland to similarly investigate Abbott's actions, as well as urges the county, state and federal government to assist in responding to the needs of the migrants.
Both motions, which passed 13-0, were filed on June 16 -- two days after the first bus originating from McAllen, Texas, arrived in LA carrying 42 migrants, including 18 minors, according to the motions.
Since then, 10 more buses have arrived from Texas -- the most recent Wednesday morning, a spokesperson for LA Mayor Karen Bass said.
ABC News has reached out to Abbott's spokesperson for comment.
In a statement to the LA Times following Wednesday's vote, the governor's spokesperson called the LA City Council members "complete hypocrites."
"In June, they unanimously voted to become a sanctuary city, welcoming migrants to the city," the spokesperson, Andrew Mahaleris, said in the statement.
On June 9, the council approved a motion that would limit city resources from being used in federal immigration enforcement. The ordinance would need to be drafted by the city attorney's office and returned to the council for a vote.
During Wednesday's meeting, LA City Council member Imelda Padilla addressed the strain the influx of migrants causes on service providers while calling the busing an "ugly form of political theater."
"It's against all dignity and humanity of all people -- especially towards immigrants, families and children who have fled their country due to injustices or threats against their lives, who have faced unimaginable obstacles to seek asylum," she said prior to the vote.
LA City Council member Kevin de León said the busing has now "become normalized."
"[Abbott] is just going to continue to do it, because he has no incentive at all whatsoever until there is legal teeth put to this," he said. "And that means an injunction by a U.S. federal judge to stop the trafficking of these individuals."
Abbott has also sent buses to cities including Washington, D.C., New York City, Chicago, Denver and Philadelphia.
"Texas' small border towns remain overwhelmed and overrun by the thousands of people illegally crossing into Texas from Mexico because of President Biden's refusal to secure the border," the governor said in a statement in June.