First lady wears jacket to visit immigrant children that reads 'I REALLY DON'T CARE, DO U?'
The first lady's spokesperson responded: "It's just a jacket."
First lady Melania Trump's unannounced visit to McAllen, Texas to visit immigrant children in a detention center was meant to send a message that she cares.
But an army green jacket she wore boarding her plane to Texas at Joint Base Andrews in Maryland sent a very different message. Written in giant, white letters on the back were the words: "I REALLY DON'T CARE, DO U?"
Fashion speaks – and Mrs. Trump, a former fashion model, is known to carefully select her outfits before public appearances, paying careful attention to the designer and tone of her sartorial selection.
Given that, her choice to wear the $39 Zara jacket as she headed on her unexpected trip to the border raised eyebrows.
When asked by ABC News why she wore the jacket and whether she was trying to send a message, the first lady's spokeswoman replied: "It's just a jacket."
"There was no hidden message. After today's important visit to Texas, I hope this isn't what the media is going to choose to focus on," Grisham said.
The first lady removed the jacket before landing in McAllen – but then wore it again upon her return at Joint Base Andrews.
Back at the White House, President Donald Trump seemed to contradict the first lady's spokesperson by saying the jacket was indeed meant to send a message – to the media.
"I REALLY DON'T CARE, DO U?" written on the back of Melania's jacket, refers to the Fake News Media. Melania has learned how dishonest they are, and she truly no longer cares!" Trump tweeted.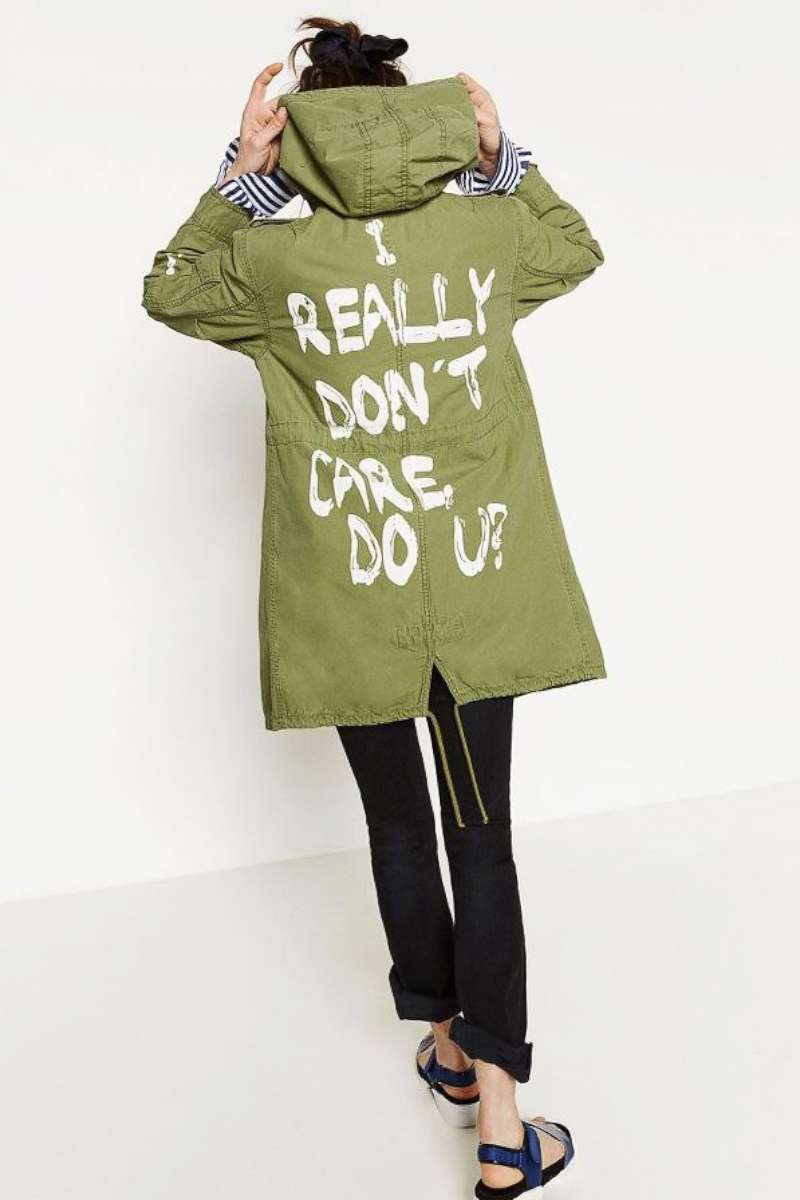 News of the first lady's surprise visit made a media splash on the heels of Trump's decision to end family separation with the power of the pen in an executive order. During her visit, Mrs. Trump toured a children's shelter and attended a briefing on the status of immigrant children.
Grisham told reporters on the trip that the visit was the first lady's idea, and she planned the visit before the president signed his executive order.
"She wanted to see everything for herself and children are an important part of her platform," Grisham told the pool.
"She supports family reunification and wants to go see the facilities for herself and find out how she can help. She feels the executive order yesterday paved the way forward but there is still more to be done and she wants to lend her support."
But it wasn't long before the first lady's controversial jacket threatened to overshadow the entire goodwill junket to the border.
Grisham sent out a tweet saying the first lady's visit with children in Texas impacted the first lady "greatly."
"If media would spend their time & energy on her actions & efforts to help kids - rather than speculate & focus on her wardrobe - we could get so much accomplished on behalf of children. #SheCares #ItsJustAJacket"
It's not the first time the first lady's fashion choices got one foot in front of her. A decision to wear high-heeled pumps as she headed to visit Hurricane Harvey victims in Houston was met with a backlash, although she later changed into sneakers.
"It's sad that we have an active and ongoing natural disaster in Texas, and people are worried about her shoes," Grisham said. She referenced the incident in a statement sent to reporters Thursday.