CLEVELAND, Ohio— -- The first day of the Republican National Convention brought with it growing groups of peaceful protesters, only about half of whom were there to vent about Donald Trump.
At one of the protests in Cleveland today, there were groups with varying interests, from vocal anti-Islam protesters, to Trump supporters, to civil rights activists. A number of local activists were on hand at the late morning protest in Public Square, which also included others like Gary Mathes, who came to Cleveland from Alaska with a tall cross in tow with no political interests other than spreading his belief in Jesus. There was even one woman offering free hugs and prayers for police officers.
A significant, more organized crowd didn't form until sometime after, and in a neighboring square near the city's war memorial. That gathering had more of a focus, summed up with large banners reading "Dump Trump."
"I'm a disgusted American," said Terry Kaye, a Cleveland resident who attended the protest while dressed as his version of Uncle Sam. "I'm a normal American who can't believe it has come to this."
He called Trump "a failed businessman, a terrible reality actor, [and] a misogynist," among other epithets.
The more than 200 protesters who gathered included various groups, with some protesting what they believe are assaults by Republicans on immigration, unions, women and minorities, among other causes. They started marching toward the Quicken Loans Arena, where the convention is being held, and many said they expect to be here all week.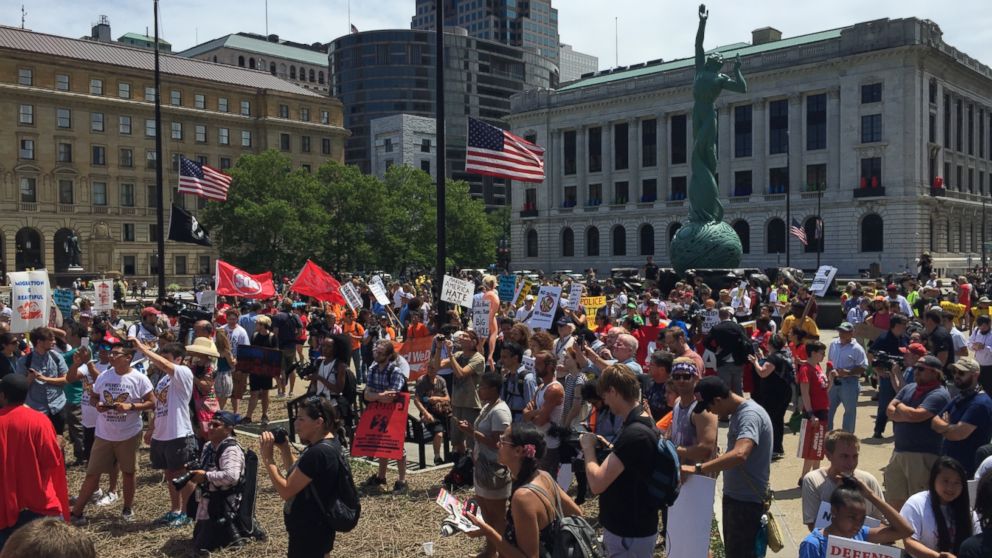 That's true for Jack and Andy, two 18-year-olds from upstate New York who traveled to Cleveland to be a part of the protests. They wouldn't share their full names and had black handkerchiefs covering half their faces, but they wanted to be at the protests because, "I just want to be able to say that if Trump's elected, I was a part of the opposition," Jack told ABC News.
There were signs of the tension that has mounted around convention security concerns: Local police were a regular presence along with the Indiana State Police, who are some of the many law enforcement groups that have been called into Cleveland ahead of the convention this week.
There were also snipers clearly visible on the rooftops of the buildings surrounding the second, larger protest near the war memorial.
In spite of the controversy surrounding Ohio's open-carry laws, which allows licensed gun owners to carry their weapons freely in public, there was only one man who was proudly displaying his long gun at a protest in the city's Public Square. Jesse Gonzalez had the gun strapped around his back and pointed out to reporters that it was not loaded and he did not have a magazine attached.
"I didn't put too much thought into it. I just knew I could do it," said Gonzalez, a Trump supporter.
Kim Snyder, a non-denominational minister from nearby Parma, Ohio, wearing a "Free Hugs" T-shirt, said that the recent attacks on police in Baton Rouge and Dallas drove her out to the demonstrations to "pray for" the police officers on duty and to help "deescalate" any tension.
All told, the first day of the RNC ended up being fairly tame, according to figures released by city officials this evening.
The mayor's office confirmed that there were no arrests directly related to either of the two larger scale protests that happened today and included about 500 people total.
The only arrest that did occur was one of a woman who was picked up on a felony warrant who faces misdemeanor charges of obstruction and resisting arrest. Her name has not been released and Cleveland Police Chief Calvin Williams said at this evening's press conference said that she had not yet been booked.
Police recovered a small knife, a gas mask and a slingshot. There was no property damage reported in downtown Cleveland, Williams said.