It is that oppressive time of year in the Mid-Atlantic region when the temperature inches over 90 degrees, the crickets croak day and night and the humidity is stifling.
Not ideal weather for downhill skiing, but weather is no longer an obstacle in steamy Lynchburg, Virginia, where the administration at Liberty University, the conservative evangelical college founded in a valley below the Blue Ridge Mountains by Rev. Jerry Falwell, have built a year-round, snow-less ski hill.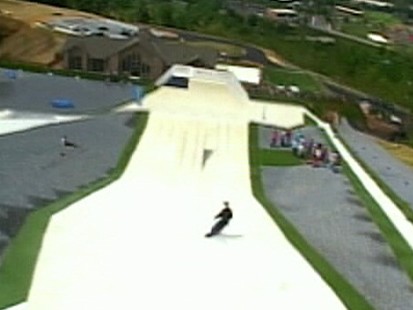 Falwell's son, Jerry Falwell Jr., is chancellor now, and says his father signed off the day before he died of a heart attack on the $4 million ski hill, paid for, Falwell says, with private donations.
"My father believed that the University should be the most exciting university because he said if it's Christian it should be better. His vision was for liberty to become for evangelical Christians what Notre Dame is for Catholic young people and what Brigham Young is for Mormons," he says.
A year-round ski slope might seem at odds with a university focused on academics, but Falwell argues that part of making the school world class is developing its academics, sports teams, and extracurricular activities to compete with those schools.
And so despite the oppressive heat, on a mountaintop owned by the university, there is the rip of snowboards.
But they're not really on snow. The system, manufactured by a European company called Snowflex and already popular in Europe, is more like a carpet wet by built-in misters canvassing the hillside. Liberty University's slope is the first in North America.
The space-age wet carpet allows skiers and boarders to slide down, almost like on an enormous slip 'n slide, but also catch their edges for turns.
"It's awesome man, like corduroy, groomed trail all day long," says Luke Fosse, who will work at the mountain as an instructor, on his way up the T-bar lift. "You can ride it all year long, there's no ice, the jump is always the same," he said, before launching down the mountain and flipping off a jump.
Charles Lockridge is a senior aviation major from California, where he skis every year on real snow. The Snowflex, he says, requires a bit more technical expertise, but with the spongy base layer of filament beneath the white carpet, is more forgiving on falls.
"The padding underneath it has a little bit of give, so it's perfect," he says, just after sliding and scraping 50 feet down the hill after a wipe-out.
Liberty University is better known as the school founded by Falwell, the controversial conservative evangelical leader who died in 2007, and as a hotbed of conservative politics than as a summer skiing destination.
"We were in a unique situation. We had a mountain on campus. That's highly unusual. We didn't want to sell it off to developers," says Falwell, still in his ski clothes after a run down the hill. "We wanted to do something unique with the mountain that would attract students, that would keep students here, that would give them good quality entertainment."
And good quality has a different meaning for the students at Liberty, who say they hold themselves to a stricter standard than college students elsewhere.
It is a conservative school, to say the least. Students are expected to avoid drinking and even dancing and only in 2005 was the dress code relaxed to allow flip flops. Ski boots are not mentioned in the dress code.
"It's good clean fun and that's compatible with our mission. We're a Christian university, first and foremost and it's a good outlet for young people," Falwell says of the ski hill, which he hopes to expand in the future. For now there are two 500-foot runs, two large jumps and a bunny hill surrounding a lodge lined on the inside with taxidermy – bears, bucks and wolves.
"A lot of colleges have elaborate recreation facilities now. And we have, on this mountain, added 60 miles of hiking and biking trails, says Falwell. "We just believe that college ought to be a well-rounded experience. Not just a one-sided experience. So we try to cultivate mind and spirit. And we believe students do better with their studies when they are active and when they have lots of fun things to do."
A $5 hourly rate for the public – less for students, but still undetermined – and equipment rentals will be put toward keeping the facility running.