The TAKE with Rick Klein
Count this in Democrats' favor: Americans are blaming Russian President Vladimir Putin for the war in Ukraine, and they are also backing President Joe Biden's move to ban Russian oil imports -- even if that means higher gas prices.
Count this in another direction: Americans are blaming Biden for inflation, gas prices and the economy broadly -- and remain divided on how the president is handling the crisis in Ukraine.
Those twin sets of findings from the latest ABC News/Ipsos poll point to political perils for Biden and the Democratic Party that are separate from the national security challenges that are themselves growing in urgency.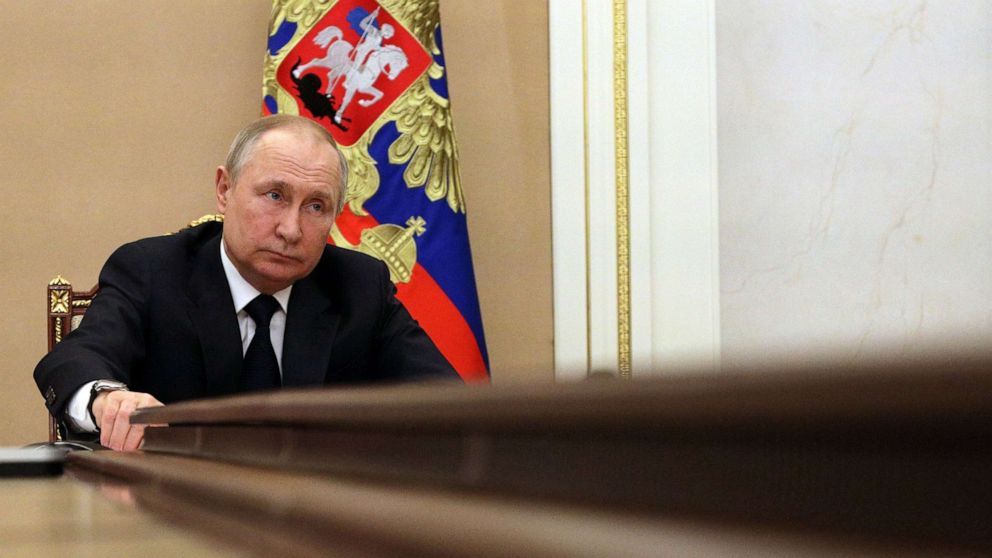 The poll found 77% of Americans overall and 72% of Republicans backing the concept of banning Russian oil, even when asked in the context of the impact on gas prices. Only 31% of Americans give Biden either a "good amount" or a "great deal" of blame for the war; 34% assign that level of blame to former President Donald Trump, who's been out of office for nearly 14 months.
But Biden's standing on issues of economic fallout is wobbly at best. Asked as two separate questions in this poll, 70% disapprove of his handling of both gas prices and inflation, while 58% disapprove of his handling of the economic recovery.
The White House hasn't been subtle in assigning blame for economic challenges to Putin, via hashtags and more: "Make no mistake, inflation's largely the fault of Putin," the president told House Democrats on Friday.
There's reason to think blaming Putin could be effective in the kind of midterm messaging the president is outlining. There's also reason to think that won't be nearly enough to insulate Democrats from voters' backlash over higher prices.
The RUNDOWN with Averi Harper
As he prepares to sign it into law, Florida Gov. Ron DeSantis is doubling down on his support for what critics have dubbed the "Don't Say Gay" bill.
DeSantis criticized the Walt Disney Company for its announcement of a pause on political donations in the state in response to the bill's passage, calling the company "woke."
"We are hard at work creating a new framework for our political giving that will ensure our advocacy better reflects our values," wrote Disney CEO Bob Chapek in a memo to employees Friday. "And today, we are pausing all political donations in the state of Florida pending this review."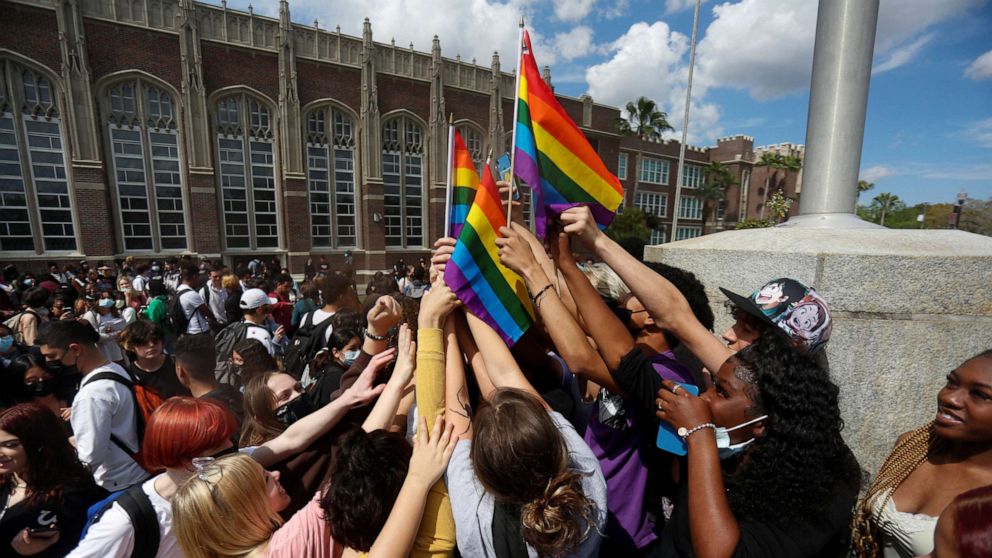 The Walt Disney Company is the parent company of ABC News.
The bill, officially named the Parental Rights in Education Bill, passed Florida's Senate on Tuesday and would restrict discussion of gender identity and sexual orientation in the classroom. It would also allow parents to sue if LGBTQ issues are taught.
The latest ABC News/Ipsos poll found that more than six in 10 Americans oppose legislation that would prohibit classroom lessons about sexual orientation or gender identity in elementary school.
Georgia Republicans recently introduced a similar bill in the state legislature. Both bills are a part of a deluge of controversial LGBTQ-related proposals put forth by Republican lawmakers in states across the country.
The TIP with Alisa Wiersema
President Donald Trump held a rally in South Carolina over the weekend where he called on supporters to oust two incumbent Republicans in the state's June primary. So far, Trump has issued seven endorsements of House challengers, five of whom will be going up against lawmakers who voted in favor of his impeachment.
Out of the seven, two challengers are targeting South Carolina Reps. Nancy Mace and Tom Rice. Rice was among the 10 House Republicans to vote for Trump's impeachment, and although Mace did not vote to impeach the former president, she repeatedly condemned Trump's role in inciting the Jan. 6 insurrection.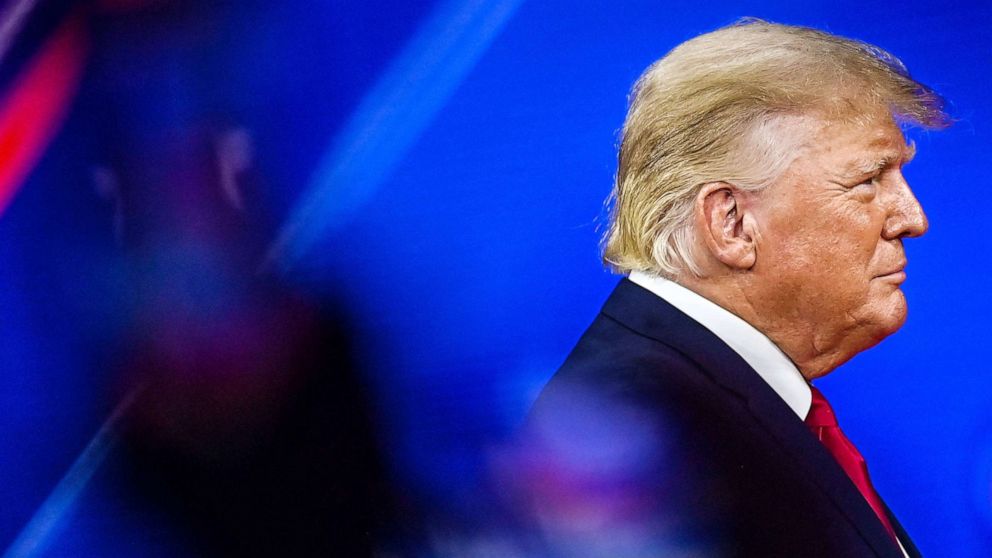 Trump is throwing his support behind former state Rep. Katie Arrington who is challenging Mace. He's also backing current state Rep. Russell Fry, who is aiming to replace Rice. Both candidates attended Trump's weekend rally in Florence.
But at least one South Carolina incumbent is heading into the primary fight with a high-profile endorsement of their own -- the day before the rally, Mace announced former South Carolina Gov. Nikki Haley had raised more than $300,000 on her behalf. In addition to her South Carolina roots, Haley also served as U.N. ambassador in the Trump administration and is seen as a possible 2024 contender.
However, despite criticizing Trump after the Jan. 6 riot, Haley went on to say last April that she "would not run if President Trump ran, and I would talk to him about it."
NUMBER OF THE DAY, powered by FiveThirtyEight
28. That's the number of censures county Republican and Democratic parties issued in 2021, and as FiveThirtyEight contributor Seth Masket writes, the majority of these censures (23) were issued by local Republican parties, targeting officials who either voted to impeach former President Trump or failed to challenge the 2020 presidential election result. Twenty-eight censures out of 3,000-plus counties in the U.S. might not sound like a lot, but it still marks a huge uptick from previous years when local parties issued one or two censures at most.
THE PLAYLIST
ABC News' "Start Here" Podcast. Start Here begins Monday morning with ABC's Martha Raddatz reporting from Lviv, Ukraine, on the foreign fighters joining the battle to defend the country. Then, ABC's Patrick Reevell talks about new video purporting to show another Ukrainian mayor kidnapped. And, the Texas Tribune's Eleanor Klibanoff breaks down the legal battles surrounding Texas Gov. Greg Abbott's directive to investigate parents of trans kids. http://apple.co/2HPocUL
WHAT YOU NEED TO KNOW TODAY
President Joe Biden addresses the National League of Cities Congressional City Conference at Marriott Marquis Washington, D.C., at 2:10 p.m. and participates in a fundraiser for the Democratic National Committee at 7:45 p.m.
First lady Jill Biden will deliver remarks for the 2022 International Women of Courage Award at the Department of State at 10 a.m.
Press secretary Jen Psaki holds a press briefing at 3 p.m.
The Senate convenes at 3:30 p.m. to consider the nomination of Shalanda Young as the director of the Office of Management and Budget.
Download the ABC News app and select "The Note" as an item of interest to receive the day's sharpest political analysis.
The Note is a daily ABC News feature that highlights the day's top stories in politics. Please check back tomorrow for the latest.