The Supreme Court heard oral arguments for the latest landmark abortion case on Wednesday morning, the result of which could change the landscape of abortion law -- and abortion access -- in America for years to come.
And all eyes were on Chief Justice John Roberts.
Before a packed courtroom, the justices engaged in an at-times-explosive debate in June Medical Services v. Russo over a 2014 Louisiana state law requiring doctors who perform abortions to have admitting privileges with a hospital within 30 miles of the clinic, which allows a patient to go to that hospital should urgent care be required.
Louisiana's law is effectively identical to one from Texas ruled unconstitutional by the Supreme Court in 2016 that "led to the closure of half of Texas' clinics, or thereabouts," Justice Stephen Breyer wrote in the court's opinion, without improving health outcomes for patients.
But both sides tangled over whether the circumstances are different here.
In a sign the court may look to clarify the Texas decision, Roberts and several justices who lean more conservatively asked whether the constitutionality of admitting-privileges regulations should be decided on a case-by-case basis.
"Are you saying that admitting-privileges laws are always unconstitutional, such that we don't have to look at the facts in state-by-state?" Justice Brett Kavanaugh asked.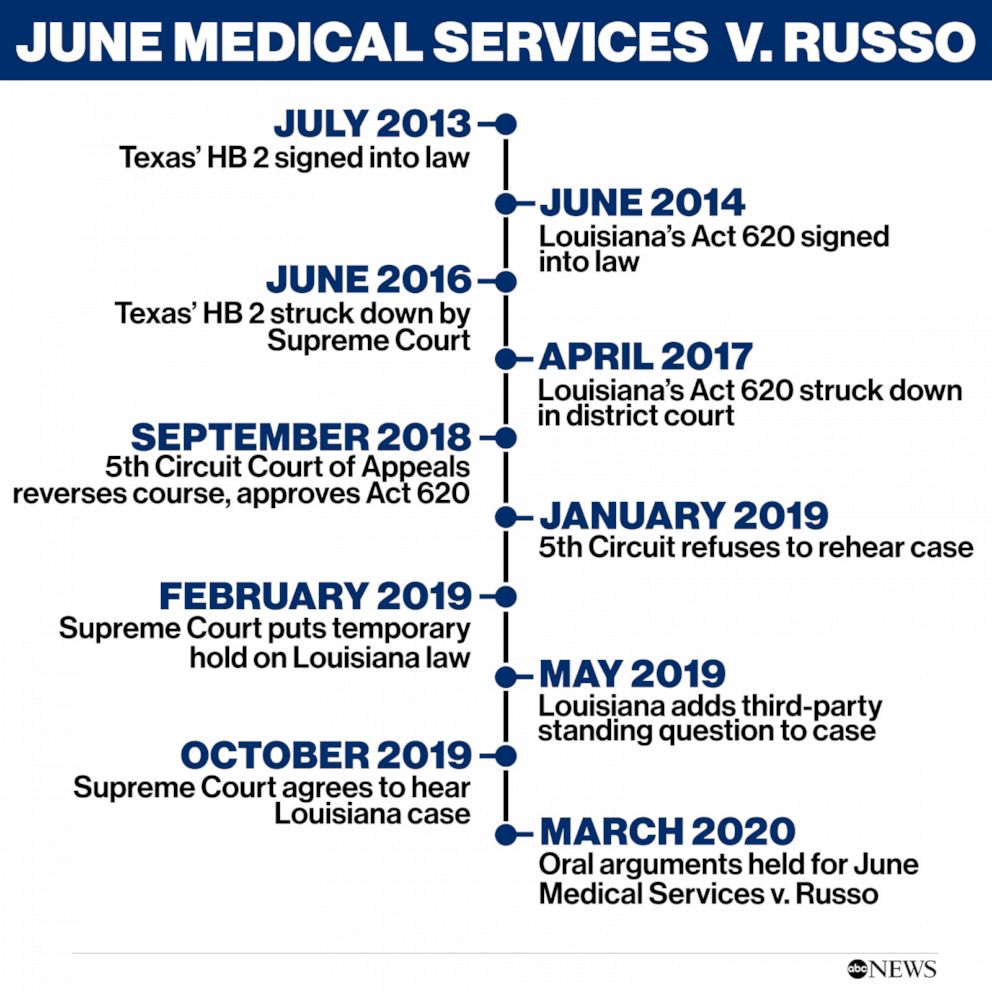 Roberts asked several times if an across-the-board ban on this type of regulation should apply, asking questions such as, "Do you agree that the benefits inquiry under the law is going to be the same in every case, regardless of which state we're talking about?" He did not seem to indicate he had made up his mind.
One possible outcome, experts said, was for the justices to return the case to a lower court for another look at the Louisiana law, while also signaling to states seeking similar regulations to tailor them accordingly.
Justice Neil Gorsuch did not ask questions from the bench.
"We emphasized to the Justices today that nothing has changed in the last four years that would warrant a different ruling," Julie Rikelman, the Center for Reproductive Rights attorney who argued the case for the abortion providers, said in a statement after arguments ended. "In fact, the medical consensus has only grown stronger that admitting privileges are medically unnecessary and actually harm women by closing clinics and putting abortion out of reach."
Justice Ruth Bader Ginsburg led the more liberal-leaning justices in an aggressive attack on the Louisiana law, with questioning primarily focusing on whether admitting privileges have a benefit in the first place. Ginsburg pointed out several times -- calling it "odd" -- that the requirement is for hospitals within 30 miles of a clinic, but how that wouldn't necessarily be close to a patient who experiences complications at home.
"Is it not the fact that most hospitals in Louisiana, in order to get admitting privileges, you have to admit a certain number of patients?" Ginsburg asked. "Abortion providers will never -- if they're not also doing obstetrics and gynecology -- they will never qualify because their patients don't go to the hospital."
Because abortion statistically has very low complication rates, the need for hospital care is extremely rare.
"Is it right that there is evidence in the record that Hope Clinic has served over 3,000 women annually for 23 years -- so that's around 70,000 women -- and has transferred only four patients ever to a hospital?" Justice Elena Kagan asked. She continued later, "I mean, I don't know of a medical procedure where [hospital transfer rates are] lower than that of any kind."
"As a doctor, I can tell you that admitting privileges do not make abortion safer -- they challenge access," Dr. Pooja Mehta, an OBGYN in Louisiana and fellow with Physicians for Reproductive Health, said in prepared remarks for a rally outside the court Wednesday. "Abortion in Louisiana is so safe that providers rarely have to send someone to an emergency room, much less admit them to a hospital."
Experts testified during trial in district court that hospitals can decide their own criteria for granting privileges and that they are often highly subjective measures. All doctors are licensed in the state through a separate process to ensure competency and safety.
Louisiana is also questioning "third-party standing," essentially asking if providers and clinics should legally be allowed to challenge abortion laws on behalf of patients. Abortion rights advocates say it may be difficult to find individual patients to challenge abortion laws given the limited time one has to get an abortion and the risks of being targeted by anti-abortion advocates.
The third-party standing question was briefly discussed at the start of the oral arguments, with questions mostly from Ginsburg and Justice Samuel Alito, who sits with the more conservative-leaning justices.
"The constitutional right at issue is not a constitutional right of abortion clinics, is it?" Alito asked. "It's the right of women."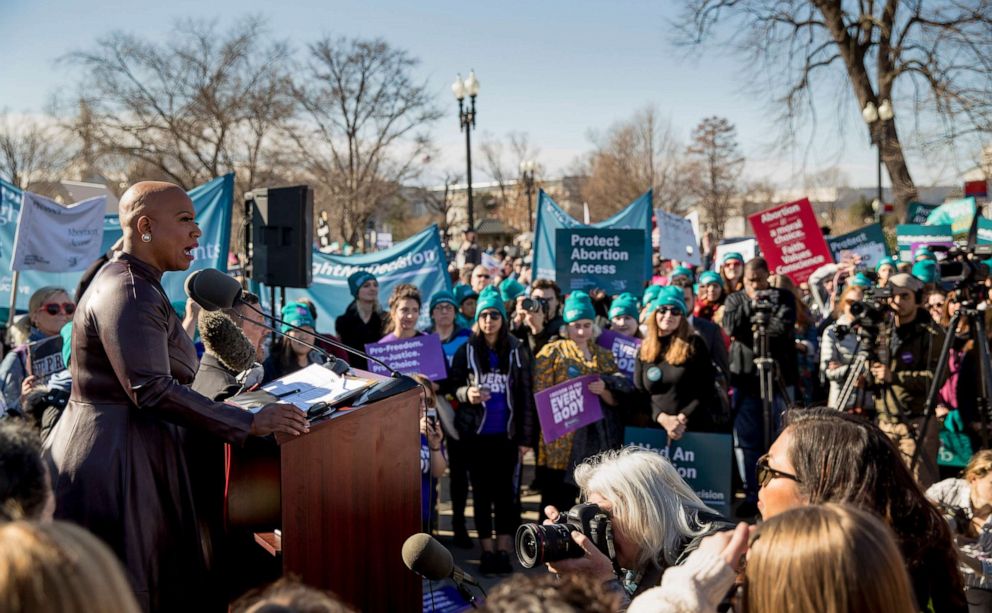 As the case was heard inside the Supreme Court, rallies took place outside by hundreds of both anti-abortion and abortion rights advocates. These demonstrations included politicians like Rep. Ayanna Pressley, a Democrat from Massachusetts, and Rep. Steve Scalise, a Republican from Louisiana.
One of those protesters was Kenya Martin, who shared her own abortion story on stage as part of We Testify, a group that wants to "change the conversation" around abortions through personal anecdotes.
"I tell people that my abortion saved my life," she told ABC News. "Had I not gone to an abortion clinic, seeking an abortions, I may not be here to tell this story."
On the other side of the issue, Autumn Lindsey traveled from Washington state to represent Students for Life of America.
Lindsey has five adopted siblings in her family -- three from the foster care system and the other two from China. She said she is pro-life because her siblings' biological mothers chose life, despite the "difficult situations" they were born into.
"The idea that where there's life, there's hope is so dear to our hearts," she said.
Demonstrations were also held elsewhere by NARAL Pro-Choice America, a group that supports keeping abortion legal, about swing state senators who voted in Kavanaugh.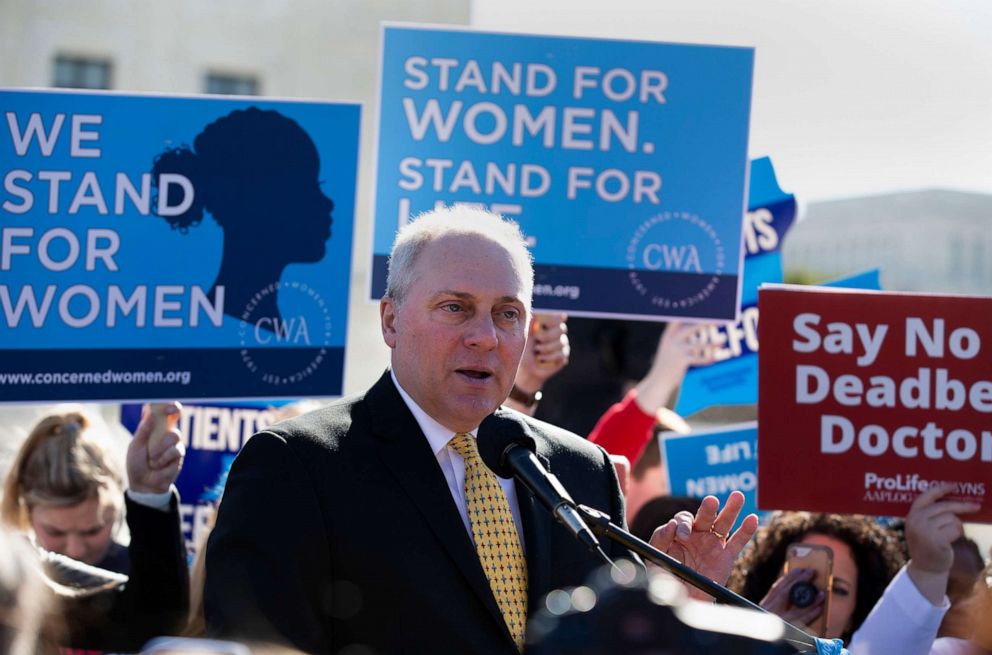 "The law at issue in June Medical Services v. Russo seeks to ensure that women get the competent and quality care that they deserve," Jeanne Mancini, president of the anti-abortion group March for Life, said in a statement, going on to claim Louisiana abortion providers have "serious health and safety violations."
"Louisiana abortion providers have a record of non-compliance with basic safety regulations, and now they want a special exemption from generally accepted medical standards that apply to similar surgical procedures in our state," Louisiana Attorney General Jeff Landry said in a statement Tuesday. "Women seeking abortions deserve better than that; they should have the same assurance of prompt and proper care in the event of complications."
Although an amicus brief filed on behalf of 207 member of Congress -- all but two of whom are Republicans -- asked the Supreme Court to use this case to reconsider or overrule Roe v. Wade, the 1973 case that declared abortion a protected right, Roe is not directly on the docket here.
However, "without overturning Roe at all," the Supreme Court could use this case to "make abortion access in this country even more fraught," Kimberly Mutcherson, co-dean and law professor at Rutgers Law School, told ABC News.
The case is scheduled to be decided by the end of June.
ABC News' Shoshana Dubnow and Jacqueline Yoo contributed to this report.
This report was featured in the Thursday, March 5, 2020, episode of "Start Here," ABC News' daily news podcast.
"Start Here" offers a straightforward look at the day's top stories in 20 minutes. Listen for free every weekday on Apple Podcasts, Google Podcasts, Spotify, the ABC News app or wherever you get your podcasts.