Madeleine Albright, 1st female secretary of state, dead at 84
Her cause of death was cancer, according to her family.
Madeleine Albright, the first woman to serve as U.S. secretary of state, died Wednesday from cancer at age 84, according to her family.
Albright was nominated for secretary of state by President Bill Clinton and served in the role from 1997 to 2001. She was the U.S. ambassador to the United Nations from 1993 to 1997.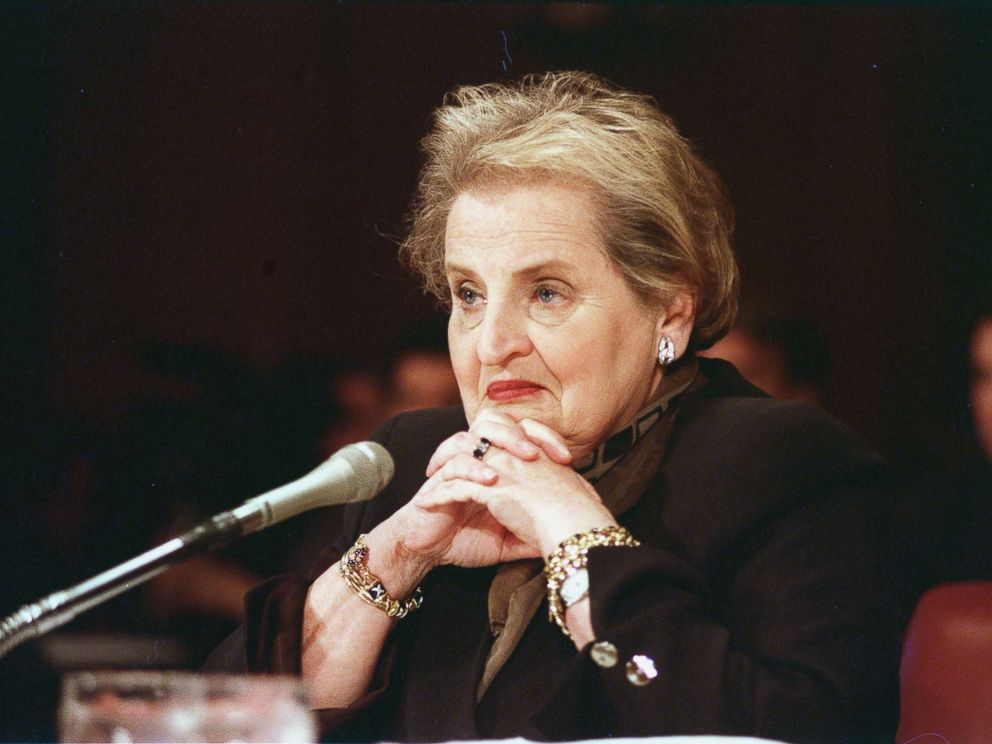 "As the world redefined itself in the wake of the Cold War, we were partners and friends working to welcome newly liberated democracies into NATO and confront the horrors of genocide in the Balkans," President Joe Biden said in a statement. "When I think of Madeleine, I will always remember her fervent faith that 'America is the indispensable nation.'"
President Clinton and former Secretary of State Hillary Clinton in a statement called Albright "one of the finest Secretaries of State, an outstanding UN Ambassador, a brilliant professor, and an extraordinary human being."
"As a child in war-torn Europe, Madeleine and her family were twice forced to flee their home," the Clintons said. "When the end of the Cold War ushered in a new era of global interdependence, she became America's voice at the UN, then took the helm at the State Department, where she was a passionate force for freedom, democracy, and human rights."
The Clintons commended Albright's commitment to "ending ethnic cleansing in Bosnia and Kosovo; supporting the expansion of NATO into Central Europe; fighting the proliferation of nuclear weapons; broadening U.S. efforts to strengthen civil society, reduce poverty, and relieve debt in development countries; elevating concerns about climate change and environmental degradation on the world stage; and much more."
The Clintons said, in their last conversation with Albright two weeks ago, the 84-year-old remained determined "to go out with her boots on, supporting Ukraine in its fight to preserve freedom and democracy."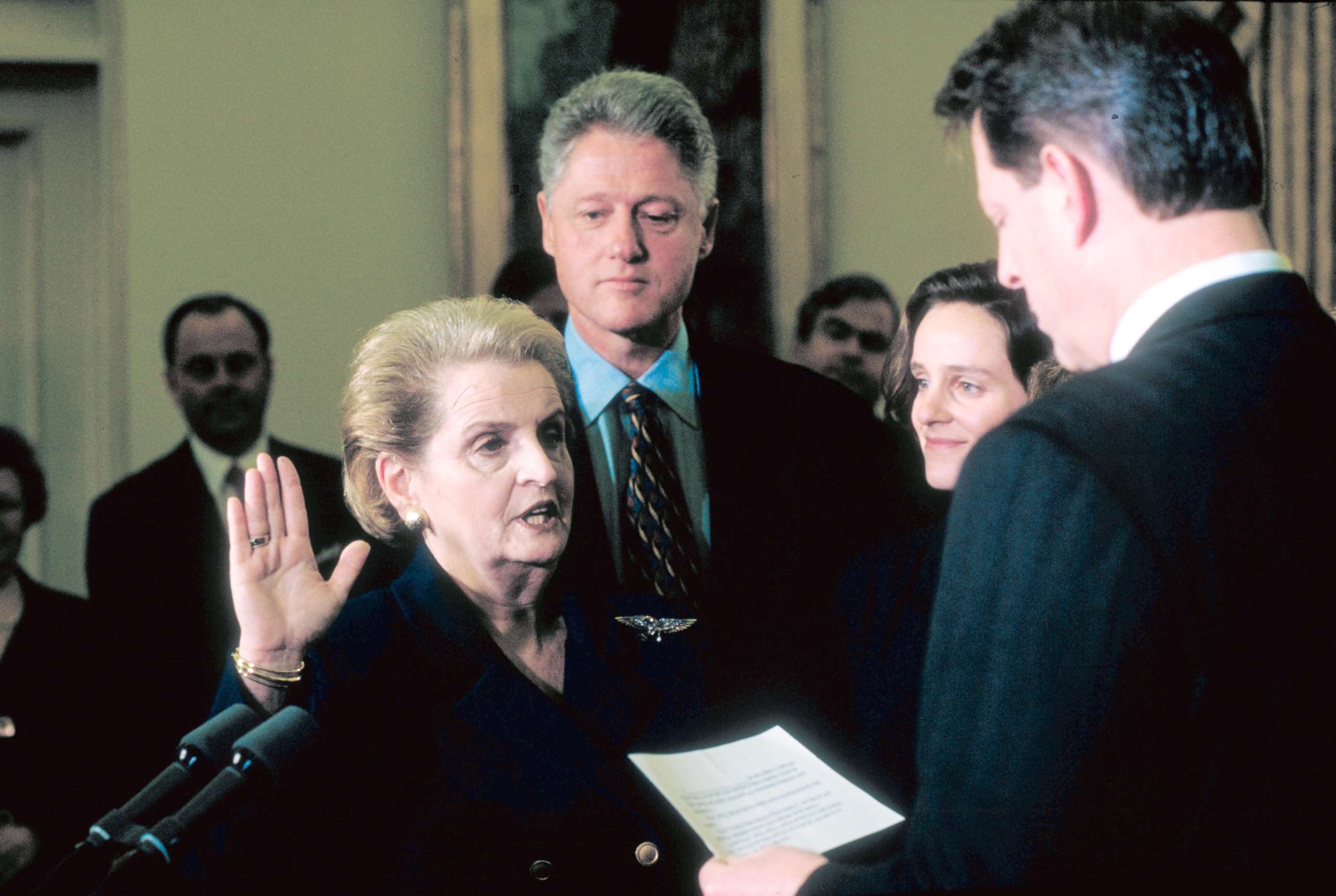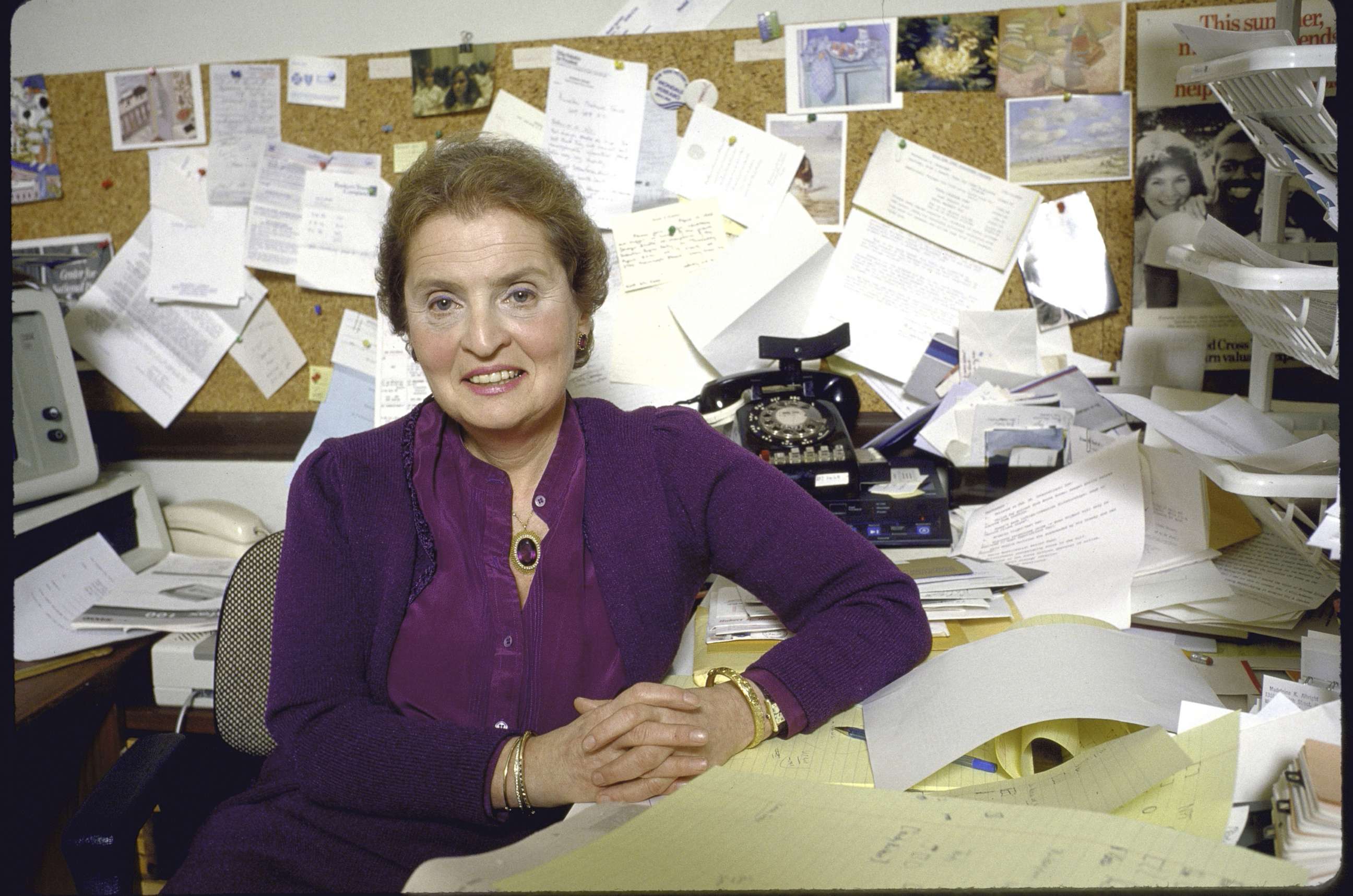 In a State Department briefing Wednesday, spokesperson Ned Price said Biden and Secretary of State Antony Blinken had been notified of her death.
"Madeleine Albright was a brilliant diplomat, a visionary leader, a courageous trailblazer, a dedicated mentor, and a great and good person who loved the United States deeply and devoted her life to serving it," Blinken said in a statement. "She was also a wonderful friend to many, including me. I'll miss her very much."
Price said Albright was a mentor to Blinken, his deputy Wendy Sherman and many others.
"The impact that Secretary Albright ... had on this building is felt every single day in just about every single corridor," Price said.
"She was as trailblazer as the first female secretary of state, and quite literally opened doors for a large element of our work force," Price added.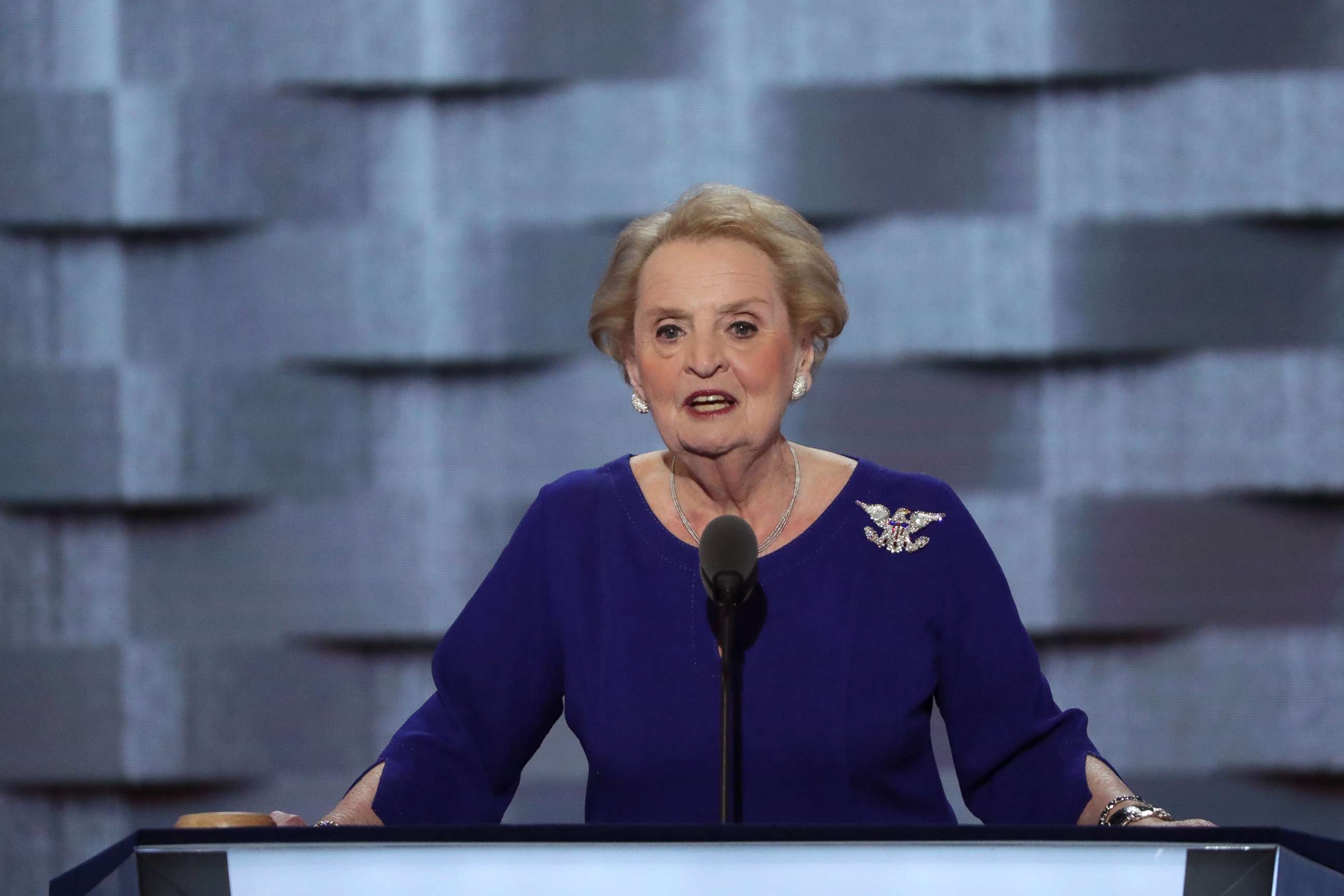 "She took so many people under her wing that you have to imagine just how large that wingspan came to be," Price said. "So it's a really devastating piece of news. I know there are many people in this building who are grieving and will be grieving today. And our thoughts of course are with her family and the many, many people she touched in this building, in this country and around the world."
Former President Barack Obama said in a statement, "Madeleine Albright helped bring peace to the Balkans, paved the way for progress in some of the most unstable corners of the world, and was a champion for democratic values. And as an immigrant herself, she brought a unique and important perspective to her trailblazing career."
Obama also recounted an interaction he said Albright had with an Ethiopian man at a naturalization ceremony.
Obama said the "man came up to Madeleine and said, 'Only in America could a refugee from Africa meet the Secretary of State.' She replied, 'Only in America could a refugee from Central Europe become Secretary of State.'"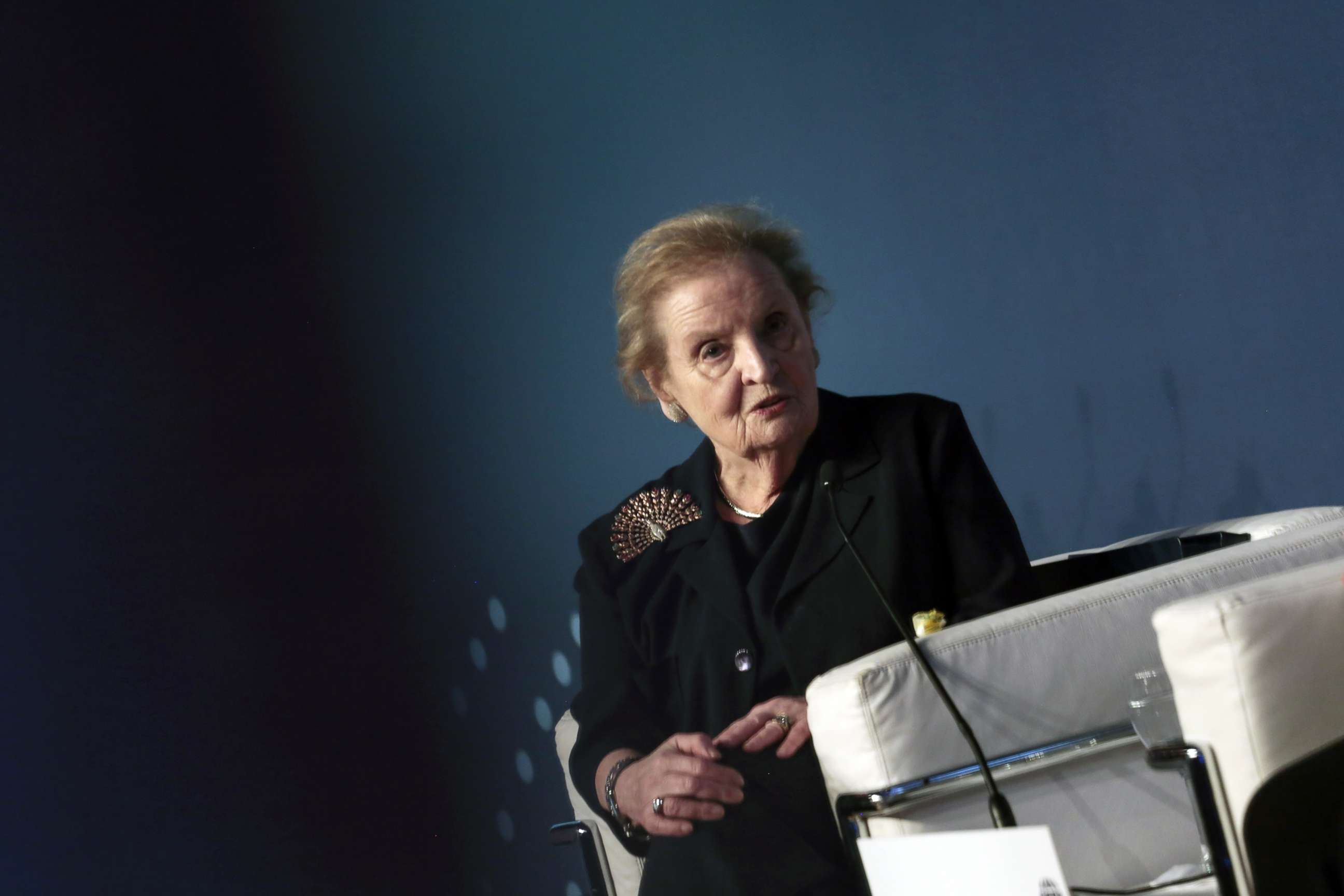 U.S. Ambassador to the United Nations Linda Thomas-Greenfield said Wednesday at the U.N. General Assembly meeting, "Secretary Albright was a mentor. She was my boss, both as secretary of state; I worked with her in Georgetown. She was a colleague and she was a friend over several decades."
"Our country and our United Nations are stronger for her service," Thomas-Greenfield said.
"Her story -- a story of fleeing Czechoslovakia as a refugee at a young age and rising in the highest levels of the U.S. government -- has echoed in my mind amid the current crisis in Ukraine," Thomas-Greenfield continued. "I hope to do justice for her memory today. I'm sure that we will have an opportunity to remember Secretary Albright and honor her many contributions in the days ahead. But today, I grieve her as my friend and extend my condolences to her family."
Albright's family said in a statement, "A tireless champion of democracy and human rights, she was at the time of her death a professor at Georgetown University's School of Foreign Service, chair of Albright Stonebridge Group, part of Dentons Global Advisors, chair of Albright Capital Management, president of the Harry S. Truman Scholarship Foundation, chair of the National Democratic Institute, chair of the U.S. Defense Policy Board, and an author."
ABC's Michelle Franzen reports:
ABC News' Conor Finnegan contributed to this report.