Majority of Americans Think Clinton Would Do More Than Trump For Minority Communities
Sixty-four percent say Clinton would be better for minority communities.
August 28, 2016, 10:38 AM
— -- Despite GOP presidential nominee Donald Trump's recent pitches for African-American and Hispanic support, nearly two-thirds of Americans believe Democratic nominee Hillary Clinton would do more to help minority communities if elected president.
ABC News together with our partners at SSRS survey research firm asked our online opinion panel about Trump's recent appeals to minority voters.
Sixty-four percent said Clinton would do more for minority communities as president while 36 percent chose Trump.
Asked to give a one-word response to a video of one of Trump's recent appeals to African-American and Hispanic voters, 56 percent reacted with a negative word, such as "liar," "lies," "disgusted," or "stupid."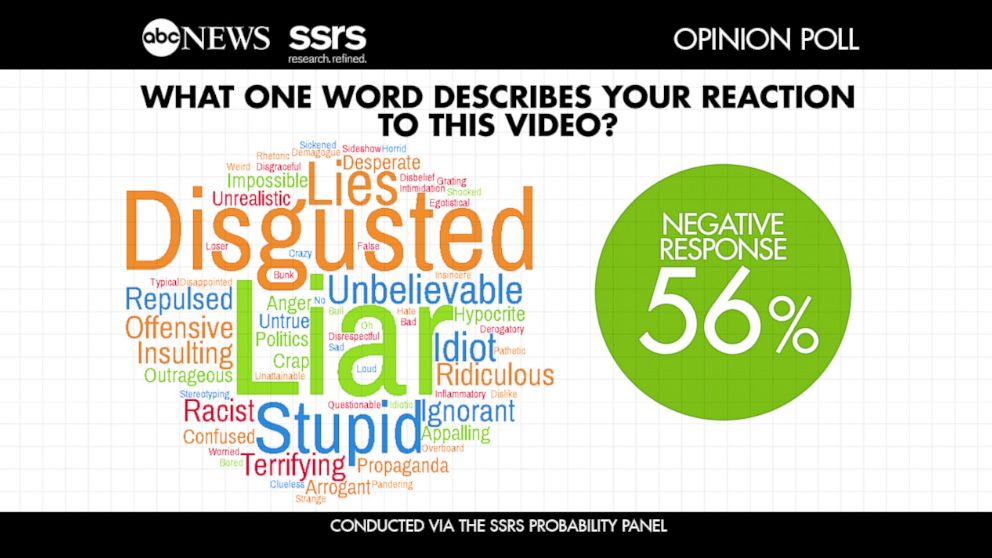 Thirty-seven percent responded positively, using words such as "hope," "hopeful," "truth," and "awesome."
The video shows Trump speaking at a campaign rally in Tampa, Florida, on Wednesday, saying: "To the African American voter, great people, to the Hispanic voter who have been absolutely treated terribly, I say what do you have to lose? What do you have to lose? What -- I will fix it. I'll be able to make sure that when you walk down the street in your inner city or wherever you are, you're not going to be shot. Your child isn't going to be shot."
The blunt appeal has become a regular theme of the Republican candidate's stump speech in the past week.
The ABC News/SSRS Poll was conducted using the SSRS Probability Panel. Interviews were conducted online overnight from August 24 – August 25, 2016 among a nationally representative sample of 257 respondents age 18 and older. The margin of error for total respondents is +/-8.0% at the 95% confidence level. Design effect is 1.7282. The SSRS Probability Panel is a probability-based, online panel of adults recruited from random digit dialed landline and cell phone numbers. For more information, visit http://ssrs.com/research/ssrs-probability-panel/.