— -- Now that they've both announced they are running for president, Jeb Bush and Marco Rubio have officially turned a 15-year friendship into a rivalry.
Bush, the former Florida governor, and Rubio, the junior U.S. senator from the Sunshine State, share a number of similarities besides both being interested in moving into the White House. They both got their start in Florida politics. They own homes in Florida less than three miles away from one another. And they both have ties to Latin America: Rubio is Cuban American, and Bush lived in Venezuela, speaks Spanish fluently and married a Mexican woman.
But they have their differences, too.
Bush, 62, is 18 years older than Rubio, 44. One is a self-made man who comes from humble beginnings, the other is from a well-known political dynasty that boasts two previous presidents. One is still in office, the other hasn't been in office since 2007 and hasn't run for political office in more than a decade.
Their friendship will surely be tested by the rigors of the presidential election, and here's a look back at the two Florida politicians' history together:
1998 - First Encounters
While Jeb Bush was running for governor, he wrote a $50 campaign check for Rubio's first campaign for West Miami city commissioner. It was a winning year for both men; Bush won the governor's seat and he called Rubio to say congratulations when Rubio had clinched the election.
2004 - The Golden Years
Bush won a second term as Florida's governor in 2002 and Rubio won election into Florida's House of Representatives in 2002. Gov. Bush had a GOP-led legislature to work with, including Rep. Rubio, and to help push his policies.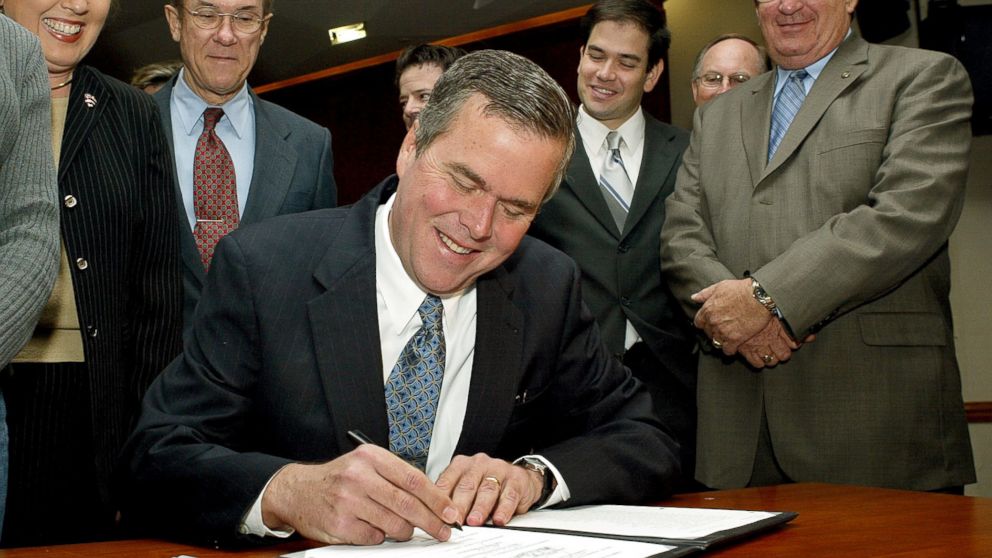 2005 - Chang: Bush's Gift to Rubio
Rubio had worked his way from majority whip up to Florida's house speaker. On Sept. 13, Bush decided to commemorate this special moment in a rather unusual way.
"I rely on Chang with great regularity in my public life. He has been by my side and sometimes I let him down. But Chang, this mystical warrior, has never let me down," Bush said, referring to a sword with a name derived from a Bush family saying. "I'm going to bestow to you the sword of a great conservative warrior," Bush said to Rubio.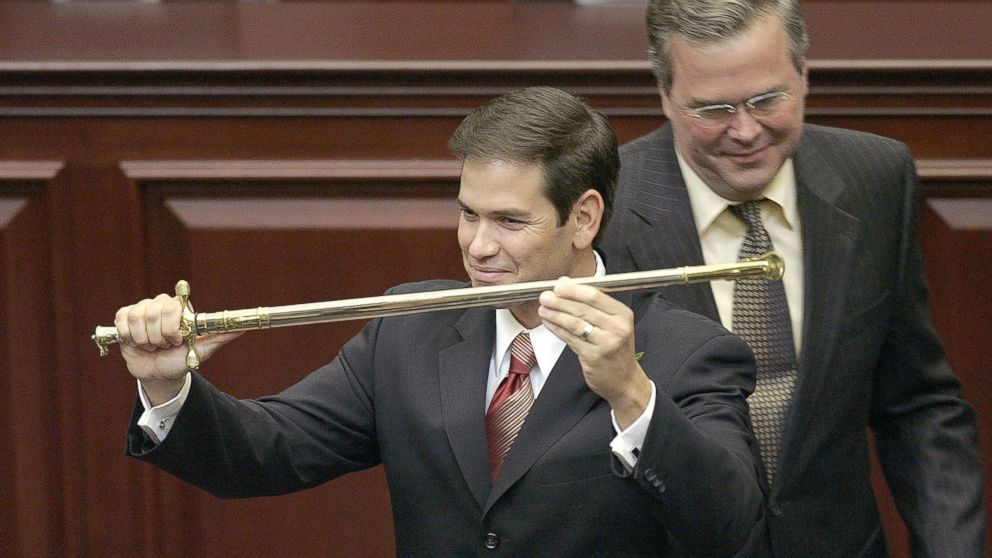 2010 - Rubio for Senate (But Only If Jeb Doesn't Want It)
Rubio began flirting with the idea of running for U.S. Senate in 2009, but said he wouldn't run if Bush decided to. Things turned out to Rubio's liking -- Bush didn't want to be senator, encouraged Rubio to run and ended up playing a behind-the-scenes booster to Rubio throughout his campaign. Bush was at Rubio's election watch party as they were waiting for the election to be called.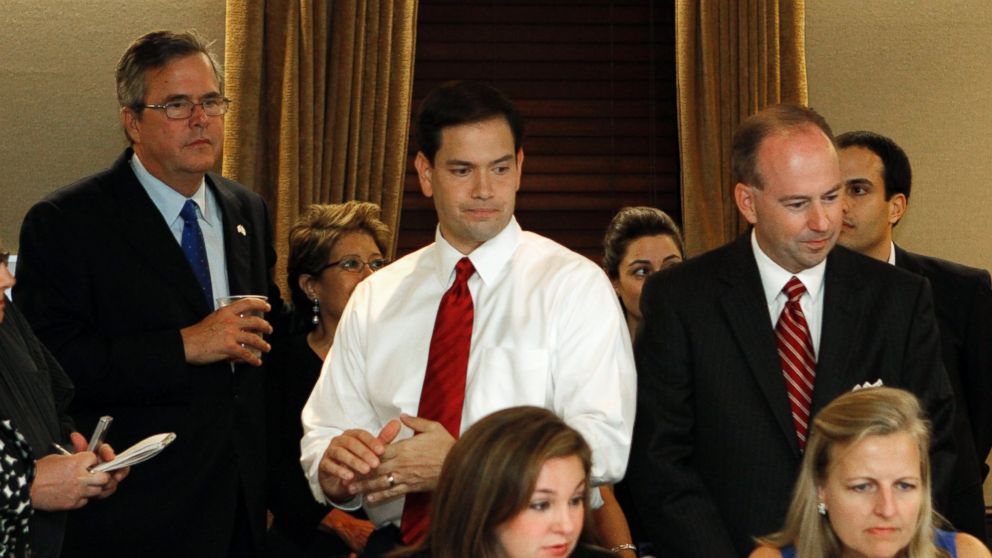 February 2012 - WWJD?
Jeb was turning 59 years old and so Rubio wrote his friend a birthday tribute, revealing a tactic of his: "Often in the Senate when faced with a tough choice, I ask myself: WWJD. What would Jeb do?"
Rubio also wrote that when he first sought the Senate seat, "'The Gov' was one of the only ones who actually thought I could win. He has been a huge influence on me."
2012 - Bush Believes in a Romney-Rubio Ticket
GOP presidential nominee Mitt Romney was in need of a running mate, and before he chose Rep. Paul Ryan, R-Wisconsin, Romney was being coaxed by Bush into picking Rubio. "Marco Rubio is my favorite [choice], because we have a close relationship," Bush said in an interview with PBS. "I admire him greatly."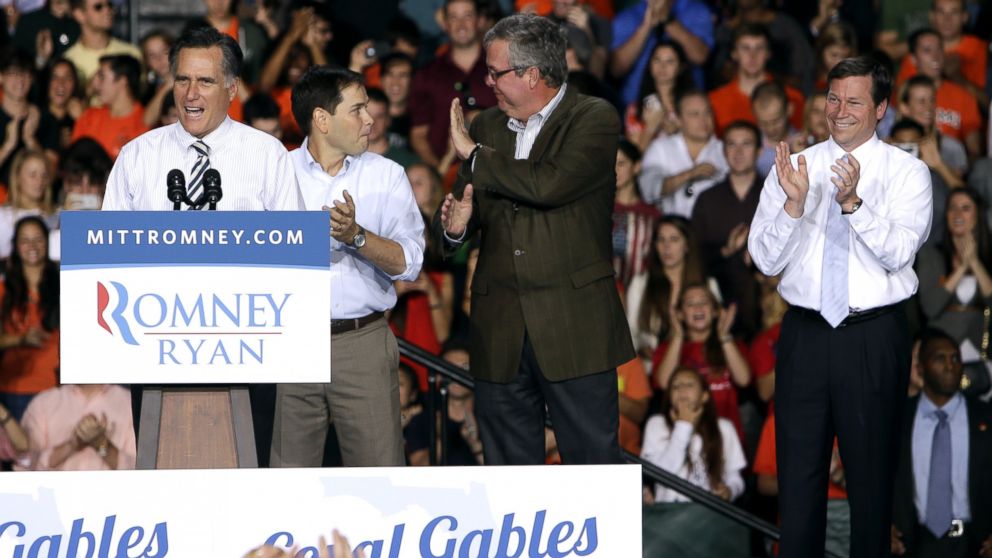 2015 - Bush and Rubio Share a Flight
In an interview with NPR, Rubio said the old friends chatted about everything from the Masters, to the Paleo diet (Jeb Bush is on it), the Miami Dolphins and about the presidential campaign, though "not in great detail."
April 2015 - Rubio Announces
Just before announcing his candidacy in April, Rubio told ABC News' George Stephanopoulos that this would not have any effect on their relationship.
"Jeb is my friend. He's still my friend. ... We'll still continue to be friends. I have tremendous admiration for him," Sen. Rubio said. Rubio went on to explain: "I think it's important to understand I'm not running against Jeb Bush. And I hope he's not running against me. We are competing for the same job."
June 2015 - Bush Announces
Shortly after throwing his hat into the presidential ring in early June, Bush called Marco Rubio a "good friend" and "real talent." But he added that he's definitely more prepared than Rubio to become President of the United States.
"There's no question of that at all," Bush told ABC News' David Muir when asked if he's more experienced than Rubio. "And that's not disparaging my good friend, who I think is a real talent."