The family of Sen. John McCain has released details of his funeral and memorial services, with the ceremonies to begin in Arizona and end at the National Cathedral, where speakers will include former President George W. Bush.
Here is a timeline of planned events:
Wednesday, Aug. 29: McCain's body will lie in state at the Arizona State Capitol. There will be a small ceremony that family and local officials will attend at 10 a.m. local time. Following the ceremony, the public will be welcome to pay respects to Sen. McCain in the Arizona State Capitol Rotunda from 2 p.m. to 8 p.m.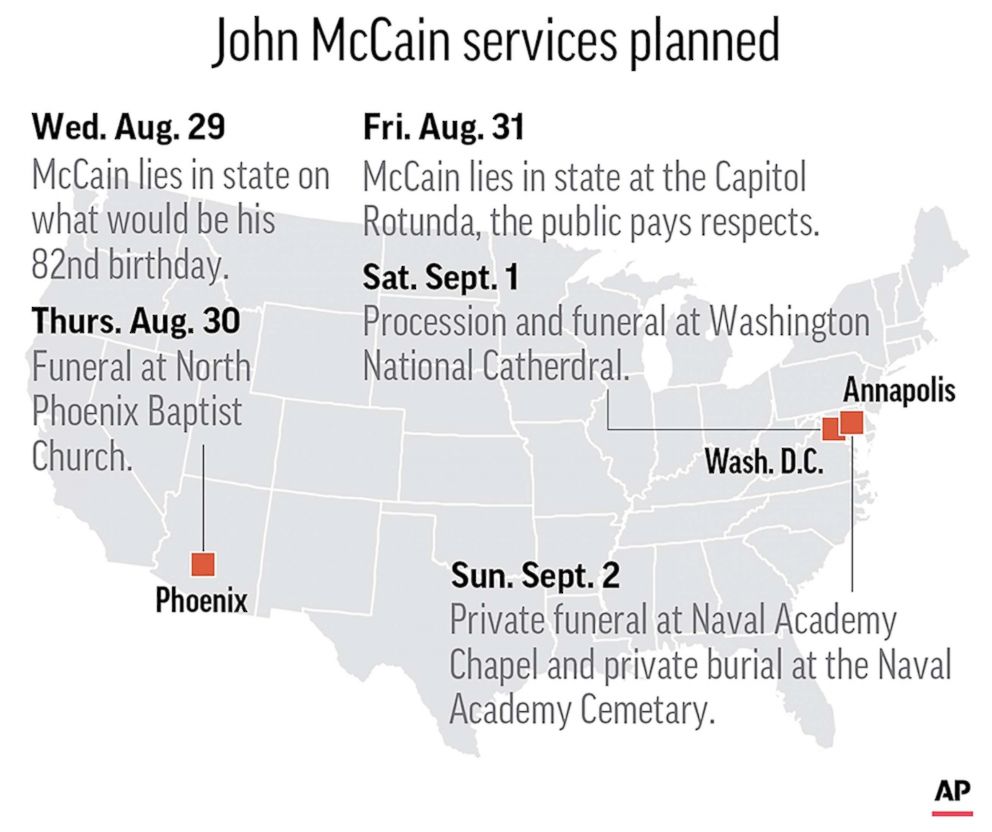 Thursday, Aug. 30: Memorial service at North Phoenix Baptist Church celebrating McCain's life and legacy. Eulogists expected to include former Vice President Joe Biden. After this ceremony, there will be a motorcade to the Phoenix airport, and McCain's body will be flown to Joint Base Andrews in Washington, D.C., and taken to a funeral home.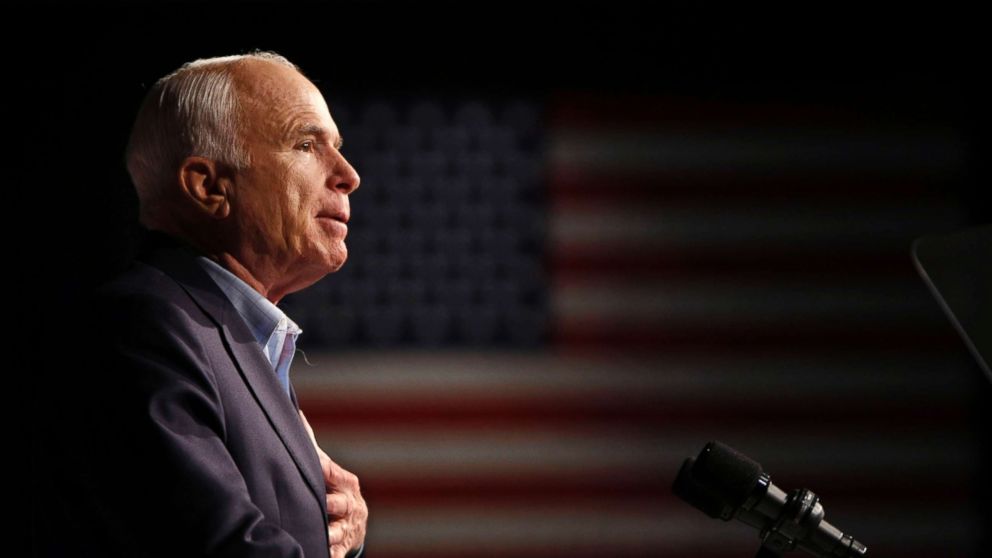 Friday, Aug. 31: McCain's body will lie in state at the U.S. Capitol Rotunda, where the senator's family, colleagues, staff and the public will honor his life and service. A ceremony will take place at approximately 10 a.m.
Senator John McCain through the years
Serving as a Navy pilot in the Vietnam War, John McCain III, was held as a prisoner of war for years after his warplane was shot down. Upon being released, he returned home and continued to serve his country through politics; first in the House of Representatives and then in the Senate. McCain also ran for president in 2000 and 2008, unsuccessfully, but still remains active in the Senate for the state of Arizona.

John S. McCain III, center, as a young boy with his grandfather Vice Admiral John S. McCain Sr., left, and father Commander John S. McCain Jr. in family photo, 1940's.
Terry Ashe/The LIFE Images Collection/Getty Images
Saturday, Sept. 1: There will be a motorcade from the Capitol to the National Cathedral, with a stop along the way for the late senator's wife, Cindy McCain, to lay a wreath at the Vietnam Veterans Memorial. Former President George W. Bush will give a eulogy at the National Cathedral. Other likely speakers include McCain children Meghan McCain and Jimmy McCain. The New York Times reports that former President Obama has also been invited to deliver a eulogy.
Sunday, Sept. 2: A private memorial service will take place at approximately 2 p.m. in the U.S. Naval Academy Chapel in Annapolis, Maryland. Following the service, a private burial ceremony will be held at the U.S. Naval Academy Cemetery where Sen. McCain will be laid to rest next to his Naval Academy classmate and friend, Adm. Chuck Larson.