A bipartisan effort to provide legal protections for special counsel Robert Mueller and his Russia investigation failed on the Senate floor Wednesday.
Republican Sen. Jeff Flake of Arizona and Democratic Sen. Chris Coons of Delaware attempted to force a vote on a bill that would prevent Mueller from being fired without "good cause."
Their efforts came in light of Jeff Sessions being forced out of his post as attorney general last week and the subsequent appointment of Matthew Whitaker as acting attorney general.
In his new role, Whitaker takes Deputy Attorney General Rod Rosenstein's place as the lead overseer of the Russia probe. Sessions had previously recused himself of all Justice Department activity related to the investigation into Russian meddling. Now, lawmakers are concerned that Whitaker's objectivity is compromised because of his vocal criticism before joining the administration.
Flake and Coons sought unanimous consent from their Senate colleagues for the measure late Wednesday but that failed after an objection from Republican Leader Mitch McConnell.
The bipartisan Mueller protection legislation formally named the Special Counsel Independence and Integrity Act, cleared the Senate Judiciary Committee in April but has seen no floor action.
The bill codifies existing DOJ regulations to ensure that the special counsel can only be fired for good cause by a Senate-confirmed DOJ official. Whitaker has not been confirmed by the Senate for his current post.
It also provides the special counsel with a 10-day window in which he can seek expedited judicial review of his removal to determine whether the firing was for good cause. If the firing is ultimately determined to have violated the good-cause requirement, the special counsel cannot be removed.
Lastly, the bill would preserve the staffing, documents, and materials of the investigation while the matter is pending.
"The leader has always said 'there's no need for this because nobody's been fired, the special counsel is fine.' But I don't think anyone can say that after Jeff Sessions' forced removal," Flake told ABC News on Tuesday.
On Wednesday, he followed up his remarks by threatening retribution on Senate Republicans to withhold his vote on judicial nominations.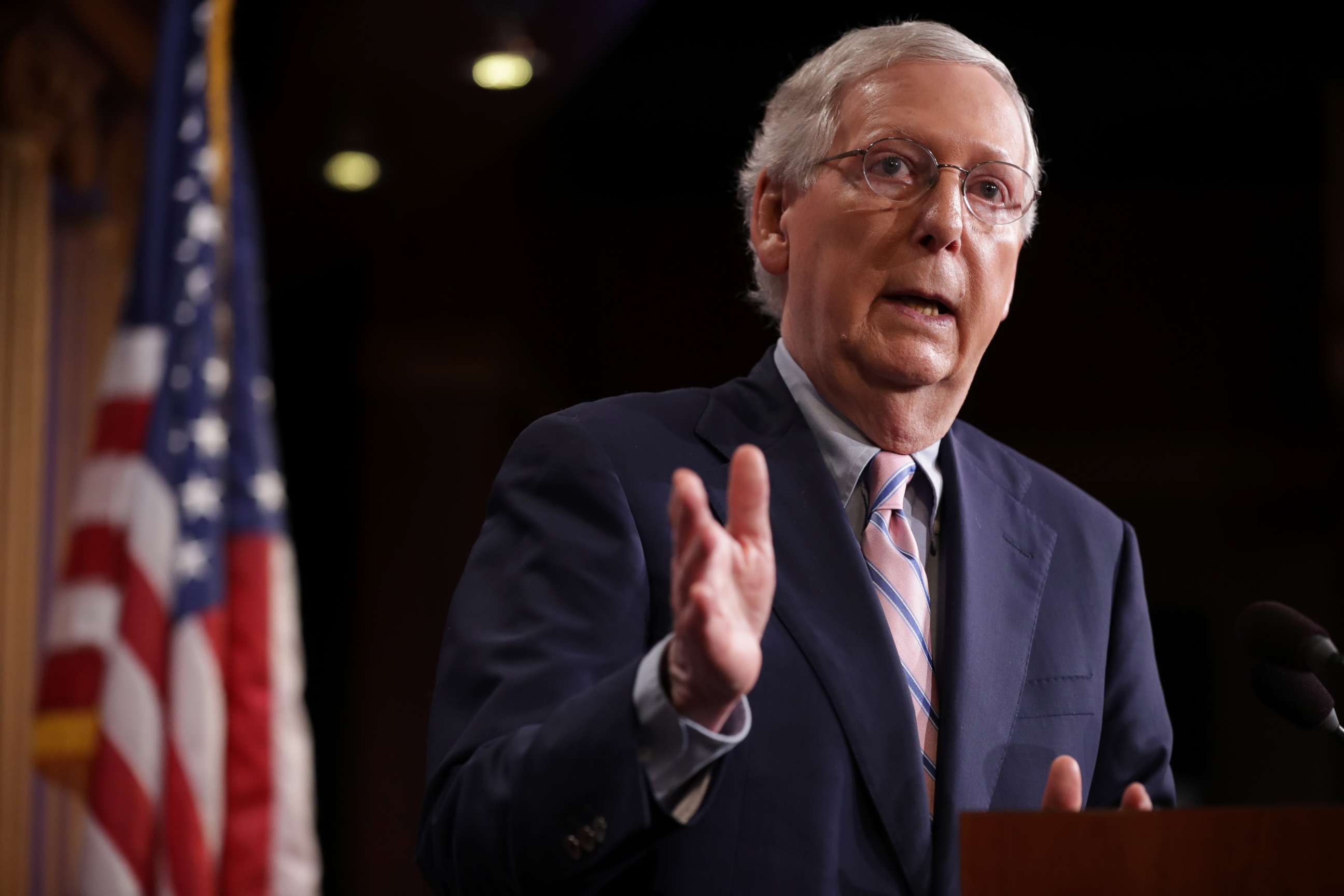 "I have informed the Majority Leader that I will not vote to advance any of the 21 judicial nominees pending in the Judiciary Committee, or vote to confirm the 32 judges awaiting a confirmation vote on the floor, until [the bill] is brought to the full Senate for a vote," Flake announced on the Senate floor after McConnell objected to the measure.
His decision to withhold his vote on judicial nominations would draw ire from McConnell, who has previously said confirming judges to federal courts is a top priority.
McConnell has downplayed the necessity of the Mueller protection bill, saying the bipartisan legislation is not needed at this time because of assurances he has been given by President Trump that he does not intend to fire Mueller.
"I mean there's been no indication, as you can imagine – I talk to the president fairly often – no indication that the Mueller investigation will not be allowed to finish, and it should be allowed to finish," McConnell told reporters on Wednesday.
He went on: "We know how the president feels about the Mueller investigation but he has never said he wants to shut it down. I've never heard anybody down there say they want to shut it down. I think it's in no danger and so I don't think any legislation is necessary."
But several other Republicans have said they would vote for the bill, including Senate Judiciary Committee Chairman Chuck Grassley, Maine Sen. Susan Collins, South Carolina Sen. Lindsey Graham and North Carolina Sen. Thom Tillis.
Graham told ABC News on Tuesday: "We bring it to the floor I'll definitely vote on it. I don't see any movement to fire Mueller, but legislatively it'd probably be good to put it into law for the future."
On Sunday, Graham told CBS News' Face the Nation that he doesn't think Whitaker should recuse himself from overseeing Mueller's investigation. He also said he intends to meet him sometime this week.
At least one Republican said he thinks the Mueller protection bill would be unconstitutional and he said he doesn't think Whitaker will do anything to jeopardize the Mueller investigation.
"I don't think it's fair to the man to bash him before he even has a chance to find the men's room," Sen. John Kennedy of Louisiana said Tuesday.
Democrats, however, are insisting that if a standalone bill does not get a chance on the Senate floor, then it must be included in a must-pass spending bill due by Dec. 7.
Schumer on Tuesday said that Democrats will "attempt to add legislation to the must-pass spending bill in the lame duck session that will prevent acting Attorney General Whitaker from interfering with the Mueller investigation."
Grassley, who's charged with overseeing the DOJ as chairman of the Judiciary Committee, on Tuesday insisted he felt reassured by Trump's assurances on the matter.
"It seems to me that the president's the chief executive and the president said that he wasn't going to do that, so doesn't matter what Whitaker thinks," Grassley told reporters.
Grassley also said that as long as Whitaker made comments about the Mueller probe as a "private citizen" he's not concerned about any bias he may have.
On the bill to protect the special counsel investigation, Grassley said he supports it.
"The answer is if it comes to a vote, I will vote for that bill. Whether it comes for a vote is up to the Leader and I respect the leader's right to bring it up," Grassley said.