Vietnam Vet Who Risked Life to Save Comrades, Evaded Tiger Awarded Medal of Honor
Bennie Adkins among two Vietnam vets awarded highest military honor today.
September 15, 2014, 3:43 PM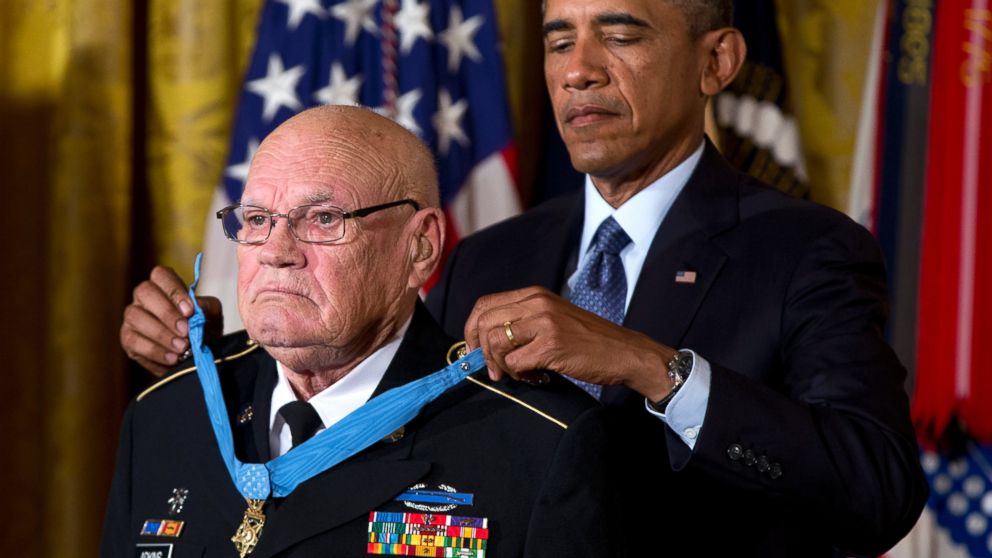 — -- Sergeant Major Bennie Adkins endured 38 hours of relentless attacks, killed an estimated 175 enemy fighters, sustained 18 different wounds and evaded a tiger on the loose in the jungles of Vietnam in 1966. Today, nearly half a century later, he was awarded the nation's highest military honor by President Obama.
"This is strictly a humbling experience for me," Adkins, now 80 years old, told reporters at the White House. "I want to dedicate this to the five soldiers who paid the ultimate price in this battle."
President Obama Presents Medal of Honor
Medal of Honor Museum Gets Millions From Perot
President Obama Salutes Medal of Honor Recipient as 'the Essence of True Heroism'
During the early hours of the morning on March 9, 1966, Adkins' camp came under fire from a formidable North Vietnamese outfit. After learning his fellow soldiers were wounded, Adkins ran repeatedly into enemy fire, navigating through exploding mortar rounds to drag his comrades to safety, the president said.
Over the next 24 hours, Adkins continued to deflect enemy fire, fending it off as his camp's perimeter was infiltrated. When his camp was ordered to evacuate, Adkins and a small group of soldiers dug their way out of a bunker and fought their way out. When they couldn't reach an evacuation helicopter, Adkins led the group of surviving soldiers into the jungle, where they hid for 48 hours before being rescued.
"And after all they had been through, as if it weren't enough, there was something more. You can't make this up," Obama said. "There in the jungle, they heard the growls of a tiger. It turns out, that tiger might have been the best thing that happened to Bennie. ... He says the North Vietnamese were more scared of that tiger than they were of us."
"So the enemy fled. Bennie and his squad made their escape and they were rescued finally the next morning," the president said.
Adkins went on to serve a third tour of duty and later earned a bachelor's and two master's degrees before founding an accounting service.
Adkins was one of two Vietnam veterans recognized at the White House today in a ceremony the president admitted came too late.
"Normally this medal must be awarded within a few years of the action," the president explained. "But sometimes, even the most extraordinary stories can get lost in the fog of war or the passage of time. Yet, when new evidence comes to light, certain actions can be reconsidered for this honor. And it is entirely right and proper that we have done so and that is why we are here today."
The president went on to thank those whose persistence and research resulted in the two men finally getting the recognition they deserve.
Specialist Four Donald Sloat was recognized for an astonishing act of self-sacrifice at the age of just 20. On Jan. 17, 1970, when Sloat's squad was serving as a blocking force for tanks and armored personnel carriers, the lead soldier tripped a wire connected to a hand grenade booby-trap. Sloat picked up the grenade and intended to throw it, but realized it was close to detonating.
"There were Americans in front of him and behind him, inside the kill zone. So Don held onto that grenade, and he pulled it close to his body, and he bent over it. And then, as one of the men said, all of a sudden there was a boom," the president said.
Sloat's actions saved the lives of three of his comrades. Today, his brother accepted the Medal of Honor in his place.
"Over the decades our Vietnam veterans didn't always receive the thanks and respect they deserved. That's a fact. But as we have been reminded again today, our Vietnam vets were patriots and are patriots. You served with valor. You made us proud. And your service is with us for eternity," the president said.