Meet Bernie Sanders' Top Celebrity Backers
Here are Bernie Sanders' star-studded fans.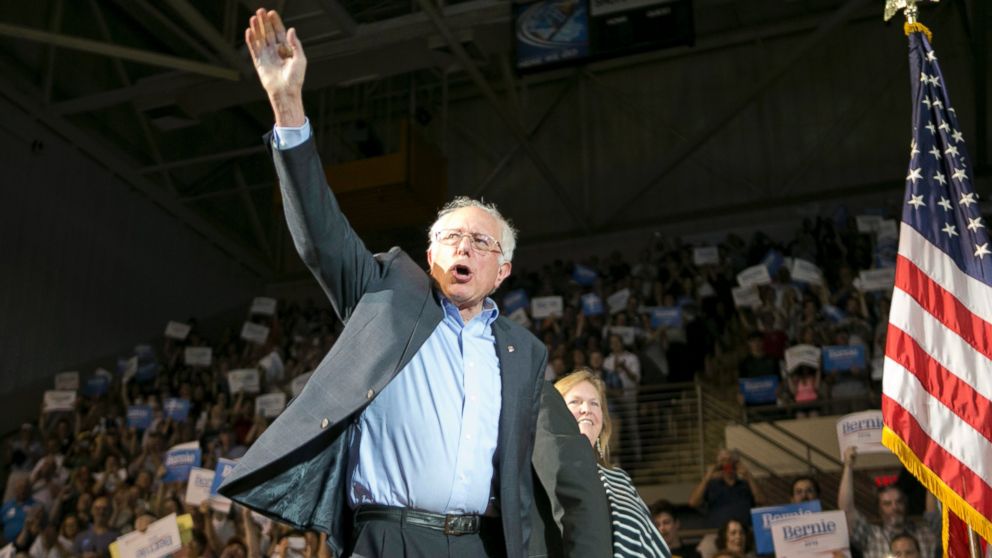 — -- While Hillary Clinton may have a long list of celebrity backers, fellow Democrat hopeful Bernie Sanders boasts his own list of famous fans.
The man known for his ability to draw massive crowds is also a favorite among celebrities, due in part to his grassroots movement and enthusiasm. Here are some of Sanders' star-studded supporters.
Actress and comedian Sarah Silverman, who introduced Bernie at his packed Los Angeles event Monday night, announced her support with a catchy tweet.
Sanders landed a sweet endorsement earlier this month: Ben Cohen of Vermont ice cream company Ben & Jerry's. Cohen told Business Insider back in May that he'd brainstormed a flavor idea for the candidate: "Bernie's Rebellion" would include "some chocolate chips molded in the shape of a cap that you wear for graduation to symbolize his stance in favor of free college education and reduced student loan rates" and "equal numbers of peanuts and pecans to symbolize his initiatives to reduce economic inequality."
After Donald Trump used "Rockin' in the Free World" to make a grand entrance at his announcement speech, Young's manager issued a concise statement to Mother Jones: "Donald Trump's use of "Rockin' in the Free World" was not authorized. Mr. Young is a longtime supporter of Bernie Sanders."
Actress Susan Sarandon took to Facebook to declare her support for Sanders, calling him, "courageous and level-headed in times of crisis." She's used the hashtag "#feelthebern" on Twitter.
Actor Mark Ruffalo told the Daily Beast, "I think Sanders has a message. He's the one." Ruffalo keeps his Twitter followers up to date on all things Bernie, including how he contrasts with Hillary Clinton.
Rapper and mogul Brandon McCartney, known to his 1.16 million Twitter followers as Lil B the Based God, has switched his allegiance from Clinton to Sanders. Lil B cites many reasons for his support of the Vermont senator, from his civil rights track record, to the fact that he follows black people on Twitter (Sanders followed Lil B back on Twitter last month).
Actress Mia Farrow came to Twitter with a simple message.
Julian Casablancas, singer for The Strokes and Julian Casablancas+Voidz, referred to Sanders as "the only candidate not bribed and the only one fighting for good."
Comedian, author and performer Lewis Black, heard recently as the voice of Anger in Pixar blockbuster Inside Out, told The Daily Beast he stood behind Sanders and that he's excited to see the candidate "just stating stuff that needs to be reiterated that the [Democrats], basically, don't reiterate."
For environmentalist and author Bill McKibben, Sanders is a "stand-up guy." McKibben wrote that, "America's wildlife… [is] awfully happy to have a loud Brooklyn-accented voice demanding real, fundamental change."
Actor Justin Long posted an infographic comparing the top ten donors of Clinton and Sanders, with the caption, "A president who represents the people or a president who represents banks, corporations + the media?"
Childhood star Cole Sprouse, known for his role on Disney's The Suite Life of Zach and Cody, tweeted his wish for Sanders to run for president back in April. He has since continued his online support for the candidate, most recently tweeting in reference to activists interrupting a Sanders speech in Seattle: "Civil right activists stopping a #BernieSanders speech is practically cannibalism. This isn't the way you appeal to a rational audience."
Actor and director Danny DeVito tweeted the ultimate complimentary comparison.