The case against Paul Manafort took a surprise turn on Tuesday with the defense attorneys for the former Trump campaign chairman declining to call additional witness to mount a defense before closing arguments.
Throughout the trial, Manafort's lawyers have attempted to levy a more personal approach to counter a government case laden with numbers and documents. With the decision not to call any witnesses, they appear to be doubling down on that strategy, betting on the success of their cross-examinations and a 90-minute closing argument.
"Well, we live in the United States of America and you're presumed innocent until proven guilty," Kevin Downing, one of Manafort's lead attorneys, told ABC News as he exited the courthouse on Tuesday. "And we believe the government cannot meet that burden."
Manafort, who has pleaded not guilty, is facing a potential life sentence if he is convicted on 18 counts of financial charges, including money laundering and tax fraud. His defense team, comprised of veteran tax attorneys, is facing a tough case brought by prosecutors from the Office of Special Counsel Robert Mueller, who is investigating Russian efforts to interfere in the 2016 election.
But legal experts told ABC News the team – comprised of Downing, Thomas Zehnle, Jay Nanavati, Richard Westing, and Brian Ketchum -- is up to the task.
All are former federal prosecutors, many of them with a primary focus on tax crimes, and several have worked both for and against the prosecution team they now face.
And while the defense's decision to rest may seem like resignation to defeat, Robert Mintz, a former federal prosecutor now in private practice, told ABC News the move "comes as no surprise" and might just help their case.
"The defense strategy from the outset has been to attack the credibility of [Manafort's former business partner] Rick Gates and the government's decision to bring him on as a cooperating witness," Mintz said. "If Manafort were to testify it would give the government the chance to refocus the jury on Manafort."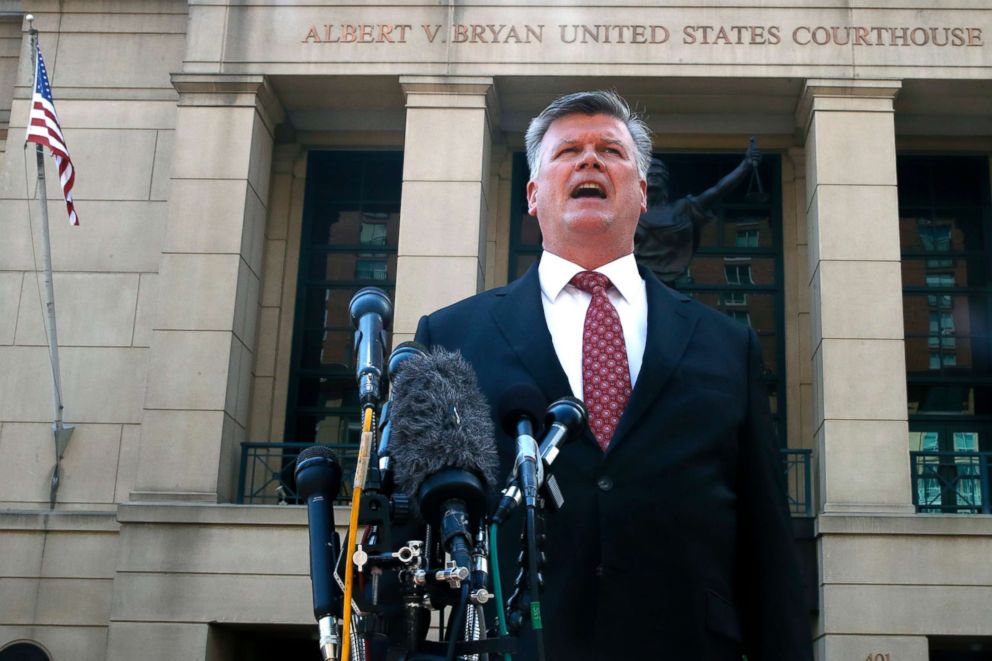 Downing, a former tax crimes prosecutor for the Department of Justice who once worked under now-Deputy Attorney General Rod Rosenstein, can be an aggressive presence in the courtroom. It was Downing who took on the tough cross-examination of Gates, the prosecution's star witness.
Downing once received the highest honor at the Department of Justice -- the John Marshall Award -- for his successful prosecution of Swiss banking giant UBS. It was one of the first tax cases to pierce the legendary secrecy of the Swiss financial system, targeting the banking institutions that had previously enabled Americans to hide billions in offshore accounts.
"In my experience Kevin is a very talented, ethical and successful lawyer," former White House special counsel Ty Cobb told ABC News. "His strategy has been to raise every possible appellate issue and put the government to their proof and it appears he's done so successfully win or lose."
Where Downing is aggressive, Zehnle is approachable. The pair used to work together in the Justice Department's tax division. Downing, the first attorney hired by Manafort, quickly brought on Zehnle after Manafort's initial indictment in Washington, DC in October.
A soft-spoken man from St. Louis, Zehnle delivered the opening statement for the defense, attempting to offer a humanizing portrait of his client.
"I am proud to be here," Zehnle said. "There are two sides to every story," he said as he introduced Manafort to the jury, calling him a "talented and good man."
Westling, another longtime Justice Department tax crimes prosecutor, has cross-examined several witnesses, while Ketcham, who specializes in criminal and civil tax matters, has had little presence in court.
But it is one of the youngest members of the group, Jay Nanavati, a former federal tax prosecutor who joined the team in May, who has often stolen the show, employing self-deprecating humor to lighten the mood in what has often been a tense courtroom atmosphere.
"Pleased to meet you, Mr. Katzman. First off, I apologize for my suit," Nanavati once quipped, referring to his checker-printed getup.
On another occasion, Judge T.S. Ellis, who is very strict about the pace of the trial, asked Nanavati how long he planned to question a witness. He replied "3 to 3.5 minutes," leading the courtroom to break into laughter.
And it wasn't just the jurors who Nanavati drew laughs from. Last Friday, Manafort could be seen chuckling as he chatted with Nanavati -- the most animated he has appeared since the start of the trial.
Veteran white-collar defense attorney Shanlon Wu, who briefly represented Manafort's longtime business partner Gates, said this strategy of coming across as approachable helps gain a rapport with the jury and humanize the client.
Wu said a team of former federal prosecutors gives Manafort "the ability to reverse engineer the prosecution's case."
During opening statements, Zehnle said the case is about "Mr. Manafort placing his trust in the wrong person. That is Rick Gates." His team is likely to return to that theme, the former federal prosecutor Mintz said, in closing arguments on for Wednesday.
"We can expect Manafort's lawyers to argue that by relying on the testimony of Rick Gates, an admitted liar and criminal, it should raise a reasonable doubt in the mind of jurors as to the guilt of Paul Manafort," he said.