— -- Hillary Clinton's presidential run is being lauded as historic as she likely will become the first female Democratic nominee, but she isn't the only woman vying for the job this year.
Dr. Jill Stein is the Green Party candidate for president, and this year marks the second time she's bidding for a chance to turn "the White House into a Green House."
Stein is a mother of two grown sons and worked as a doctor in Boston near a number of universities. She told ABC News that experience was how she started hearing about the problems facing America's youth.
"I used to practice clinical medicine and now I practice political medicine because it's the mother of all ailments," she told ABC News this weekend.
Impact of Independent Campaigns
This is the sixth presidential campaign where the Green Party has a candidate, including the 2012 race when Stein was their nominee. The most successful vote tally came in 2000, but even then, Ralph Nader earned less than 3 percent of the overall vote.
A national Quinnipiac University poll from late May had Stein had her with 3 percent of the general election vote.
That doesn't deter Stein, however.
"I am of the mind that it is social movements that really create transformational change," she said, pointing to the abolition of slavery as an example of a massive cultural change prompted by a party that had not yet achieved prominence.
"I'm not hopeful that we're going to be able to change inside the Democratic party," she said.
Stein says that she's "not holding my breath" for a White House victory, but sees any advancements on their party platform as a victory in itself.
The Green Party platform is focused on transitioning entirely to renewable energy by 2030, ending poverty, and delivering "healthcare as a right" and "education as a right."
One of Stein's biggest policy pushes is the move to abolish student debt, which she saw as a potentially viable way to win the election, saying there are "43 million young people and not so young people stuck in predatory student loan debt."
"Forty three million [votes] is a winning plurality for the presidential vote... stranger things have happened already," she said.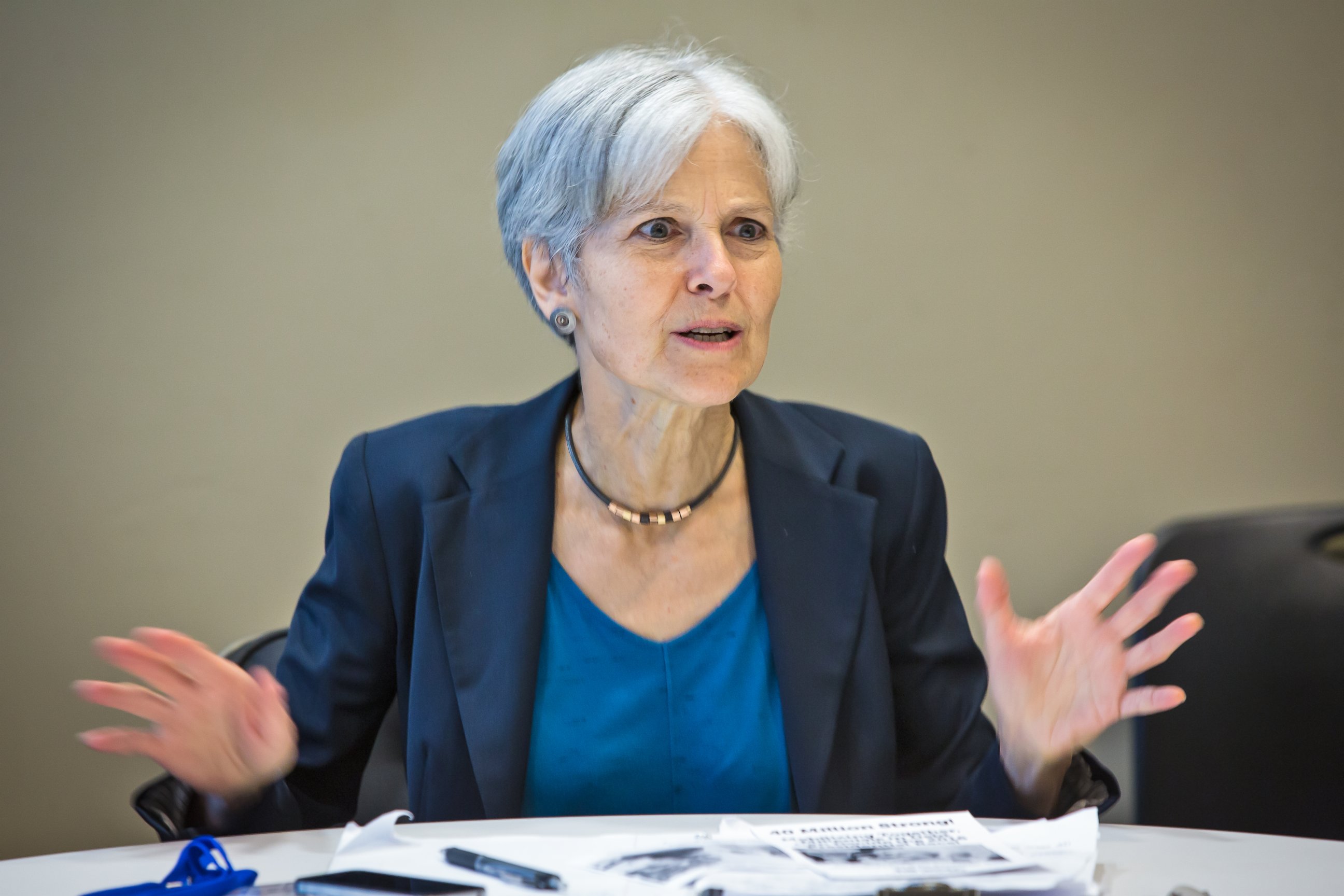 Financing Her Run
Stein is one of two candidates who ran for president this year who received public funding for their campaigns.
She and Martin O'Malley, a Democrat, both accepted public funding, $100,000 for Stein and more than $1 million for O'Malley, according to Federal Election Commission records.
"In my view, elections should be public funded entirely," she said, calling the current system effectively "privatized" currently.
Stein's campaign is made up of about 10 people and they coordinate using a largely virtual office. She said that "the majority" of their resources go towards ballot access.
According to her website, she is on the ballot in 20 states and Washington D.C. and her team is trying to collect enough signatures to get on the ballot in the remaining 30 states.
There's even less of a volunteer effort this year than in the past because a number of people who would typically pound the pavement for Stein have been pulled towards the Sanders campaign. And Stein isn't mad.
"Many Greens in California have temporarily deregistered to support the Sanders campaign and we have been very hands off about that and we have not discouraged that in any way," she said.
Stein was campaigning in California last week and over the weekend and met with bigger crowds than she expected.
"I've been very surprised," Stein said. "I thought everybody would be really busy working on the Sanders campaign because many Greens are really invested in that and working hard for it."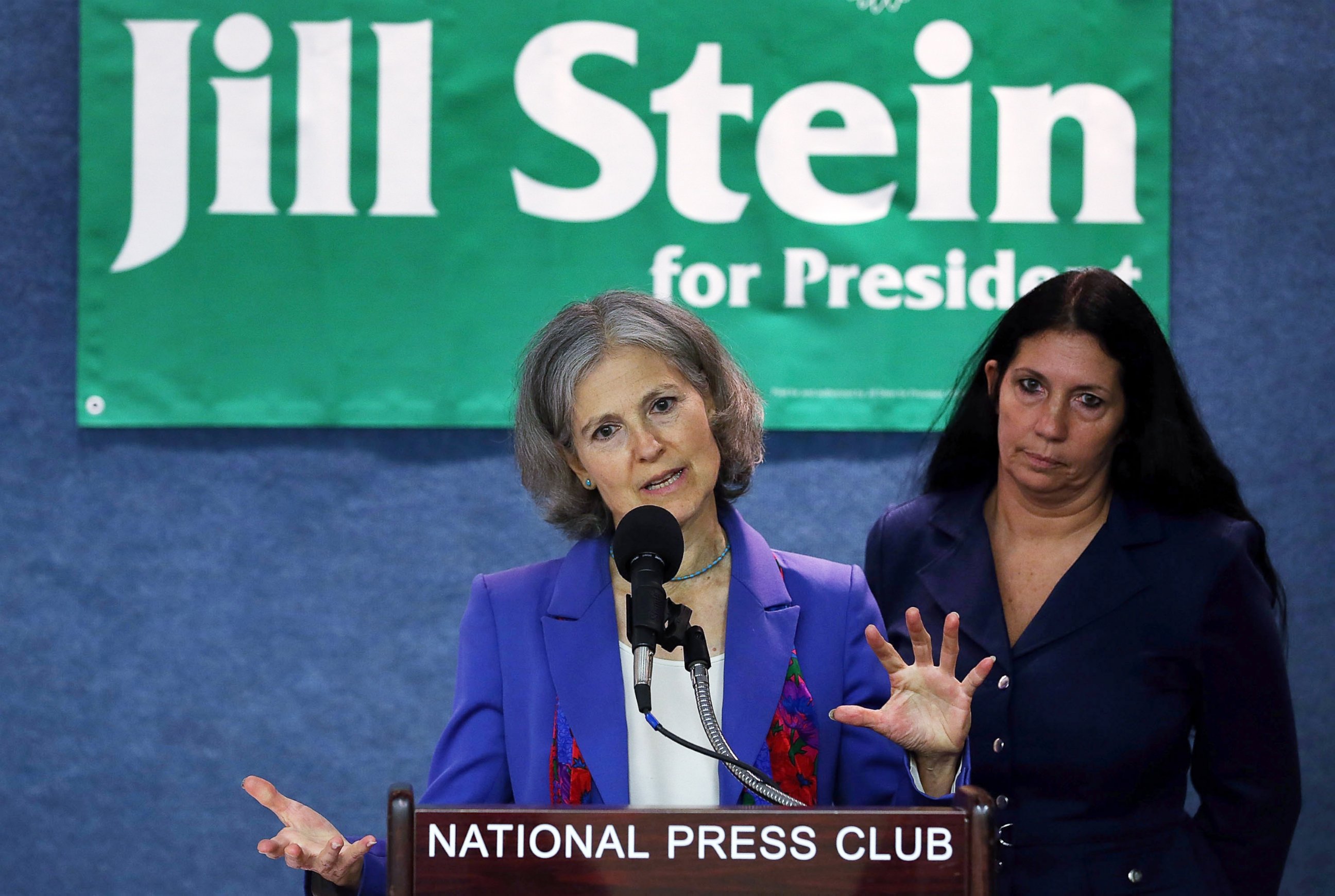 Concerned About Clinton
Stein has no love lost for her fellow ground-breaking competitor.
Stein actually announced last week that she's encouraging any Democrats who support her to vote for Sanders in the California primary on Tuesday.
"It would be terrible for Donald Trump to be elected but it would also be terrible for Hillary Clinton to be elected," Stein said, saying that voters are "looking for a progressive alternative."
In spite of the unusual move, Stein told ABC that she doesn't think Sanders will win because she thinks the Democratic machine won't let him.
Sanders' brother, Larry Sanders, is a spokesman for the Green Party of England and Wales in the UK, but in spite of his familial connections, Sanders hasn't made any overt efforts towards strengthening ties with Stein or the Green Party. Stein said she and Sanders have never met.
"Despite being technically a member of a third party," Stein said of Sanders, referencing his longtime registration as an Independent, "he tends not to be terribly persuaded that a third party is strategic. But he may be changing his mind."