As Tucson, Ariz. receives national attention in the wake of first lady Melania Trump's Thursday visit to an intake and detention facility for undocumented immigrants, the Trump administration's zero-tolerance immigration policy could leave an impact on this year's race in Arizona's 2nd Congressional District.
Arizona's 2nd Congressional District, which encompasses the southeastern corner of the state and most of Tucson, runs along the U.S.-Mexico border. The district was in Democratic hands until 2014, when Republican Martha McSally edged out then-incumbent Ron Barber by just over 100 votes.
Now, McSally is vying for U.S. Senate.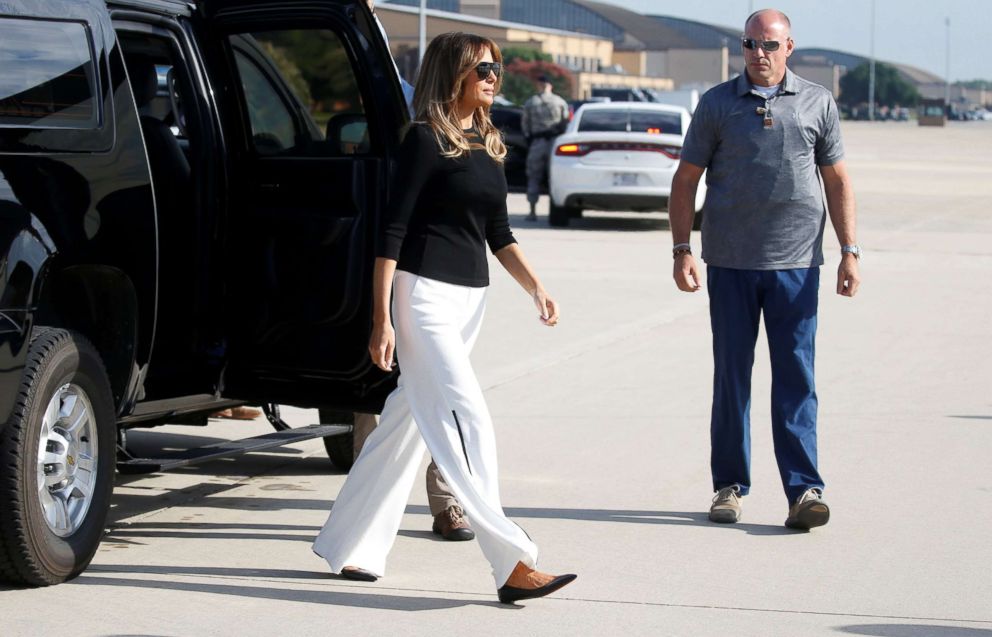 Candidates hoping to get elected in the district include Republican Lea Marquez Peterson, the president and CEO of the Tucson Hispanic Chamber of Commerce, along with Democrats Ann Kirkpatrick, who formerly represented the 1st Congressional District, Matt Heinz, a practicing physician, and Billy Kovacs, a 31-year-old small business owner.
"Border districts in Southern Arizona are used to these exercises. But it's not helpful when a person who visits hops back on a plane and leaves," Brian Robinson, Heinz's campaign manager, said of the first lady's visit to Tucson.
"To quote Melania Trump, 'I really don't care' that she was here," Kovacs said referring to a slogan on a jacket the first lady wore recently. "Her visit does nothing to shed light on the issues we are facing here in Southern Arizona."
Robinson said that the district "has to deal with border issues every day," pointing to Southern Arizona's border economy, undocumented immigrants, and DREAMers.
"Visits like these are a distraction from the real issues," he said, noting that Heinz has been a "consistent voice and advocate for DREAMers."
Kovacs, who worked on a database to "highlight missing migrants at the border," believes that the U.S. should focus on supporting South American countries whose citizens are "fleeing crime, violence, and gangs."
"We should support reunifying families and humane policies at our southern border and Mexico's southern border," he said.
According to Robinson, Southern Arizona's biggest trading partner is the Mexican state of Sonora.
"Increased security along the border slows down the economy," he said, noting that Heinz supports the DREAM Act as well as protecting DACA recipients and undocumented students.
Kirkpatrick has also expressed support for the DREAM Act and keeping migrant families together at the border. According to her campaign website, she "rejects the Trump Administration's agenda of building a wall and targeting productive working people for deportation."
Meanwhile, Marquez Peterson has campaigned on increasing border security.
"The Border must be secured by any solution that makes sense – that means a wall, more border patrol officers and the use of technology," her campaign website reads.
Kovacs said he tried to visit the Southwest Key youth detention center earlier this year, but wasn't allowed inside.
While neither Heinz, Kirkpatrick, nor Marquez Peterson has made a trip to Tucson's Customs and Border Protection processing facility or the city's Southwest Key youth detention center, Robinson said Heinz recognizes the importance of immigration in border district campaigns.
"Matt has many patients that are DACA recipients. It's hard to say the exact impact [immigration] will have on the race, or whether a new crisis at the border will arise between now and the primaries," Robinson said.
"In District Two, we have two ports of entry -- Douglas and Naco -- and we need to invest in infrastructure at those ports to push more trade through," Kovacs said.
But in a swing district like AZ-02, every move could count as civic action groups pour resources into the race.
Earlier this month, Organizing for Action, a progressive civic action group born out of Barack Obama's presidential campaigns, announced that AZ-02 will be one of its 27 target districts during the midterms.
According to OFA's website, Republican House leaders have "failed to protect DREAMers, who contribute $82 million to the economy in AZ-02 alone."
"This November, AZ-02 voters can elect a leader who will be a voice for their values and a fighter for their best interests," the group said in a statement.
But in September, Marquez Peterson said that as a Republican, she supports protections for undocumented immigrants who were brought to the U.S. as children, citing their economic benefits.
"For the more than 800,000 children and families in the nation who are experiencing anguish over immigration status uncertainty as well as for the employers who have hired DACA recipients, the future presents a challenge," she wrote in an op-ed last fall. "The young people eligible for the DACA program are vital to the future of our companies and our economy. With them, we grow and create jobs."
But Kovacs said that Arizonan voters ought to look beyond verbal support for immigration reform.
"We have candidates that just say they support DACA, but it doesn't matter. We need to actually solve the problems at the border," he said. "I was the only one to advocate abolishing ICE, and that was back in May."
Kovacs said he anticipates more crises at the border leading up to Arizona's August 28 primary.
"It's daunting to wake up every single day and know there's another attack on your community," he said. "We need young people to come out and vote. Millennial candidates are all pushing for the same progressive policies. We'll all be here in November, and we'll be here day one after that."