Six candidates have qualified for Wednesday's Democratic primary debate in Las Vegas, including, for the first time, former New York City Mayor Michael Bloomberg, the Democratic National Committee announced Wednesday.
The ninth debate of the cycle, set to kick off at 9 p.m. ET at the Paris Theater, will feature the following candidates, in alphabetical order:
Former Vice President Joe Biden
Bloomberg
Former South Bend, Indiana, Mayor Pete Buttigieg
Minnesota Sen. Amy Klobuchar
Vermont Sen. Bernie Sanders
Massachusetts Sen. Elizabeth Warren
NBC and MSNBC are hosting the debate in partnership with The Nevada Independent. The moderators are "NBC Nightly News" and "Dateline NBC" anchor Lester Holt, "Meet the Press" moderator and NBC News political director Chuck Todd, NBC News Chief White House Correspondent and host of "MSNBC Live" Hallie Jackson, Noticias Telemundo senior correspondent Vanessa Hauc and The Nevada Independent's Jon Ralston.
After scrapping the individual donor threshold, candidates had two ways to qualify for this debate, either by doing well enough in the Iowa caucuses or New Hampshire primary to win at least one pledged delegate, or by meeting a polling threshold determined by the DNC.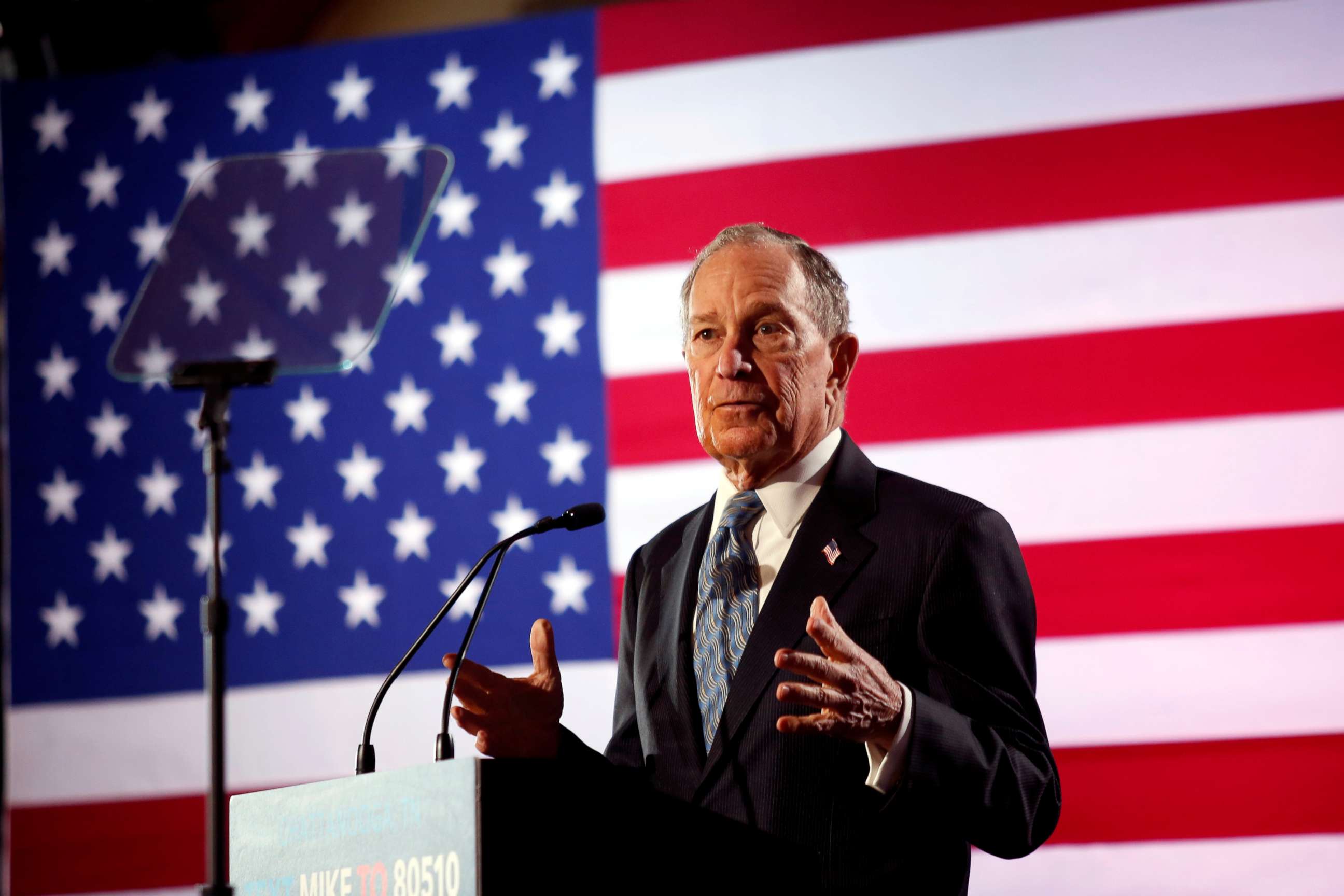 Excluding Bloomberg, ABC News estimated that every qualifying candidate would be awarded delegates to the Democratic National Convention this summer. While there was no official ballot in Iowa, Bloomberg didn't file to be on the New Hampshire Democratic primary ballot. The debate is just days ahead of the Nevada caucuses -- and Bloomberg, who's been running an unconventional campaign where he's essentially skipped out on campaigning in the first four early voting states, also won't be on the ballot in Nevada Saturday or in South Carolina on Feb. 29.
Candidates had two ways to meet the polling threshold: Get at least 10% support in four national polls and/or polls conducted in Nevada or South Carolina -- referred to as the four-poll threshold -- or get at least 12% support in two polls conducted in Nevada and/or South Carolina, referred to as the early state polling threshold.
According to ABC News' analysis, Bloomberg met the four-poll threshold, and all of his qualifying polls were national polls. In order to count as qualifying polls, the polls had to be sponsored by different organizations, or if sponsored by the same organization, be covering different geographical areas.
All qualifying polls had to be publicly released between Jan. 15 and 11:59 p.m. Tuesday, and sponsored by an organization or pair of organizations from a list determined by the DNC.
The former mayor's last qualifying poll came when he got 19% support nationally among Democrats and Democratic-leaning independents in a NPR/PBS Newshour/Marist poll released early Tuesday.
"Our campaign is seeing a groundswell of support across the country, and qualifying for the Feb. 19 debate is the latest sign that Mike's plan and ability to defeat Donald Trump is resonating with more and more Americans," Bloomberg's campaign manager Kevin Sheekey said in a statement.
Skeekey continued: "Mike is looking forward to joining the other Democratic candidates on stage and making the case for why he's the best candidate to defeat Donald Trump and unite the country. The opportunity to discuss his workable and achievable plans for the challenges facing this country is an important part of the campaign process."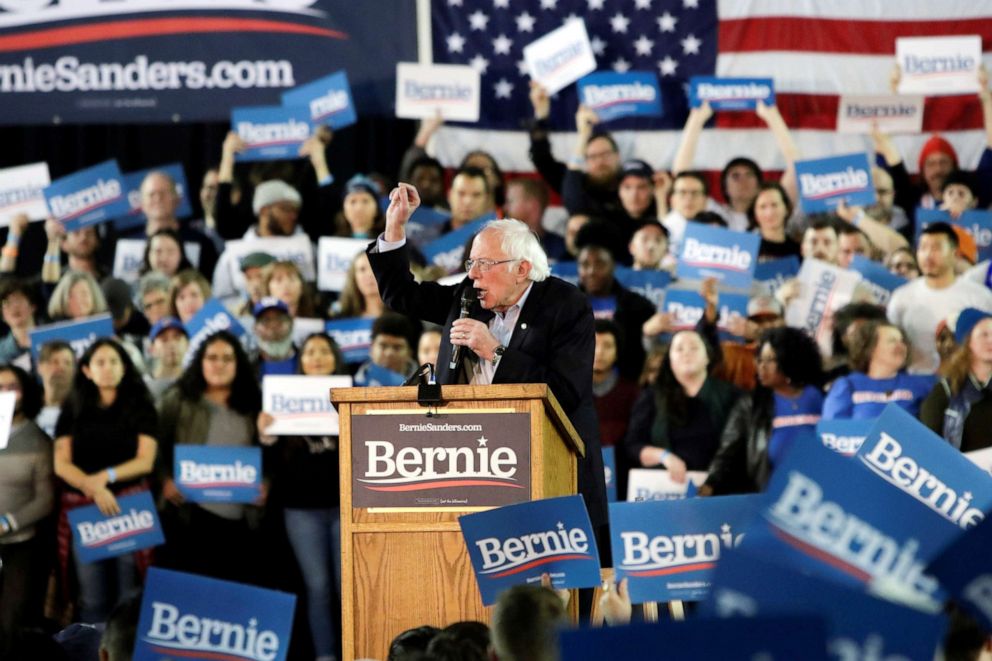 Bloomberg, a billionaire who's already put hundreds of millions of dollars of his own money into his campaign, including by flooding the airwaves with television ads, faced criticism from some of his rivals upon qualifying.
"So here is the message, anybody here worth $60 billion dollars – you can run for president. And you can buy the airwaves," Sanders told supporters at an event in Reno, Nevada Tuesday. "My friends, that is called oligarchy, not democracy."
On Twitter, Warren said, "It's a shame Mike Bloomberg can buy his way into the debate. But at least now primary voters curious about how each candidate will take on Donald Trump can get a live demonstration of how we each take on an egomaniac billionaire."
Buttigieg told ABC News Tuesday that Bloomberg is "definitely trying to buy the race."
"But here's the thing. It's not that simple. You have to actually be willing to look voters in the eye to take questions. At some point you've got to be ready to be challenged," Buttigieg added. "And I think as the debates kick in and other parts of the process, it will demonstrate that there is a lot more to becoming president than how many ads you can put on television."
Bloomberg and his campaign, however, seem unfazed by all the attention from the other Democratic candidates.
"Since Mike launched his campaign 13 weeks ago, he's met with voters in 25 states and 62 cities. Our crowds continue to grow, and our coalition continues to broaden," Sheekey, his campaign manager, said in the statement Tuesday morning. "There's a desire in every corner of this country for a proven leader, for someone who will stand up to bullies and special interests and get things done. That person is Mike Bloomberg, and we look forward to more Americans seeing that on Wednesday night."
Only two candidates won't be on stage after failing to meet either qualifying threshold: Hawaii Rep. Tulsi Gabbard and businessman Tom Steyer.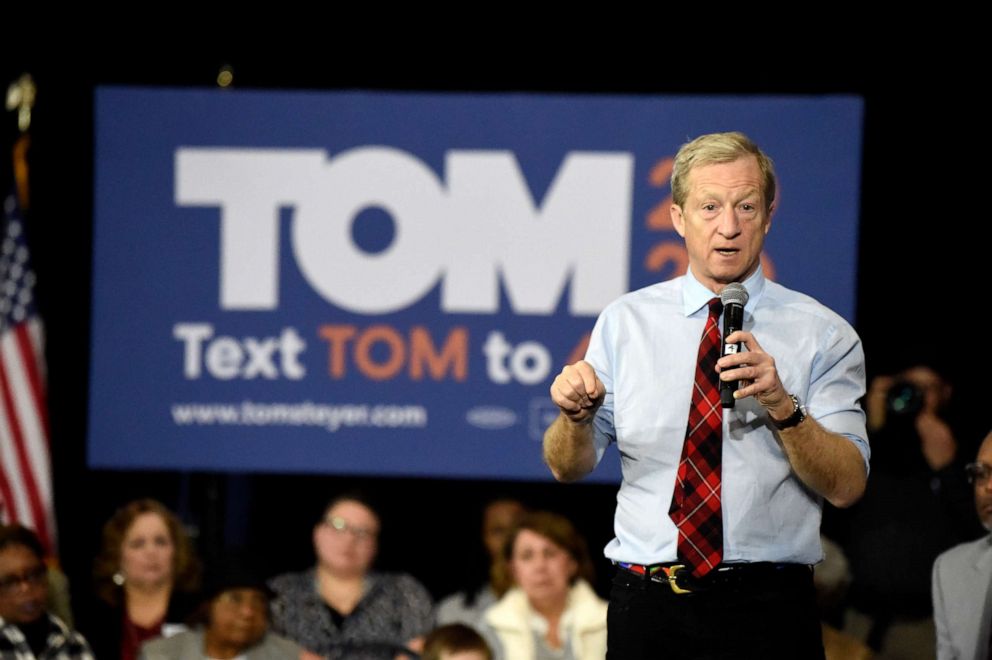 Gabbard had no delegates and no qualifying polls, according to ABC News' analysis; Steyer had no delegates, but one qualifying poll towards the four-poll threshold.
In a statement Tuesday night, Steyer campaign manager Heather Hargreaves blasted the DNC for the lack of Nevada and South Carolina polling during the qualifying period.
"The DNC is effectively shutting out contenders for the nomination who have demonstrated they can build the diverse coalition of voters that will be necessary to beat Donald Trump in November," she said. "It is shameful that Perez and the DNC will bend over backward to make space for a candidate who has chosen to ignore voters in the first four races while ignoring the voices of the first two truly diverse states in this election, Nevada and South Carolina."
Steyer had previously called on the DNC to extend the qualifying period for this debate or "make sure that there is significant polling in" Nevada and South Carolina during the polling window.
Ultimately, there was only one qualifying poll in the window that was not a national poll. This Nevada poll was the only qualifying poll Steyer had.
ABC News' Jon Haworth and Justin Gomez contributed to this report.