In a bizarre twist, lawyers representing retired Lt. Gen. Michael Flynn, the president's former national security adviser, said late Tuesday he has not joined a new global consulting firm, hours after the firm issued a press release saying he had.
The initial announcement said Flynn, who pleaded guilty to lying to the FBI about contacts with Russian officials before Trump took office in 2016, would join lobbyists Nick Muzin and Joey Allaham's new firm, Stonington Global LLC.
Flynn's lawyers acknowledged their client was aware the firm was preparing the announcement, which included a quote from Flynn. They did not clarify whether Flynn planned to join the firm in the future.
"General Flynn has not joined Stonington and did not personally issue any public statement. He was aware that a statement was being drafted, but he did not intend that it be issued at this time. Its issuance now in his name appears to have been the result of a misunderstanding," Robert Kelner and Stephen Anthony, counsel to Flynn wrote.
In response, Muzin, Stonington Global's founder, said: "We cannot comment on General Flynn's considerations about the timing of the announcement, but we have faith in his patriotism and long history of service to or country. We look forward to working together."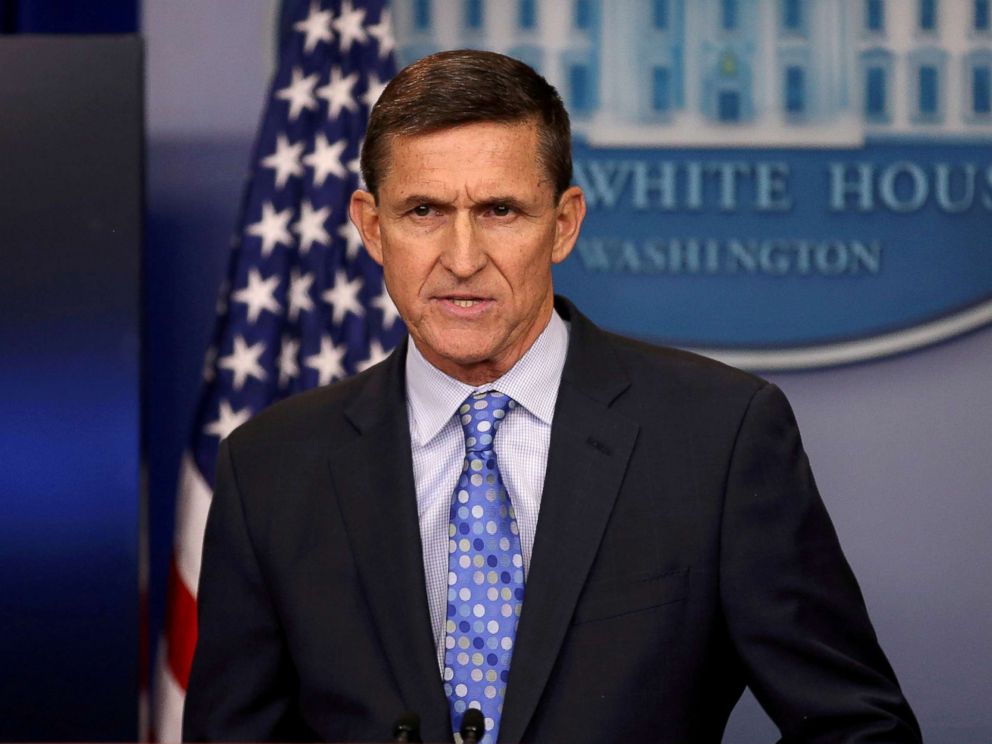 Flynn, who has been cooperating with special counsel Robert Mueller's investigation into Russian meddling in the 2016 presidential campaign, also made a court appearance Tuesday – the first since his guilty plea.
The judge did not set a sentencing date for Flynn at the hearing.
The initial announcement issued by Stonington Global included a quote from Flynn: "I will work every day to put my over 33 years of experience in the defense, intelligence, and national security communities as well as serving Presidents of both parties in the White House to good use in helping companies and governments enhance the goals of freedom and liberty."
Flynn's son, Michael Flynn Jr., has also been hired by Stonington Global, a company spokesperson told ABC News on Tuesday.
ABC News reached out to a lawyer who has represented Michael Flynn Jr but did not receive an immediate response.
News that the senior Flynn would join Stonington Global was first reported by the Wall Street Journal. ABC News later obtained the consulting firm's press release. A Flynn confidant told ABC News that the retired general's legal bills are several million dollars.
According to the press release, Flynn would direct the firm's business development and provide strategic consulting on international military, intelligence and peacekeeping activities, according to the release.
The retired three-star general came under fire for failing to register as a lobbyist for Turkey before joining the White House. Flynn retroactively filed as a lobbyist.
Muzin, who lobbied on behalf of Qatar at his previous firm, Stonington Strategies, was recently named in a lawsuit by Elliott Broidy, a GOP fundraiser and former finance chairmen of the Republican National Committee. Broidy's lawsuit against the state of Qatar alleges that Muzin was responsible for facilitating hacks on Broidy and his wife's emails.
When asked by ABC News for comment on the allegations against him in the Broidy lawsuit, Muzin directed ABC News to a motion to dismiss the case that his lawyers filed in California federal court on Monday, arguing the court lacks jurisdiction and that Broidy failed to make an actual legal claim against Muzin's company.
In documents filed with the motion, Muzin accuses Broidy of seeking "to smear the reputation of [his] personal rival" and spin Muzin's work with Qatar "as some kind of nefarious campaign to influence the United States government."
Broidy, meanwhile, has been wrapped in his own legal battles.
Broidy disclosed last spring that he had entered into a confidentiality agreement with former Playboy model Shera Bechard in which he agreed to pay her $1.6 million to keep quiet about an affair and is currently in a dispute with Bechard over that agreement.
ABC News' James Meek and Matthew Mosk contributed to this report.