Mike Pence 'not interested in trading insults' with Trump as he tries to win New Hampshire
The former vice president is struggling to gain traction in the Granite State.
An independent voter at a meet-and-greet in New Hampshire on Friday told former Vice President Mike Pence that he was concerned with his place in the polls -- and with the fact that Pence is not taking on former President Donald Trump harder as he leads the field for the Republican nomination.
"I would love to see you be president of the United States. I'm just gonna give you an honest comment. I don't believe you ever will be until the day you stand up to that man," Tom Loughlin, a 77-year-old who lives part-time in New Hampshire, told Pence in reference to Trump. "Maybe you're too good a Christian to ever do that."
"Well, I don't know about too good a Christian. Some people think we did a fair amount of standing up two and a half years ago," Pence said, bringing some to applaud.
"I joined the ticket because there was a tacit commitment that we would govern as conservatives and we did, ... but honestly, I think he makes no such promise today," he continued, laying out their difference on foreign policy, entitlement reform, and abortion regulation at the federal level.
"I'm not interested in trading insults with my old friend. I'm not. And some people think that's the way to win the presidency. I don't. But laying out the choice for the American people. We've been doing it. We'll keep doing it," he said.
New Hampshire is one of the smallest states in the nation, with a population of roughly 1.4 million people and just two representatives in the House. But to win in the first-in-the-nation primary, candidates usually need to be willing to talk about national concerns, like Pence's historic actions on Jan. 6, 2021, ahead of the Capitol riot.
"It makes me ill that Mike Pence has 4% of the vote in this country at best right now in the Republican Party when he stood so tall and so strong on January 6. This man deserves better than that for the people of this country," Loughlin said. "He has to talk about the future. And he has to talk about how dangerous that man is for our country."
Loughlin, a retired attorney who lives in Florida but is spending the summer in New Hampshire, told ABC News he also doesn't want to talk about the past, "but the future is Donald Trump is running for president of the United States," he said.
While Pence does not always bring up Jan. 6 at campaign stops, several voters across New Hampshire delivered to him the same message during his three-day-swing in the first-in-the-nation primary state this week: "Thank you for what you did on Jan. 6."
Nancy Ryan, a Democrat, stopped by Pence's BBQ lunch at Goody Cole's Smokehouse in Brentwood on Thursday with the intention to ask him to sign a pledge to support the National Breast Cancer Coalition's cancer policy platform -- but she also told him, "Thank you for what you did on Jan. 6."
Pence shook her hand, and said, "By God's grace."
Again, on Friday morning a his town in Berlin, at least two women thanked Pence -- not while he was up taking questions -- but afterward when he was taking photos with attendees and chatting one on one.
"Thank you for what you did on Jan. 6," said a woman named Lisa.
He once again answered, "By God's grace."
At a meet-and-greet in Hudson on Wednesday night, Pence didn't mention Jan. 6 when he delivered his stump speech before a few dozen guests at the home of former Republican State Sen. Bob Clegg -- but Clegg did.
"Jan. 6th, Mike did something that I found to be the most courageous thing anybody's ever done. He was offered a chance to ignore the Constitution, take power that wasn't the vice president and he chose not to," Bob Clegg said. "Now I'm supporting Mike, supporting him because he's the adult in the room. I really can't take much more nicknames and the bantering back and forth."
And on Thursday in Meredith, 15-year-old Quinn Mitchell, a regular attendee at political town halls across the state, also brought up Jan. 6.
"Given everything that has happened, Trump's indictments Trump's actions on Jan. 6, ... do you think Christians should vote for Donald Trump?" Mitchell said.
"Well, look, I'm running for president in the United States because I think I should be the next president," Pence said with a smile. "I would never presume about anyone, either on their conservative convictions or on their faith, to tell people how I think they ought to live."
"Elections are about choices. And I want to say to you, I'm very humbled by your gracious comments. I really do believe that democracy depends on heavy doses of civility," he added. "It's a moment for leadership."
As Pence pitches himself as a conservative, a Christian and Reagan-era Republican, the former vice president is struggling to qualify to make the debate stage. Neither Pence nor his campaign will say how close he is to reaching the 40,000 donors required to make the debate stage.
Campaign chair Chip Saltsman told ABC News Pence's camp is focused now on intimate events like the ones held in New Hampshire this week.
"It's nice to have lots of money on TV, but in Iowa, New Hampshire especially, they want to see you earn it. They want to see you go in a hot room on a Thursday night, answer any question, talk to every voter, and talk about the issues," he said. "Because they're gonna go to work tomorrow, they're gonna go to church on Sunday, and talk to their friends about Mike Pence."
And as Trump faces another potential indictment around Jan. 6, Pence seems to be more forgiving than some voters at his events.
"I'm not convinced it's criminal," Pence told reporters on Thursday, asked about the special counsel's investigation. "And I hope with the possibility of another indictment coming against the president, I hope it doesn't come to that. Truth is that the Department of Justice has lost credibility with tens of millions of Americans. I'd rather see questions about that fateful day left in the hands of the American people."
But Carol Riehlam of Kingston, a registered Republican who also thanked Pence for his action on Jan. 6 at Wednesday's meet-and-greet, said she hopes Trump is indicted and found guilty.
"It was an insurrection. I mean, there were crowds of people that were spurred on by president at the time Trump's rhetoric. The only thing that would stop that crowd would be for Trump to stand up and say, 'stand down, go home, peacefully,' but he wouldn't do that," she said. "Pence stood his ground and did the constitutionally right thing."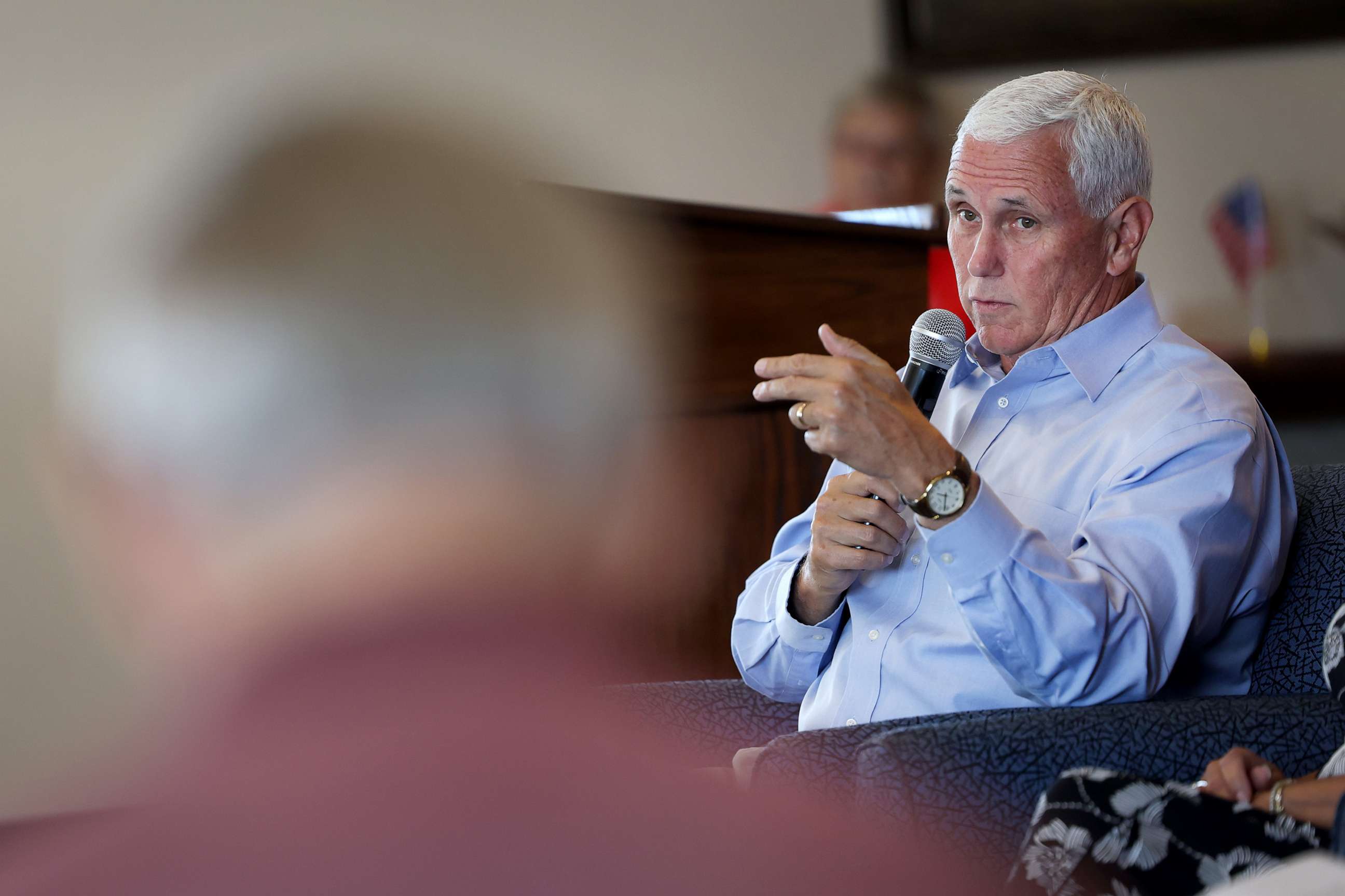 Hillary Seeger of Alexandria, an Air Force veteran and civil engineer who supported Trump in the past, also praised Pence for upholding a peaceful transfer of power but lamented that that should be the norm.
"Isn't it crazy that he's [Pence's] a hero because he obeyed the Constitution? You would think that that would just be the normal for any elected official that they go by the Constitution," she said. "I'm looking for a president who's going to be the president of the entire United States, where people aren't going to be hashtagging 'not my president.'"
Trump received a letter from special counsel Jack Smith earlier this week saying that he is a target in his investigation into efforts to overturn the 2020 election, sources familiar with the matter told ABC News. Trump also confirmed the development in a post on his Truth Social platform.
"It bothers me," the former president told Fox News' Sean Hannity on Tuesday night at a town hall in Cedar Rapids, Iowa. "I got the letter on Sunday night. Think of it, I don't think they've ever sent a letter on Sunday night. And they're in a rush because they want to interfere, it's election interference, never been done like this in the history of our country and it's a disgrace what's happening to our country."
If he is charged, those charges would mark the third indictment Trump has faced since leaving office. Trump was indicted last month on 37 criminal counts related to his handling of classified materials, after Smith's prosecutors said he repeatedly refused to return hundreds of documents containing classified information ranging from U.S. nuclear secrets to the nation's defense capabilities. He has pleaded not guilty to all charges.
The former president has also pleaded not guilty to a 34-count indictment from the Manhattan district attorney charging him with falsifying business records in connection with a hush money payment made to adult film actress Stormy Daniels days before the 2016 presidential election.
ABC News' Katherine Faulders, John Santucci, Alexander Mallin, and Luke Barr contributed to this report.