Pence sees lackluster fundraising early in GOP primary, insists he'll make it to debate stage
The former vice president, at odds with Trump, says: "Give me some time."
Mike Pence's latest fundraising totals suggest a rocky road ahead for the former vice president as he fights both for support from voters in the Republican Party he once helped lead -- and a spot on next month's primary debate stage.
Pence raised just $1.2 million for his campaign since formally entering the race in early June, while a pro-Pence super PAC, Committed to America, took in $2.7 million during the second quarter of 2023.
Those totals trailed several of Pence's rivals, including second-quarter hauls of $15.3 million for former President Donald Trump, $20 million for Florida Gov. Ron DeSantis, $5.8 million for South Carolina Sen. Tim Scott and $5.3 million for former South Carolina Gov. Nikki Haley.
Pence also financially lagged much lesser-known candidates like entrepreneur and commentator Vivek Ramaswamy and North Dakota Gov. Doug Burgum.
To be sure, Pence did not have a full quarter to fundraise himself, getting into the race later than many of his rivals, and he does not have a joint-fundraising committee like many of his competitors do.
Still, the haul means that Pence will have significantly less money at his disposal than other GOP primary contenders, in turn impacting his ability to advertise and gin up further support as the 2024 cycle gets underway in earnest.
More tangibly, the haul could portend difficulties for Pence to make it on stage for the first primary debate, on Aug. 23.
Under the Republican National Committee's qualifications, Pence and other contenders will have to attract at least 40,000 unique donors, along with meeting polling criteria and signing a loyalty pledge to support the GOP's eventual nominee.
Pence appears far from winning all the needed donors, though he has expressed confidence that he'll end up debating next month nonetheless.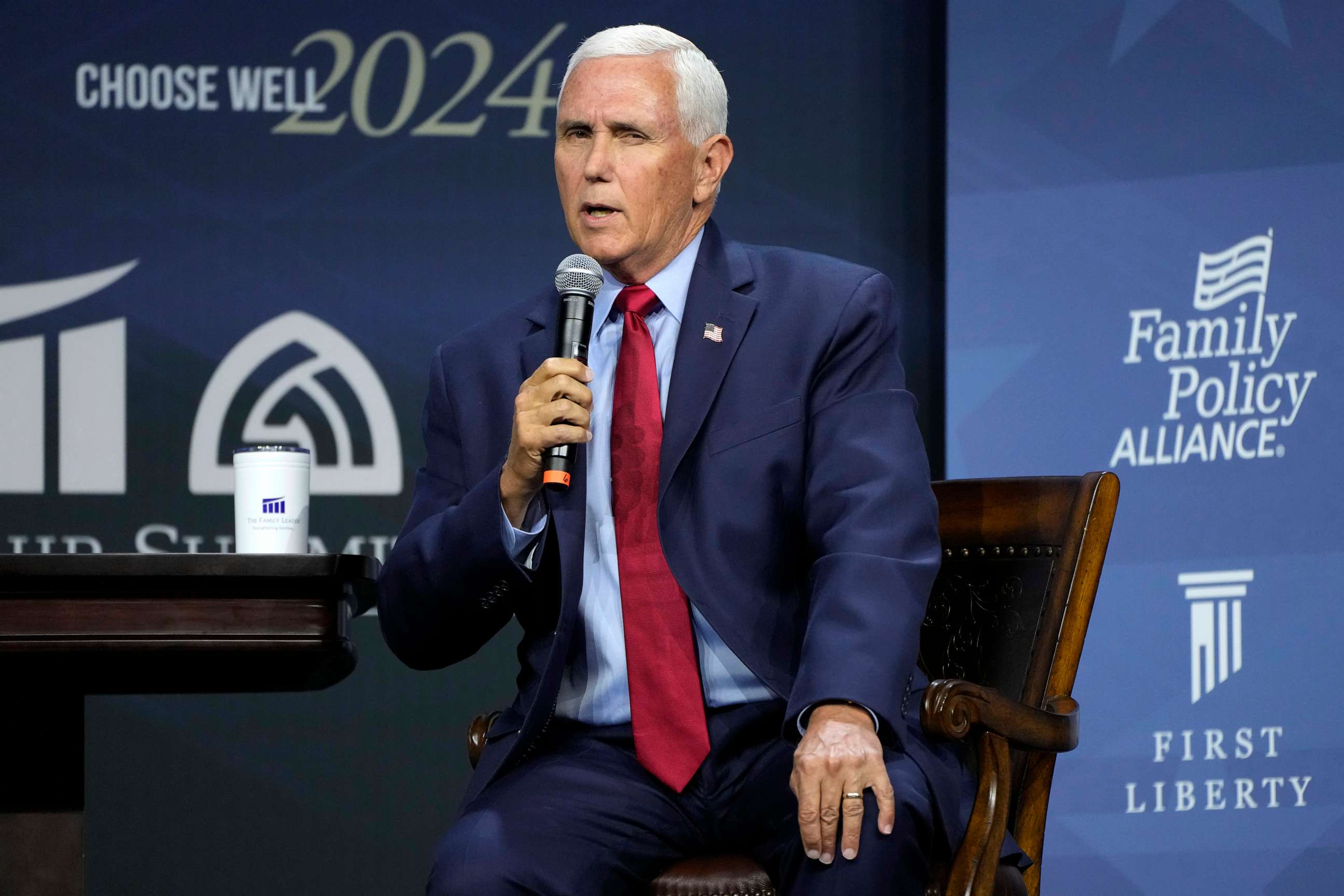 "We'll make the debate stage. We're working around the clock to make sure that we reach that threshold of 40,000," he told ABC News' MaryAlice Parks last week. "I'm confident we'll be there come Aug. 23."
"I just announced a month ago," he later added to another reporter. "Give me some time."
Pence formally launched his campaign in early June. In a speech from Iowa at the time, he sought to stress his own conservative bona fides, including his longtime support of abortion restrictions, religious liberty principles and shrinking the federal government -- and he also rebuked former President Trump over Trump's actions around Jan. 6 and the push to overturn the 2020 election.
"We can defend our liberties and give America a new beginning for life. But it will require new leadership -- in the White House and the Republican Party," he said then.
Early polling shows he has gained only some traction in the crowded primary field: According to FiveThirtyEight, Pence is averaging about 7% in national surveys, compared to DeSantis' 20% and Trump's 50%.
Fissures have also emerged between the former vice president and a grassroots that remains largely enthusiastic about Pence's old boss. Last week at a multi-candidate event in Iowa, whose heavily evangelical caucus electorate should theoretically align with Pence's own background, he was booed over his support for Ukraine in defending against Russia's invasion.
Pence has projected confidence about his chances -- not just to make it to the debate, but in facing off against Trump.
"Sometimes people ask me what I think about debating Donald Trump. I tell people I've debated Donald Trump a thousand times, just not with the cameras on," he said last week. "I look forward to seeing him on the stage."
ABC News' Libby Cathey contributed to this report.