'Mission complete:' Bush 41's service dog will be by Bush family's side through services
The group that matched Sully with 41 said the dog could even attend the funeral.
Sully, former President George H.W. Bush's faithful service dog, will remain with his family at least through funeral services at the National Cathedral on Wednesday, according to a director at the non-profit that matched Sully with the former president.
Thanks to the Americans With Disabilities Act, which was signed into law in 1990 by none other than the former president, Sully could even attend the services inside the cathedral if the family so chooses, said Andrew Rubenstein, director of marketing with America's VetDogs. The non-profit, which pairs service dogs with veterans and first responders, matched Sully with Bush in June.
Because of the improvements Bush enacted through the law for the disabled community, Rubenstein described the service dog's presence with the Bush family "full circle."
The 2-year-old yellow lab was at the family's side throughout the ceremonies on Monday. In photos released by Bush's office, Sully sat quietly with the family as they looked over the casket at a funeral chapel in Houston. Sully also attended the president's departure ceremony at Ellington Field Joint Reserve Base in Houston and boarded "Special Air Mission 41," the name given to Air Force One while its purpose is to take the late president and his family to Washington and back.
It remains to be seen if Sully will also return to Texas with the Bush family, Rubenstein said, as plans have been difficult to arrange in the midst of the funeral arrangements.
A photo of Sully lying forlornly next to the president's casket at a Houston funeral home first went viral on Sunday, adding to his already large following on social media stemming from the past few months helping Bush as his health continued to fail.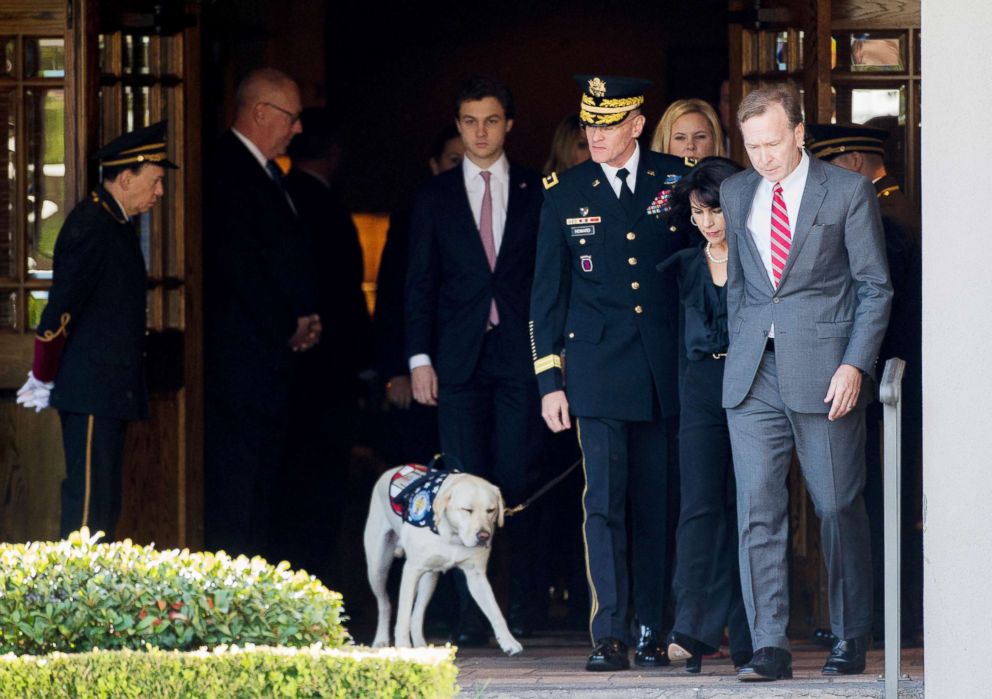 "Mission complete," Jim McGrath, spokesperson for the Bush family, captioned the photo on Sunday, which he posted on Twitter.
Bush's second son, 2016 presidential candidate Jeb Bush, commented on the photo of the dog with his father's casket. "Sully has the watch," he said.
According to former president George W. Bush, Sully's next mission will be as a service dog helping veterans at Walter Reed National Military Medical Center, the nation's largest military medical center.
"As much as our family is going to miss this dog, we're comforted to know he'll bring the same joy to his new home, Walter Reed, that he brought to 41," Bush wrote on social media on Sunday.
The former president was matched up Sully after his wife of more than 70 years, Barbara, passed away. Bush, who used a wheelchair in recent years, had a form of Parkinson's disease. Sully has a long list of tasks under his belt -- he's trained to pick up an item as small as a credit card or as large as a cane, get help by pushing an emergency button and wake his handler from a nightmare.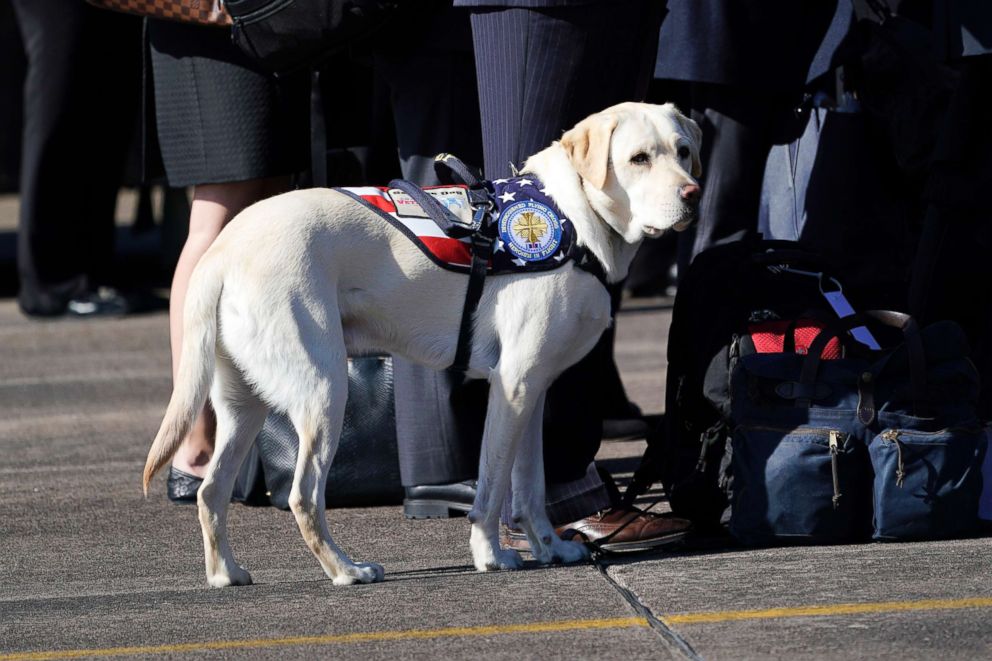 The dog, named after the pilot who safely landed a plane full of passengers on the Hudson River in 2009, Chesley "Sully" Sullenberger III, was trained through a prison puppy program until he was a little older than a year, according to VetDogs. Inmate handlers taught him standard commands and housebreaking before he returned to a specialized campus in New York to learn "refined" skills that would help his handler, the former president.
"America's VetDogs' trainers and staff worked closely with the president's team to find the best match," John Miller, president and CEO of America's VetDogs, said back when Sully was first placed with Bush.
Bush 41 announced Sully's new place in the family in a photo with former President Bill Clinton. He thanked VetDogs for their "commitment to our veterans" and later showed off a pair of his famous socks, tailor-made for various occasions. On that day in June, he wore a pair with Clinton's face on them.
It didn't take long before 41 was wearing a pair to debut his new friendship. In August, Sully, who has nearly 80,000 followers on his Instagram page, posted a photo of 41's feet in a pair of black slippers -- with the presidential seal -- and light blue socks covered in photos of Sully's floating head.
"My best friend has gotten some pretty rad socks, I'm rather a fan," read the caption.
It's unclear what role Sully will play in the procession for Bush, who died Friday at his home in Houston. "Special Air Mission 41" is scheduled to arrive in Washington on Monday afternoon and a funeral will be held on Wednesday at the National Cathedral.
Sully received support in his mission from Miss Rev, the collie who represents Texas A&M University, where Bush's presidential museum and library are located.
"My friend Sully had the great honor of helping my friend Mr. President George H.W. Bush. You did the best job, Sully," read a post on the dog's page from a university account Sunday.