Mnuchin's travel: Investigators now probing another costly government flight
Transportation Secretary Elaine Chao was also on one of the flights in question.
September 22, 2017, 4:37 PM
— -- Treasury Secretary Steven Mnuchin used a costly government jet to make the short journey from New York City to Washington D.C. following a meeting in Trump Tower last month, a flight that is now under review by department investigators, along with at least two other requests for government travel involving the secretary, multiple officials told ABC News.
Mnuchin's trip on a U.S. Air Force C-37 jet, which took less than an hour and cost American taxpayers at least $25,000, took place on Aug. 15. Mnuchin was in New York to attend the now-infamous press conference in Trump Tower during which President Trump made highly controversial remarks on the violence in Charlottesville. Mnuchin and Transportation Secretary Elaine Chao, who also flew on that government jet, flanked the president during his remarks.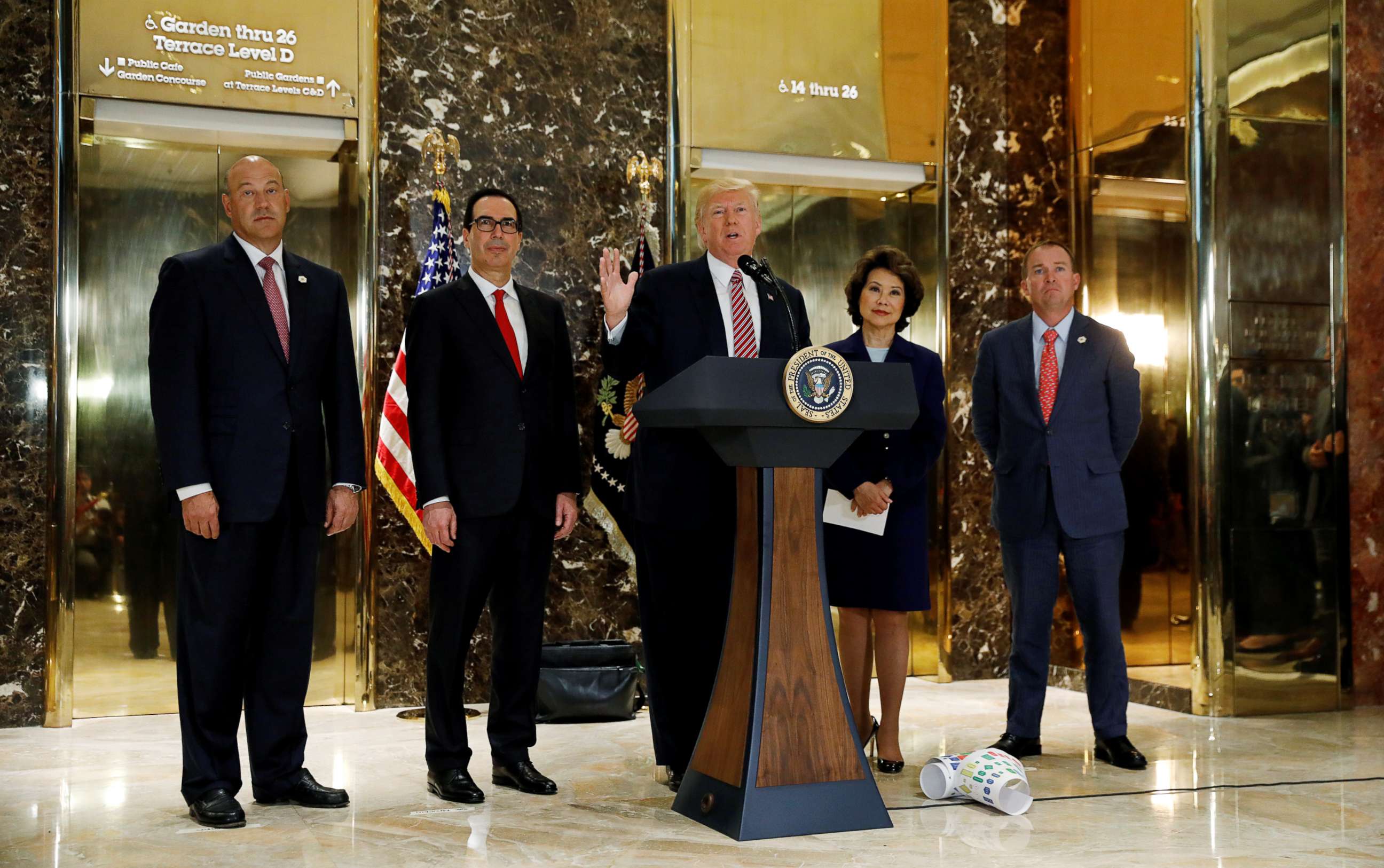 The Treasury's Department's review of Mnuchin's travel habits was triggered after ethical questions were raised about a military jet he and his wife, Louise Linton, used to travel to Louisville and Fort Knox, Kentucky, last month, and whether they may have used that business trip to catch a prime view of the solar eclipse. Investigators are also examining why Mnuchin, an independently wealthy former banker at Goldman Sachs, requested a government jet to take the couple on their European honeymoon in early August, a story first reported by ABC News. Mnuchin has strongly denied he used the Kentucky trip to view the eclipse and a spokesman for the Treasury Department said the honeymoon request was made so he could communicate securely with Washington. They added that the honeymoon request was later withdrawn.
"We welcome the [Office of the Inspector General's] review and are ensuring the office has everything needed for a full evaluation of our travel procedures," the Treasury Department said in a statement.
Chao took the C-37 jet from Joint Base Andrews to Teterboro Airport in New Jersey for the Aug. 15 press conference, and Mnuchin, who flew up commercially, used it to return to D.C., according to their department spokespeople.
When asked for an explanation about who ordered the government jet for travel between New York and Washington, a Department of Transportation spokesman insisted it did not come from his department. A spokesman for the Treasury Department declined to comment.
However, two Defense Department officials told ABC News that U.S. Air Force records show Mnuchin's office requested the flight and that Chao was later added to it. According to the Defense Department, it costs $25,000 per hour to operate the C-37, the military's equivalent of a Gulfstream jet.
It is extremely unusual for treasury and transportation secretaries to use this method of transportation for domestic business travel. Aside from the president and vice president, travel on military aircraft is typically reserved for cabinet members who deal directly with national security, such as the secretaries of defense, state and homeland security. Former officials with the treasury and transportation departments told ABC News it is exceedingly rare that their bosses used government travel, and that when it did happen, it was typically on overseas business flights.
A spokesman for the Department of Defense also told ABC News that "generally, when other federal executive agencies request use of military airlift, it is provided on a reimbursable basis." That reimbursement, however, generally matches an equivalent coach fare, rather than the total cost to operate the aircraft.
Chao's office said she only takes government travel if there are concerns about security, excessive cost, or if there are no commercial options available. Yet her spokesman could not say which of these criteria she used to justify her government flight on Aug. 15. Multiple carriers shuttle hourly flights between Washington and New York that can be booked on the same day for less than $1,000.
Mnuchin is not the only member of Trump's cabinet whose travel has come under scrutiny.
ABC News has confirmed that Health and Human Services Secretary Tom Price is now under investigation by his department's inspector general for chartering dozens of private flights for domestic business trips. Politico reported this week the bills for those flights, footed by American taxpayers, amount to roughly $300,000.
A spokesman for Price told ABC News the private flights were necessary, in part, because of his demanding schedule.
"The Secretary has taken commercial flights for official business after his confirmation. He has used charter aircraft for official business in order to accommodate his demanding schedule. The week of September 13 was one of those times, as the secretary was directing the recovery effort for Irma, which had just devastated Florida, while simultaneously directing the ongoing recovery for Hurricane Harvey," the spokesman said.
But Price also took a flight in June from Washington to Philadelphia at the same time commercial carriers were flying that route. The price of a 40-minute commercial flight from Washington to Philadelphia typically falls in the hundreds of dollars range. Private charter companies typically charge a two-hour, $10,000 minimum for the day.
Today, the ranking member of the House Oversight Committee, Rep. Elijah Cummings (D-Md.), called on Republicans to hold hearings on the administration's use of costly travel.
"Too many Trump Administration officials have an entitled, millionaire mindset when it comes to squandering taxpayer money that does not belong to them just to support their lavish lifestyles," Cummings said in a statement. "This starts at the very top, and the American people are not going to keep footing the bill for the Trump Administration's champagne wishes and caviar dreams."
In addition, investigators at the Environmental Protection Agency's are examining Administrator Scott Pruitt's "frequent travel to and from his home state of Oklahoma at taxpayer expense," to determine if they were done in accordance with EPA policy, according to a memo from the department's office of inspector general.
ABC News' Erin Dooley, Jordyn Phelps and Katherine Faulders contributed to this report.