President Trump on Friday said he had no regret for making light of Rep. Greg Gianforte's physical assault on a reporter at a Montana rally Thursday night.
"No, that was a different league, a different world," Trump said on Friday when asked whether he regretted Thursday's comments -- made amid outrage he's expressed over the alleged murder of Saudi journalist Jamal Khashoggi.
"That was a tremendous success last night in Montana and Greg is a great person, he's a tough cookie, and I'll stay with that," Trump said, again offering praise for the congressman who body-slammed a reporter last year as he campaigned during a special election for Montana's at-large congressional seat. The incident was caught on audiotape. Gianforte went on to win the election and is now up for reelection.
"Any guy that can do a body slam, he is my type!" Trump said to cheers Thursday night.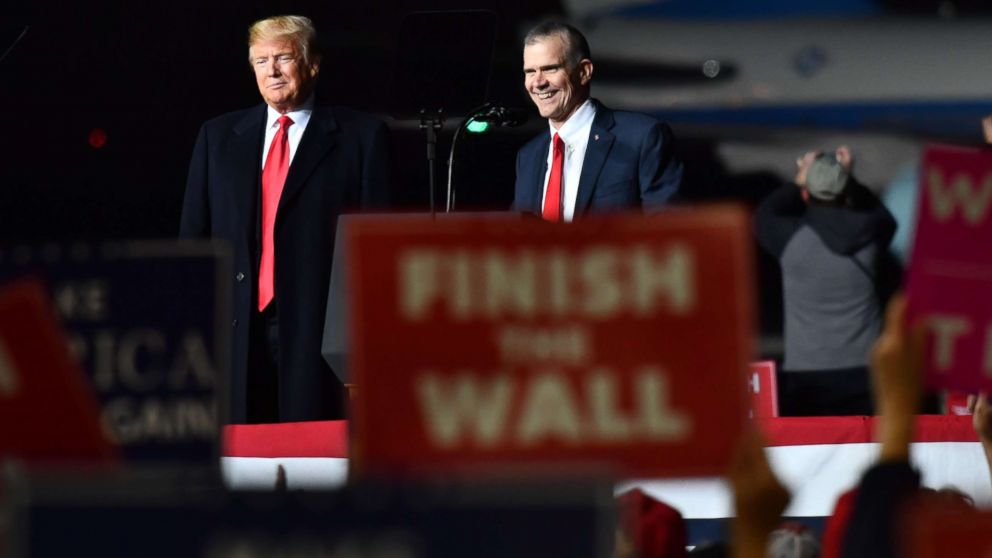 "I was in Rome with leaders when I heard about it, and I heard that he body-slammed a reporter," Trump said.
Trump said he was afraid Gianforte would lose after the moment, but then recalled, "Wait a moment, I know Montana."
Gianforte pleaded guilty and was sentenced to community service for the incident. He apologized on the night of his election victory, saying, "When you make a mistake you have to own it."
The White House Correspondents' Association has since come out to condemn the president comments.
"All Americans should recoil from the president's praise for a violent assault on a reporter doing his Constitutionally protected job. This amounts to the celebration of a crime by someone sworn to uphold our laws and an attack on the First Amendment by someone who has solemnly pledged to defend it. We should never shrug at the president cheerleading for a violent act targeting a free and independent news media," WHCA President Olivier Knox said in a statement.
For Trump, the Montana Senate race is personal.
Trump came to Montana on the attack against Tester, a two-term Democratic senator, who is in a close race against Matt Rosendale, the current state auditor.
The president has made it his mission to unseat Tester, whose office publically released information about alleged misconduct that led to White House physician Adm. Ronny Jackson's failed nomination to lead the Department of Veterans Affairs. Jackson denied allegations of misconduct and that he overprescribed medications, but eventually withdrew his name from consideration. Trump never forgot.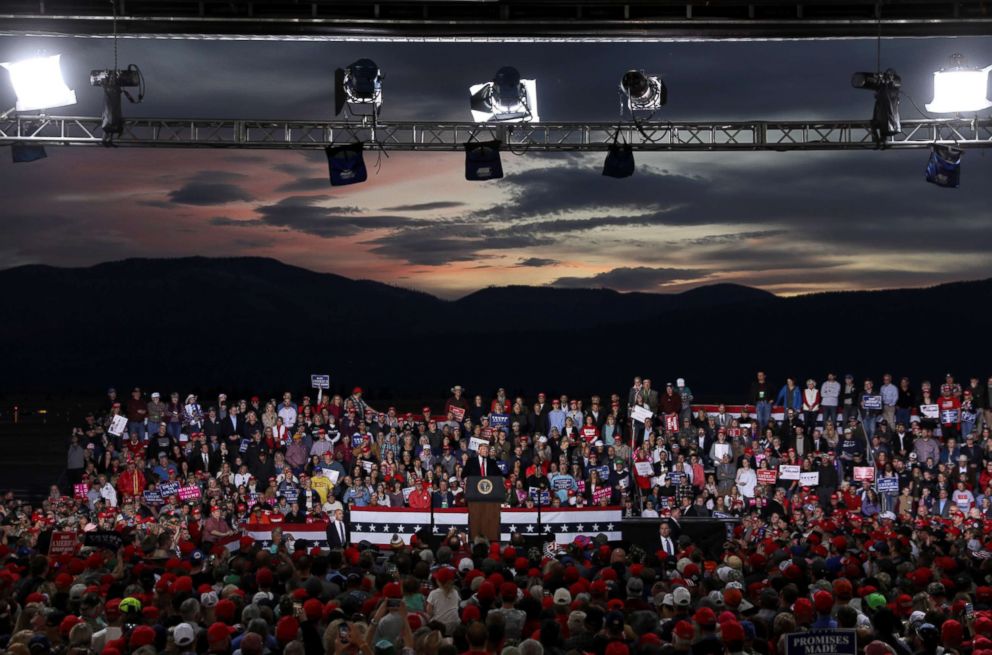 "That's really why I'm here," Trump said. "I can never forget what Jon Tester did to a man of the highest quality. It was vicious."
The president spoke at length about immigration and falsely said that Democrats are supporting a caravan of immigrants traveling up from Central America.
"They wanted that caravan and there are those who say that caravan didn't just happen, it didn't just happen. A lot of reasons that caravan -- 4,000 people -- but I just want to thank the Mexican government because they're stopping it hopefully before it ever gets to Mexico," Trump said.
"As you know, I'm willing to send the military to defend our Southern border if necessary all because of the illegal immigration onslaught brought by the Democrats because they refuse to acknowledge or to change the laws -- they like it," Trump said.
Trump said that the midterm elections will be "an election of Kavanaugh, the caravan, law and order and common sense -- that's what it's going to be."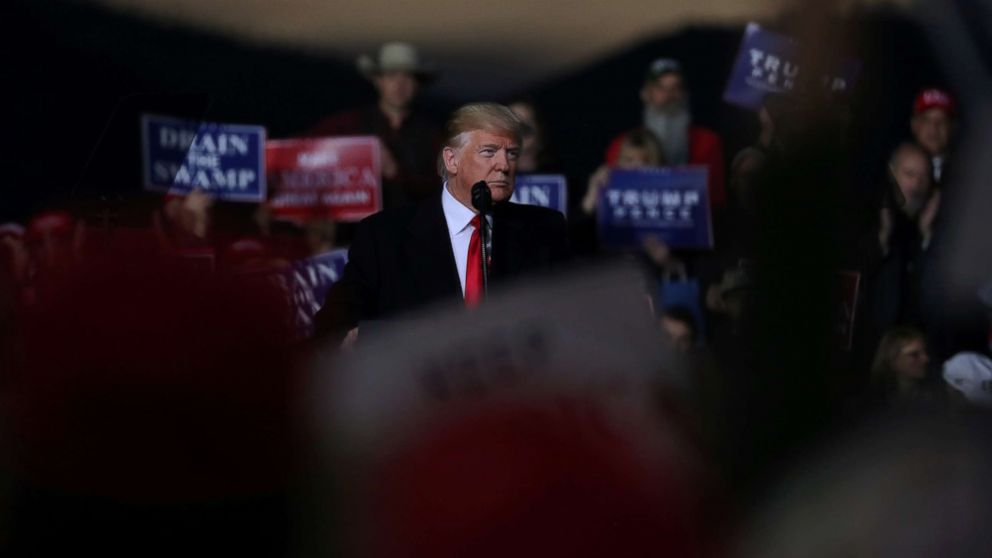 At times, the president veered off script, talking about the first lady's trip to Africa and controversy over her pith hat ("I think she bought it in Los Angeles!") and fake allegations he wears a toupee ("He wears a hairpiece").
But then he would swerve back on course to talking about Hillary Clinton and Elizabeth Warren's DNA test in a state home to many Indian reservations: "It's too bad because I can't call her Pocahontas anymore."
While Trump comfortably won the Big Sky state by 20 points, Tester, a moderate Democrat, maintains a slight lead in what has become one of the most expensive political contests in the small state's history as millions of dollars have poured into Montana. It's the president's third trip to Montana, and Tester is only a few points ahead of Rosendale in recent polls.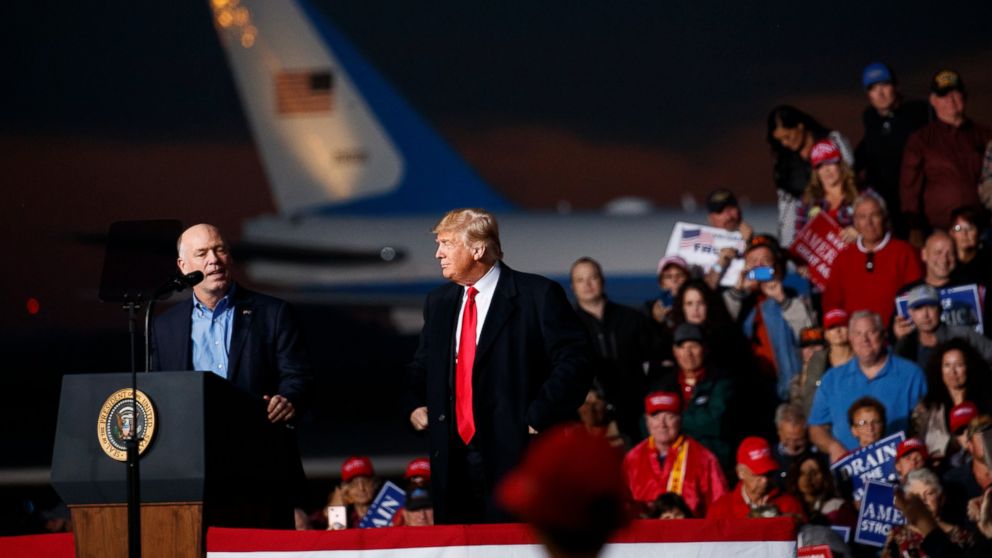 Tester has touted a bipartisan record in the Senate, even publishing a full-page newspaper ad at the beginning of the summer thanking the president for signing 16 of his bills into law on everything from government waste to veterans affairs.
"We can't let Jon Tester and the radical liberal agenda win, they'll go after President Trump," Rosendale said.
While the president's ire toward Tester is rooted in Jackson, many of the voters ABC News spoke with before the rally began didn't seem to know his name.
"I really don't have any thoughts about him," Jeffrey Stenger from Polson, Montana, told ABC News.
His wife Lynn jumped in, to remind him he was the White House physician who "got in a spat with Tester."
"He has a good instinct of reading people, even in the beginning of the election he called people out and said the truth. So far, he hasn't lied to me," Stenger said.