Top music industry leaders joined lawmakers on Capitol Hill on Thursday to back a federal bill that would limit the use of rap lyrics by federal prosecutors in criminal proceedings.
The Restoring Artistic Protection Act, which was co-sponsored by Reps. Hank Johnson (D-Ga.) and Jamaal Bowman (D-N.Y.), was first introduced last year but was re-introduced on Thursday in a press conference that began with remarks from President of the Recording Academy Harvey Mason Jr.
Mason said that the bill not only seeks to protect hip-hop artists or musicians, but is also intended to protect the creative expression of all artists and creators across musical disciplines.
"Our mission, our responsibility is to protect creative rights," Mason said. "Silencing creative expression is a violation against all artists in all forms," he added.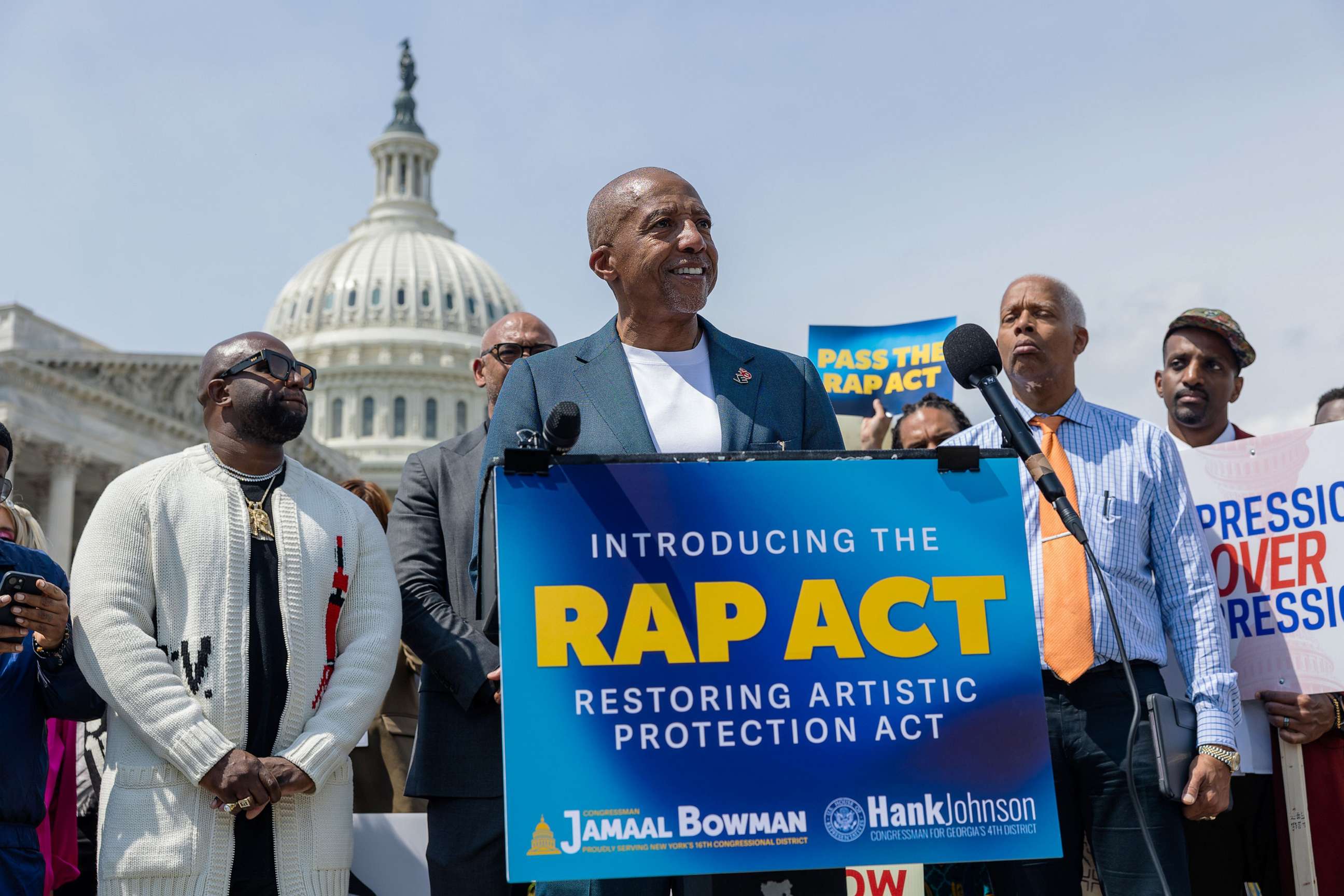 The Restoring Artistic Protection Act, which is also known as the RAP Act, seeks to amend the federal rules of evidence "to limit the admissibility of ... a defendant's creative or artistic expression" in a criminal proceeding, according to the text of the bill.
While the law would not completely bar rap lyrics from being admitted as evidence, it would essentially require prosecutors to prove that the lyrics in question refer "to the specific facts of the crime alleged" and "that defendant intended to adopt the literal meaning of the expression as the defendant's own thought or statement," the bill reads.
Johnson told reports that the bill is "long overdue" and already has bipartisan support, with 20 Republican lawmakers backing it as of Thursday afternoon.
"For too long artists have been unfairly targeted by prosecutors," Johnson said.
Supporters of the RAP Act include the Recording Academy, the Recording Industry Association of America, Universal Music Group, Sony Music Group, Warner Records, Atlantic Records, Warner Music Group, the Black Music Action Coalition and The Screen Actors Guild - American Federation of Television and Radio Artists, whose president, actress Fran Drescher, also spoke at the press conference.
"I have hope that the whole music and creative community has come together," said CEO of 300 Entertainment Kevin Liles at the press conference.
"I have hope in groups on the right and the left both saying that this is against the values of Americans. I have hope in blue states and red states advancing legislation to end this practice," he added, referencing similar state-level bills in Missouri and Louisiana that have been sponsored by Republican lawmakers.
Rap lyrics have been used by prosecutors in the U.S. for decades as alleged evidence in criminal cases, helping put rappers behind bars. However, it wasn't until lyrics were used in the indictment of hip-hop star Young Thug in May 2022 on gang-related charges, that the controversial practice sparked a movement in the music industry and fueled a wave of support for legislation seeking to limit the practice.
Although the scope of the indictment, which names 28 individuals, goes far beyond the lyrics, the use of rappers' lyrics as part of the alleged evidence is what has drawn pushback from the music industry.
Research outlined in the 2019 book "Rap on Trial" by Erik Nielson and Andrea Dennis – which was referenced by Johnson and other speakers at the press conference, shows that the practice of using lyrics in court disproportionately impacts rap musicians.
Nielson previously told ABC News in an interview that aired on ABC Studios' "Rap Trap: Hip-Hop on Trial," which is now streaming on Hulu, that rap lyrics used by prosecutors in court usually lack a factual connection to an alleged crime and are often used as a form of character evidence that could prejudice a jury and prevent a defendant from getting a fair trial.
Liles, who leads the label under which Young Thug is signed, wrote an op-ed in June 2022, launching the "Protect Black Art" movement, and as the campaign gained steam, artists across genres have voiced their support.
Liles said on Thursday that hip–hop is being "attacked" and that advocating for these bills has become a "passion project" for him.
"That's because hip-hop is what made me," Liles said. "It's who I am."