Republicans will 'lose huge' without finding 'middle ground' on abortion, Nancy Mace says
The South Carolina conservative also defended bans on trans athletes.
South Carolina Republican Rep. Nancy Mace on Sunday warned her conservative colleagues that they would "lose huge" with voters if they continue pursuing strict abortion bans at the state level rather than finding what she called a "middle ground" on the issue.
Appearing on ABC's "This Week" two days after the Supreme Court paused a federal judge's ruling to restrict access to the widely used abortion pill mifepristone, Mace told co-anchor Martha Raddatz she agreed with that move and urged others in the GOP to avoid extremes.
Mace referenced a bill signed into law in Florida earlier this month banning most abortions after six weeks of pregnancy and another bill introduced in her home state that could impose the death penalty on women who have abortions.
Mace, a "constitutional conservative who's pro-life," called those efforts "the wrong message heading into '24."
"We're going to lose huge if we continue down this path of extremities and finding that middle ground -- the vast majority of people want some sort of gestational limits, not at nine months but somewhere in the middle," Mace said. "They want exceptions for rape and incest, they want women to have access to birth control."
"These are all very commonsense positions that we can take and still be pro-life," she said.
Mace's comments highlighted the ongoing Republican Party divisions over abortion bans, which have long been a central issue for the GOP.
However, since the Supreme Court reversed its landmark Roe v. Wade decision last year, voters across the country have largely rejected efforts to restrict abortion and said in polling that ensuring abortion access has motivated them to turn out in elections.
"I saw what happened after Roe v. Wade because I represent a very purple district, as purple as this dress, and I saw the sentiment change dramatically," Mace said. "And as Republicans, we need to read the room on this issue."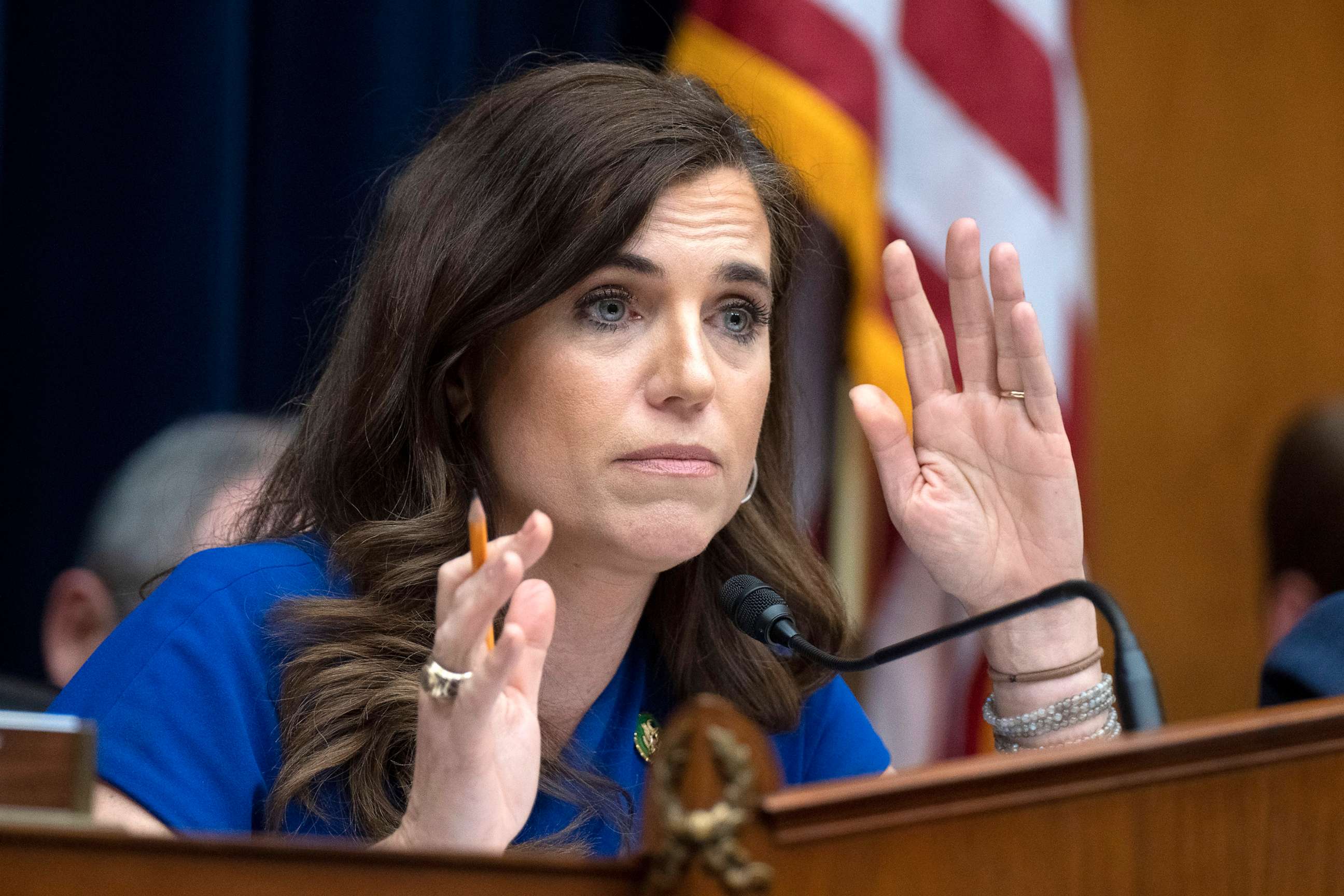 Despite Mace's position, Raddatz noted GOP leaders like Florida Gov. Ron DeSantis and former Vice President Mike Pence feel differently, with Pence saying Saturday in Iowa, "I think we have an opportunity to advance the sanctity of life, move it ever closer to the center of American law."
"There's not a lot of discussion about finding a middle ground in the Republican Party. In fact, there's not a lot of discussion about abortion in general," Raddatz said on "This Week."
That is a mistake, Mace argued.
"We've buried our head in the sand. We're afraid to talk about it. Because we're afraid, we want to go to the extreme corners of this issue. But that's not where the vast majority of Americans are right now. And we've got to show compassion, especially to victims who've been raped," Mace, who has been candid about her own experience being sexually assaulted, told Raddatz.
Raddatz also pressed Mace on her support last week for legislation barring transgender girls from competing in female sports, a vote Mace cast as a necessary defense in the "left's new war on women."
"These are biological men. They're much stronger. They shouldn't be in a locker rooms. And you hear these stories, and they're real. It's not a fantasy. It's not a conspiracy theory," she contended.
Some athletes disagree, Raddatz said, citing 40 of them who signed a letter criticizing the Republican ban.
But Mace suggested allowing transgender women in women's sports was an attack on women's safety and achievements.
She also rejected concerns that such legislation alienates transgender people, who as a community can suffer higher rates of suicide, after Raddatz quoted Utah Gov. Spencer Cox's decision last year to unsuccessfully veto a ban in his state on transgender girls competing in the sport that matches their gender.
Cox, a Republican, said then that there were only four transgender athletes competing in high schools in Utah, only one of whom was a transgender girl.
"Rarely has so much fear and anger been directed at so few," he said.
"I'm a pro-LGBTQ Republican. That's not what this is about," Mace said in response. "We don't want anyone committing suicide because we've taken this position. To conflate the two is a radical and extreme position to take. What we do want to do is protect women and girls."