Nancy Reagan, Former First Lady, Dies at 94
Former first lady was known for her devotion to husband.
— -- Nancy Davis Reagan, wife of the late President Ronald Reagan, died Sunday at her home in Los Angeles. She was 94.
The former first lady will perhaps be best remembered for her loyalty to her husband. She became fiercely protective of him after a 1981 assassination attempt, and later stood by him as Alzheimer's disease overtook him in his last years.
In a 1998 Vanity Fair article, she vocalized this loyalty: "When I say my life began with Ronnie, well, it's true. It did," she said.
During her White House years, she sponsored a major drug prevention crusade aimed at children and young adults. She toured the U.S. and other nations as part of her "Just Say No" campaign, traveling almost 250,000 miles.
As the first lady from 1981 to 1989, Reagan endured criticism for bringing high fashion and a lavish lifestyle to the White House in a time of recession. Some critics called her "Queen Nancy."
After her husband was diagnosed with Alzheimer's disease in 1994, Reagan became an outspoken advocate for Alzheimer's research and formed the Ronald & Nancy Reagan Research Institute in Chicago the following year.
Reagan, who died of heart failure, will be buried next to her late husband at the Ronald Reagan Presidential Library in Simi Valley, California.
A 'Painful' Childhood
Born on July 6, 1921, in New York City, Nancy Reagan was the only child of radio actress Edith Luckett and her husband, Kenneth Robbins, the son of a once-well-to-do family who worked as a car salesman. Robbins was a Princeton graduate, but his daughter's memoir, "My Turn," says that he "wasn't very ambitious." Nancy's parents soon separated and divorced.
Nancy's interest in acting was sparked at an early age, as she went from theater to theater with her mother and enjoyed experimenting with stage clothes and makeup.
But life as a single working mother proved too difficult for Luckett, who sent Nancy to live with her uncle and aunt, Virginia and Audley Galbraith, in Bethesda, Maryland. Though Nancy occasionally visited her mother during stopovers in New York, she later recalled their separation as "a painful period" in her childhood.
In 1929, Luckett quit her acting career to marry a prominent neurosurgeon, Loyal Davis, whom Nancy quickly accepted as a father figure. The family moved to Chicago, where Nancy attended the Girls' Latin School and took up swimming, dancing and tennis.
She attended Smith College in Massachusetts, where she was a self-described "average student" and regularly performed in campus plays. She graduated in 1943.
She launched her acting career shortly after graduation, billing herself as Nancy Davis. She toured from Detroit to New York City with a non-speaking role in "Ramshackle Inn" before landing a minor spot in the musical "Lute Song," acting opposite Yul Brynner and Mary Martin in what would be her only Broadway appearance.
After a series of smaller parts, Reagan attracted the attention of MGM Studios and moved to Hollywood to begin work on her first feature film, "The Doctor and the Girl."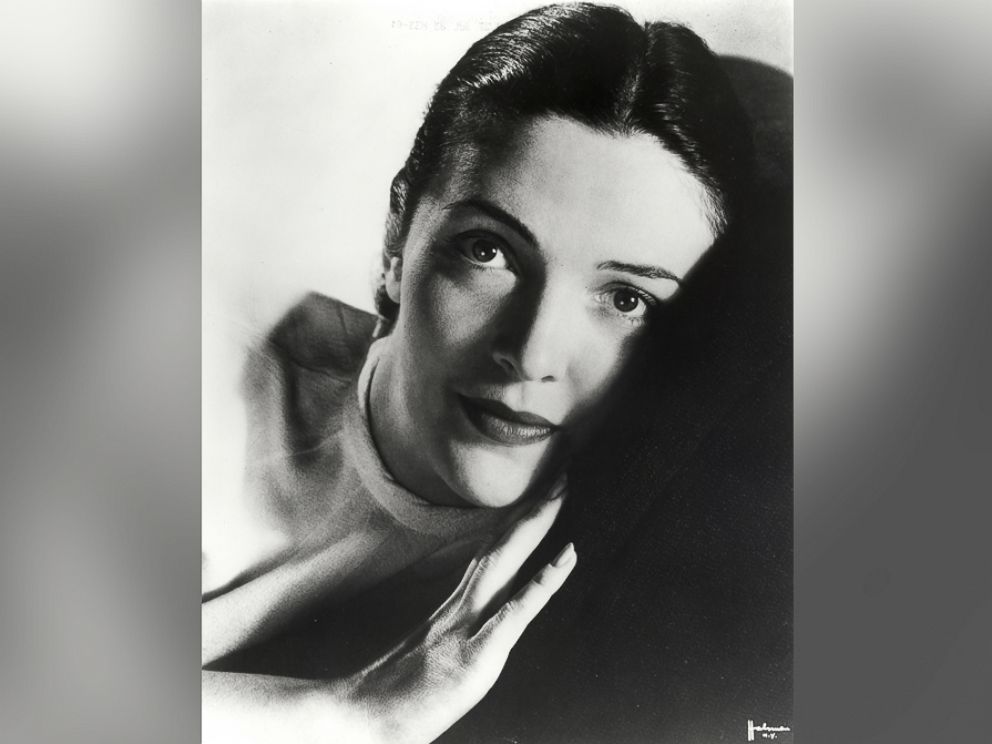 Family Ties
Nancy Reagan's career in Hollywood included 11 feature films, among them "The Next Voice You Hear," "Donovan's Brain" and the Academy Award-nominated documentary, "The Dark Wave."
While filming "East Side, West Side," Nancy Davis's name wrongfully appeared on a published list of alleged communist supporters. She sought assistance from the then-president of the Screen Actors Guild, Ronald Reagan, who met her over dinner.
"I don't know if it was exactly love at first sight," Nancy Reagan later said, "but it was pretty close."
The couple wed on March 4, 1952, in Los Angeles, with actor William Holden and wife Ardis as the only witnesses.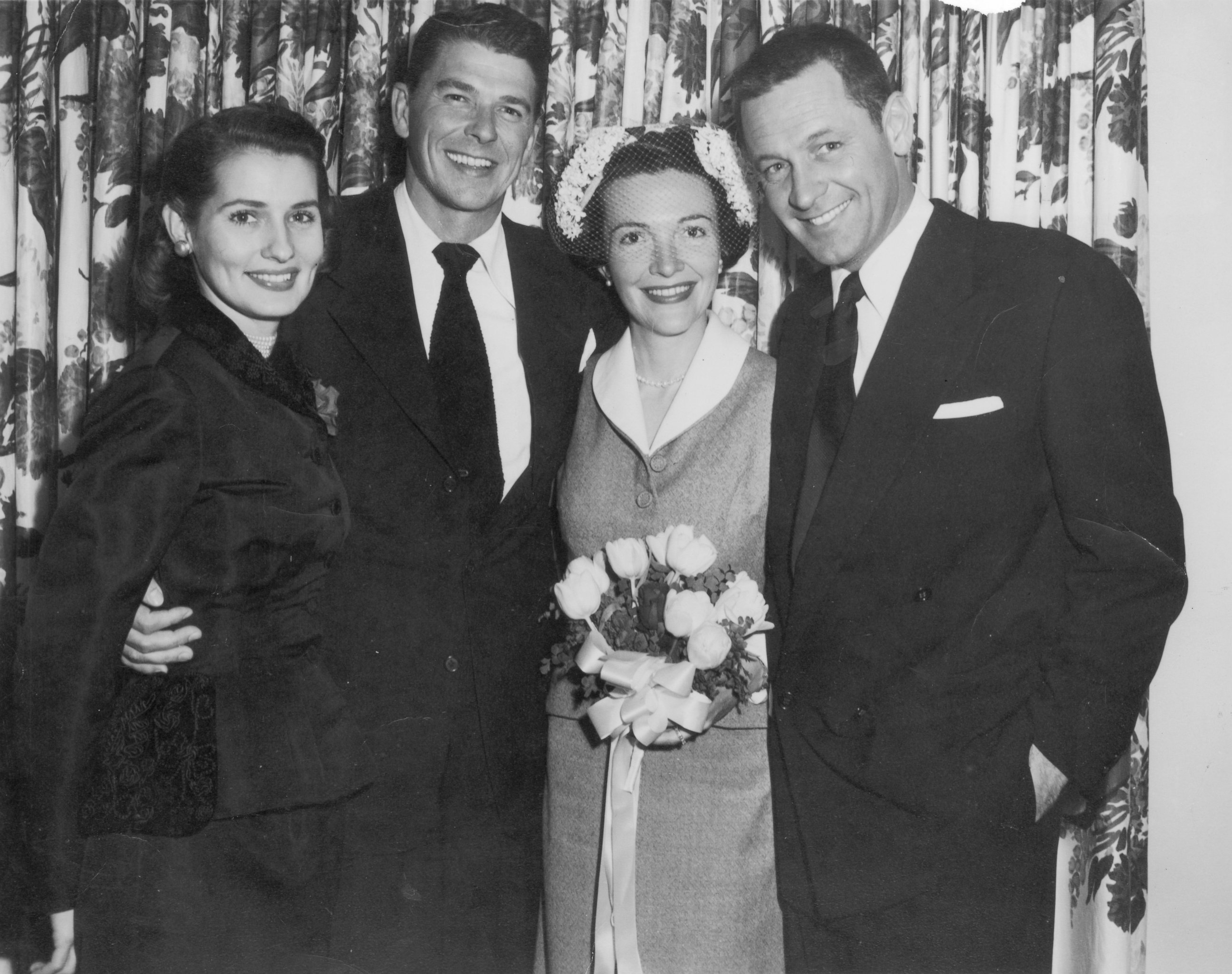 The Reagans starred together in the 1957 World War II film "Hellcats of the Navy" with Nancy playing a Navy nurse and Ronald the commanding officer of a submarine.
While Ronald Reagan continued his film career, Nancy Reagan retired from acting and raised their children, Patti and Ronald Jr., in addition to stepchildren Maureen and Michael from Ronald's previous marriage to actress Jane Wyman.
As host of "General Electric Theatre," Ronald Reagan gave traveling speeches encouraging smaller government, and began to focus on political issues. By 1962, after years as a Democrat, he had officially changed to the Republican party, and in 1964, after making a fundraising speech at a campaign event for presidential hopeful Sen. Barry Goldwater, R-Arizona, he became the darling of the conservative movement.
He announced his candidacy for governor of California in 1966, and Nancy Reagan found herself thrust into the role of campaigner. Eager to support her husband but wary of speechmaking, Reagan adopted what would become her signature question-and-answer format while making campaign appearances. Ronald Reagan won the election in a landslide.
The Golden State Gets a Makeover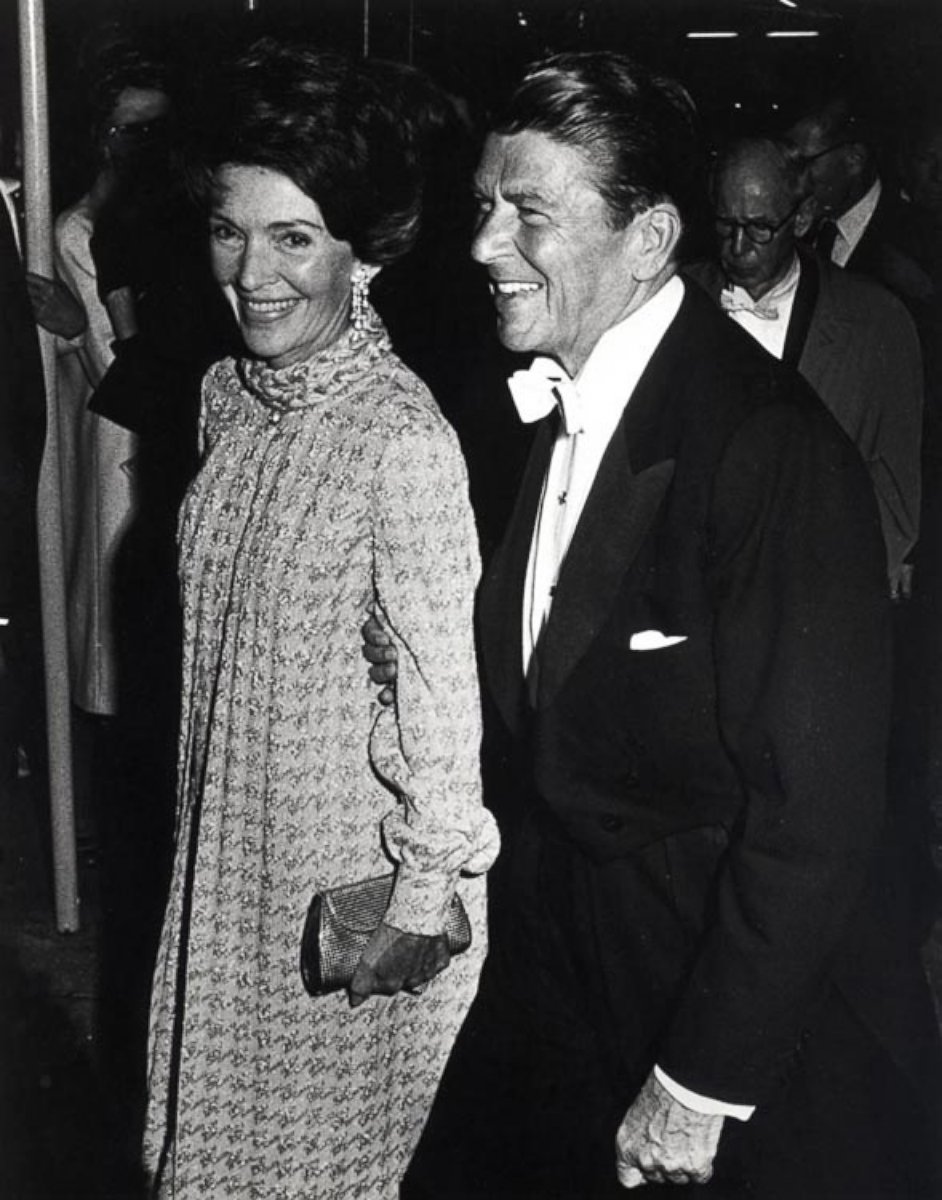 As the first lady of California, Nancy Reagan did not find the governor's residence -- an old Victorian mansion in Sacramento -- to be up to standard. Her first order of business was to move the family to a 12-room Tudor home in the suburbs, citing concerns for her children's safety.
"That house was so depressing that I just couldn't stand the thought of living there," Reagan later wrote in her memoir. "It was a tinderbox, its wooden frame eaten through by dry rot."
The move brought her stiff criticism. One People magazine contributor dubbed her "imperious."
During her eight years in Sacramento, the press remained fascinated with Nancy Reagan's elegance. A 1967 article in Life magazine reported that she flew a private hairdresser from Los Angeles for important events, describing her as "a walking showcase for California fashion designers."
Through her visits with hospitals and homes for emotionally and physically handicapped children, Reagan became a strong advocate of the Foster Grandparent Program -- which pairs senior citizens as mentors to youth with exceptional needs -- and worked to promote it throughout the state.
The First Lady and the Refurbishment
Nancy Reagan helped her husband in his unsuccessful 1976 bid for the Republican presidential nomination but later joined him in lending support to the Republican nominee, Gerald R. Ford.
The spending -- in addition to her accepting free designer clothing and attending the wedding of England's Prince Charles and Princess Diana in 1981 -- earned Reagan quick criticism. A 1981 Newsweek poll found that 62 percent of Americans thought she was too focused on style for a period of economic downturn, while a Washington Post column dubbed her "a symbol of the uncaring rich, a Barbie doll with an attitude."
"Virtually everything I did during that first year was misunderstood and ridiculed," she later wrote in her autobiography. "While I loved being first lady, my eight years with that title were the most difficult years of my life."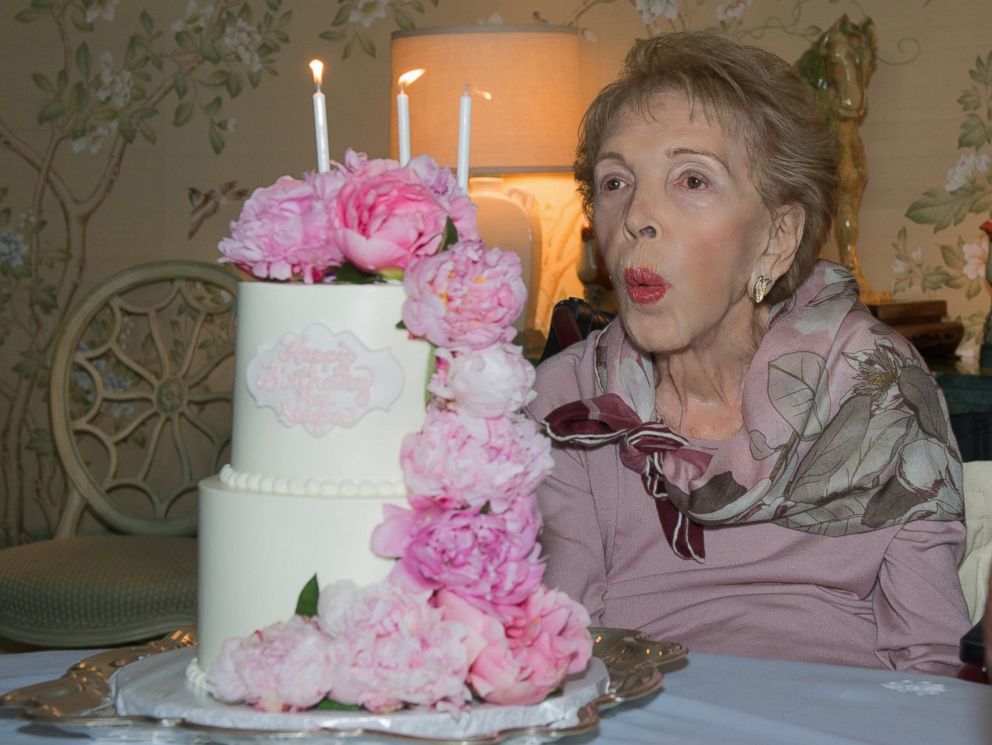 Though Reagan continued to support the Foster Grandparents program as first lady, perhaps her most notable efforts were in promoting drug education and prevention programs. She toured the U.S. and nine countries as part of her anti-drug abuse "Just Say No" campaign.
In 1985, she hosted first ladies from 17 nations at the White House for a conference on youth drug abuse.
The anti-drug movement was influential in passage of the 1986 National Crusade for a Drug-Free America anti-drug abuse law. Through her platform, Reagan became the first first lady to address the U.N. General Assembly in 1988 when she spoke in on international drug trafficking laws.
The President's Caretaker
Following the shooting of her husband on March 30, 1981, Nancy Reagan's role as a first lady shifted to that of the president's personal protector.
She took it upon herself to know the president's schedule, including with whom he would be privately meeting. She garnered further negative press after it was made known that she was consulting an astrologer to determine precisely which days and places Ronald should avoid as potential dangers.
Reagan also became increasingly involved with personnel decisions in the administration, having effectively supported the firing of National Security Council Member William P. Clark and the hiring of Secretary of State George Schultz.
Following the president's colon cancer surgery in 1985, Reagan played a large role in firing chief of staff Donald Regan, who published a critical memoir in response.
But despite her poor reception, Reagan remained committed to her husband's safety.
"You have to understand, Ronald Reagan was the sun in Nancy's life, and to see him almost killed was the realization of her worst nightmare" ABC News correspondent Chris Wallace said following the assassination attempt.
Reagan also persuaded her husband to befriend Soviet President Mikhail Gorbachev, saying that it made no sense for the leaders to not be engaged in open dialogue. This friendship later led to the 1987 INF Treaty, which about brought mutual destruction of intermediate-range nuclear missiles and was considered a high achievement of the Reagan administration.
Life After Ronnie
Following a fall at her home in February 2008, Reagan was admitted to St. John's Health Center in Santa Monica, California. She suffered another fall in October 2008.
But despite the injuries, Reagan continued to promote stem cell research as a potential cure for Alzheimer's disease.
"We owe it to ourselves and to our children to do everything in our power to find cures for these diseases, and soon," she wrote in March 2009, praising President Barack Obama, who fought to loosen stem cell restrictions. "As I've said before, time is short, and life is precious."
She attended a June 2, 2009, signing of the Ronald Reagan Centennial Commission Act, which created a commission to honor the 100th anniversary of her husband's birth in 2011. The following day, she unveiled a bronze statue of Ronald, which now sits in the Capitol rotunda.
It was this love of Ronald for which Nancy will likely be remembered.
"I've had quite a life, when you stop and think about it," she once told a Vanity Fair reporter. "I'm very lucky. Especially with Ronnie -- I was the happiest girl in the world when I became we.
"Even in the very beginning, I was always so proud of him. Everything he did," she said. "And it wasn't that I had to force myself. I just was."