For six weeks, Nebraska State Sen. Machaela Cavanaugh has been filibustering on the Senate floor to fight a state bill that would ban gender-affirming health care for transgender youth. Now, Cavanaugh is broadening her efforts with the formation of a new political action committee, Don't Legislate Hate, she said in an interview with "GMA3."
The Nebraska bill, LB574, would ban puberty blockers, hormone therapy and gender-affirming surgeries for people under the age of 19.
Pledging to block all state legislation until the bill is withdrawn, Cavanaugh told fellow lawmakers in February, "If this legislature collectively decides that legislating hate against children is our priority, then I am going to make it painful; painful for everyone. Because if you want to inflict pain upon our children, I am going to inflict pain upon this body."
Nebraska is one of at least 23 states considering restrictions on gender-affirming care. According to the Human Rights Campaign, there are about 150 bills targeting transgender people around the country. The ACLU says there are more than 400 anti-LGBTQ bills up for consideration in state houses nationwide.
Cavanaugh spoke to ABC News' Phil Lipof and Eva Pilgrim about why she opposes LB574 and similar policies being proposed around the country.
PHIL LIPOF: State Senator, it's good to see you. Let's jump right into this. You are the first senator in your state to filibuster every bill in your legislature's 90-day session, debating even the ones that you support. And it's all over this bill called LB574. So what is this bill actually proposing and why are you so opposed to it?
SEN. MACHAELA CAVANAUGH: Well, thank you, first of all, for having me. And yes, so, LB574 is a model legislation that we're seeing across the country. It's attacking gender-affirming care for trans youth. And we've seen this being introduced in multiple other states. It's currently tied up in the courts in Arkansas. And Nebraska is just another state that is attempting to legislate hate. And I'm here to stop us from doing that.
EVA PILGRIM: You've said you'll continue to filibuster this bill, but doing so is also delaying other important work like dealing with the budget or tackling child care. Why are you willing to sacrifice these other issues? Do you think this is worth it?
CAVANAUGH: Well, I'm not willing to sacrifice other important issues. What I'm doing is asking the legislature to decide what it is that we want to do this year, what is our agenda and is legislating hate our priority or all the things that you just discussed? The budget, child care tax credits, tax cuts, the economy. These are the things that I believe the legislature should be focused on, not legislating hate. And I'm asking my colleagues to join me in that conversation. So if that means that I have to slow things down and filibuster bills until we can come to some consensus that this is not who we are as a state, then that's what I'm willing to do.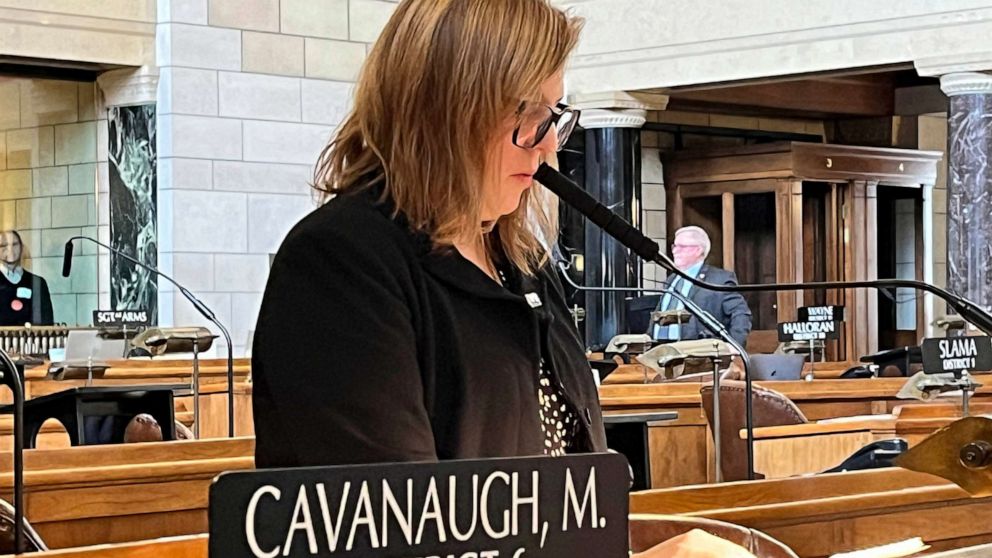 LIPOF: According to the ACLU, there are more than 400 anti-LGBTQ bills. The Human Rights Campaign says about 150 bills target transgender people. Less than 1.6% of the U.S. population is transgender or non-binary. Why do you think politicians on both sides of the aisle are so focused on transgender Americans?
CAVANAUGH: I would say that I don't know why people are focusing on this issue. What I do know is that these policies are an attempt to diminish, dehumanize, demoralize the transgender people in Nebraska and across this country. And we, collectively, no matter what political party we belong to, need to stand up against that. It is inappropriate for our public policy makers in this country to be attacking a vulnerable, minority population. And I think it is incumbent upon all of us to stand up against that. This is really a crisis of our country and a crisis, at least in my state. And I am asking my colleagues to stand up against this.
PILGRIM: We are seeing a lot of discussion about this all across the country, as you mentioned. This is a controversial issue, particularly because it involves children. There are going to be a lot of people who say this is extreme, waiting for these kids to grow up to be sure that this is, in fact, their choice, doesn't seem all that extreme. Why do you think these kids need this care now?
CAVANAUGH: I think that every individual deserves access to appropriate health care, and I believe firmly in parental rights and making medical decisions for their children. We are attacking a certain medical care because of who the patient is and how they identify. This is not something that should be in the hands of government. Parents, medical providers and their children should be making these decisions together. Whether I think medical care is appropriate or inappropriate is completely irrelevant. It is not for me or anyone else to say that this care is inappropriate. It is for a parent, the patient and the doctor to decide together. And I don't know why we would accept this just because we're talking about transgender children. We wouldn't be having this conversation if we were talking about taking away parental rights when it comes to vaccines. So why are we having this conversation when it comes to transgender children?
LIPOF: OK. That's an important distinction, whether we're talking about the care or parental rights. Appreciate you making that distinction. Today, you're announcing a new political action committee. I'd like you to tell us a little bit about that and what you hope it will accomplish.
CAVANAUGH: Yes, Thank you. I am. I'm starting a political action committee called DontLegislateHate.org. I am joined with two of my colleagues, Sen. Megan Hunt and Sen. John Fredrickson, both of Omaha. And we've been hearing an outpouring from people in Nebraska and across the country wanting to know how they can support what we are doing and what steps they can take to be activated. And so we decided that this was a good step in the right direction to start a political action committee so that we can support candidates and the conversation to stop this type of legislation across the country and definitely here at home in Nebraska.
LIPOF: Nebraska State Democratic Sen. Machaela Cavanaugh. Thanks so much for taking the time to be with us. We appreciate it.
CAVANAUGH: Thank you. I appreciate being here.