Russian jets 'harass' US drones for 2nd straight day, Pentagon says
The alleged Russian harassment came despite U.S. warnings.
For a second straight day on Thursday, Russian fighter jets harassed American military drones flying over eastern Syria by dropping parachute-borne flares in their flight path, the Pentagon said.
Once again, the U.S. military labeled the provocative act as "unsafe and unprofessional" and called on Russia to cease its risky behavior.
As with Wednesday's incident, the Pentagon released a declassified video of the new encounter captured by a camera aboard an MQ-9 Reaper drone involved in the incident.
The video shows a Russian Su-35 fighter jets positioning itself in front of an MQ-9 Reaper before dropping parachute-borne flares into its flight path, officials said.
As in Wednesday's incident, the American drone had to take evasive maneuvers to avoid the drones, officials said.
"Russian aircraft dropped flares in front of the drones and flew dangerously close, endangering the safety of all aircraft involved," Lt. Gen. Alex Grynkewich, the top U.S. Air Force commander in the Middle East, said in a statement about Thursday's incident.
"These events represent another example of unprofessional and unsafe actions by Russian air forces operating in Syria, which threaten the safety of both Coalition and Russian forces," said Grynkewich.
"We urge Russian forces in Syria to cease this reckless behavior and adhere to the standards of behavior expected of a professional air force so we can resume our focus on the enduring defeat of ISIS," he added.
On Wednesday, a declassified video released by the Pentagon of that day's encounter showed Russian aircraft doing the same thing to three Reaper drones but from a front-facing point of view.
That video also showed a Russian jet engaging its afterburner by the drone a move that affected the drone's flight path.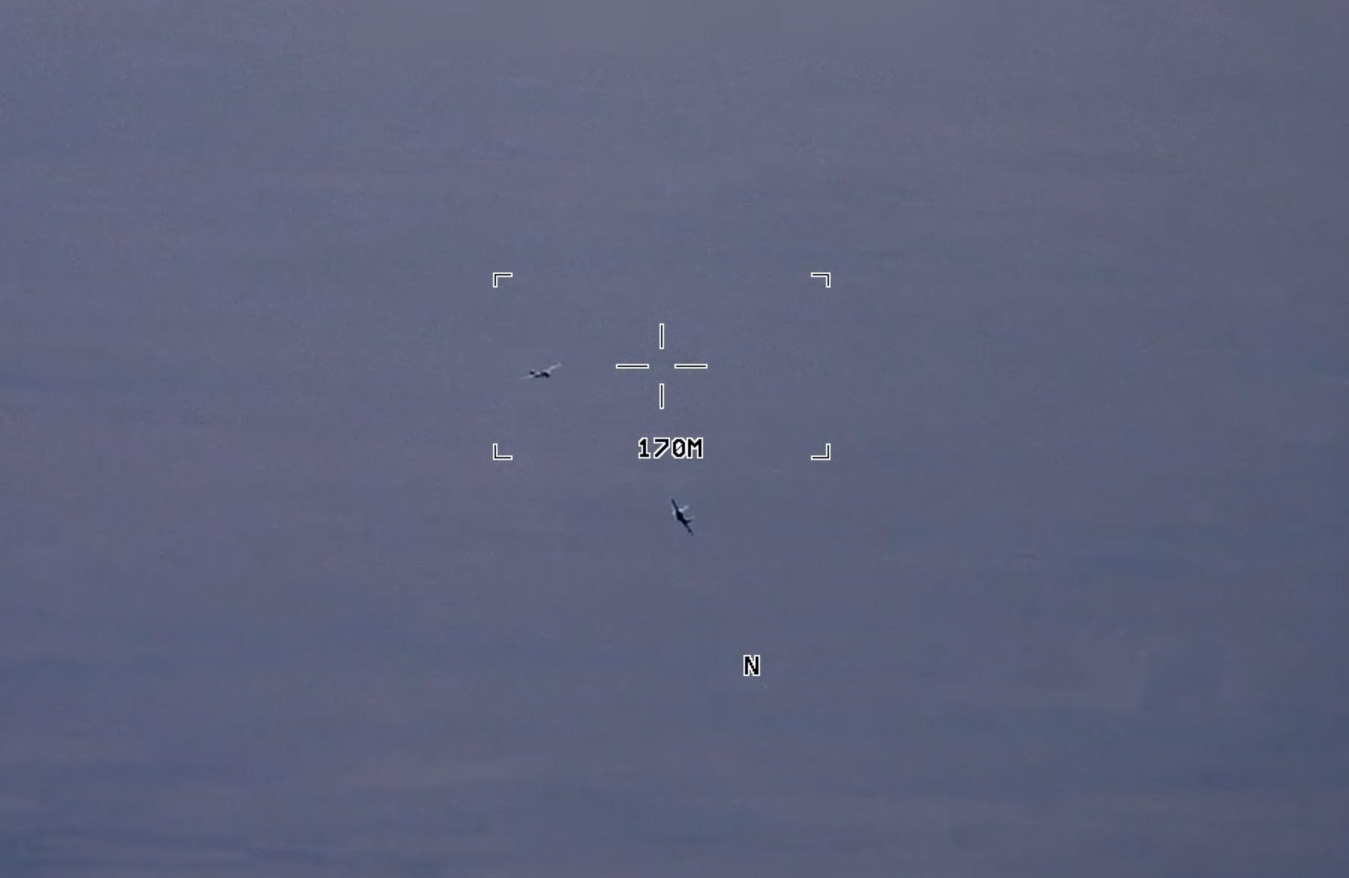 France's military also said Thursday that two Rafale fighter jets flying a counter-ISIS flight over eastern Syria had to take evasive maneuvers following "unprofessional" maneuvers by Russian Su-35 fighter jets.
"We call on the Russian forces to cease this type of reckless behavior and to behave like professional airmen," Brig. Gen. Pat Ryder, the Pentagon's top spokesman, told reporters on Wednesday.
The U.S. has roughly 900 American troops in eastern Syria assisting in the fight against ISIS, Russia has a military presence in northwestern Syria as part of a mission to support Syrian President Bashar al-Assad.
For years Russian and U.S. forces have regularly used a deconfliction hotline to ensure safety in the skies for their respective aircraft as they carry out their separate missions.
A Russian military spokesman claimed that U.S drones have violated existing U.S-Russian air deconfliction protocols in an area of northern Syria where Russia and Syrian planes operate.
Asked to comment on that claim, Ryder responded, "Did you see the video?"
"We have rules in place, well established processes and procedures and have very successfully de-conflicted with the Russians over many years when it comes to safe operations in that region" said Ryder. "So to suggest that somehow this is our fault is ridiculous."
Officials note that safety concerns about unsafe and unprofessional interactions between aircraft in war zones are legitimate and point to an incident in March where a Russian fighter collided with a Reaper drone flying in international airspace above the Black Sea.
The drone ended up crashing into the Black Sea after the Russian jet came too close and collided with it as it harassed the drone by spraying jet fuel at it, according to the U.S.
The U.S. ultimately was forced to bring that damaged aircraft down.
Oleg Gurinov, deputy head of the Russian Center for reconciliation of the warring parties in Syria, responded to the statements made at the Pentagon briefing.
"We believe that such remarks, that are sometimes beyond the bounds of decency, on highly professional actions of the Russian military personnel in Syria are devoid of common sense. They divert attention from the fact that Americans themselves on a daily basis violate flight safety rules in the Syrian air space," he said.