North Dakota Gov. Doug Burgum injured, but says he'll still take part in GOP debate
He was hurt in a pickup basketball game with his staff Tuesday night.
North Dakota Gov. Doug Burgum said Wednesday he will participate in the GOP primary debate despite being taken to the emergency room Tuesday night after injuring his left leg playing pickup basketball with his staff.
He wrote on X, formerly known as Twitter, "I'm in," including a picture of his orthopedic boot and crutches.
That post came shortly after he spoke to reporters as he checked out the debate stage in Milwaukee Wednesday afternoon, saying he was heading to a specialist to determine if he would be able to stand for the debate.
Burgum, using the same crutches and wearing an orthopedic boot seen in his social media post, said he was told in the emergency room that he has "high-grade tear" of his Achilles tendon.
"We were just having the great game of pickup and going hard and going hard in the hoop and boom. Anybody that's ever had this happen, they know what it feels like. It feels like you're, you know, getting shot like a coyote in the back leg," he said.
When asked by ABC News' Arthur Jones about the pain he's feeling, Burgum appeared to get emotional.
"Pain is relative, but I tell you, I'm fortunate. I didn't have a complete -- I have you know -- the emergency room thinks I have a high-grade tear, as opposed to a total rupture," he said.
"If I had a total rupture, it'd be a different story, but so far, so good, but um, you know, I'm someone who's never taken prescription pain meds and I'm not doing that today. Even though people said that'd be a good idea. Because I'd rather --I'd rather -- I mean so many Americans make so many sacrifices think law enforcement, think of military what they do for all of us," he said.
"I mean, if you're gonna lead this country, you got to be able to stand on one leg for two hours. You know, it's not, it's not "Dancing with the Stars." I mean, come on. So, I mean, I'd have to scratch if it was that but I mean, yeah, so pain's, not -- pain is not a factor at this point," he said.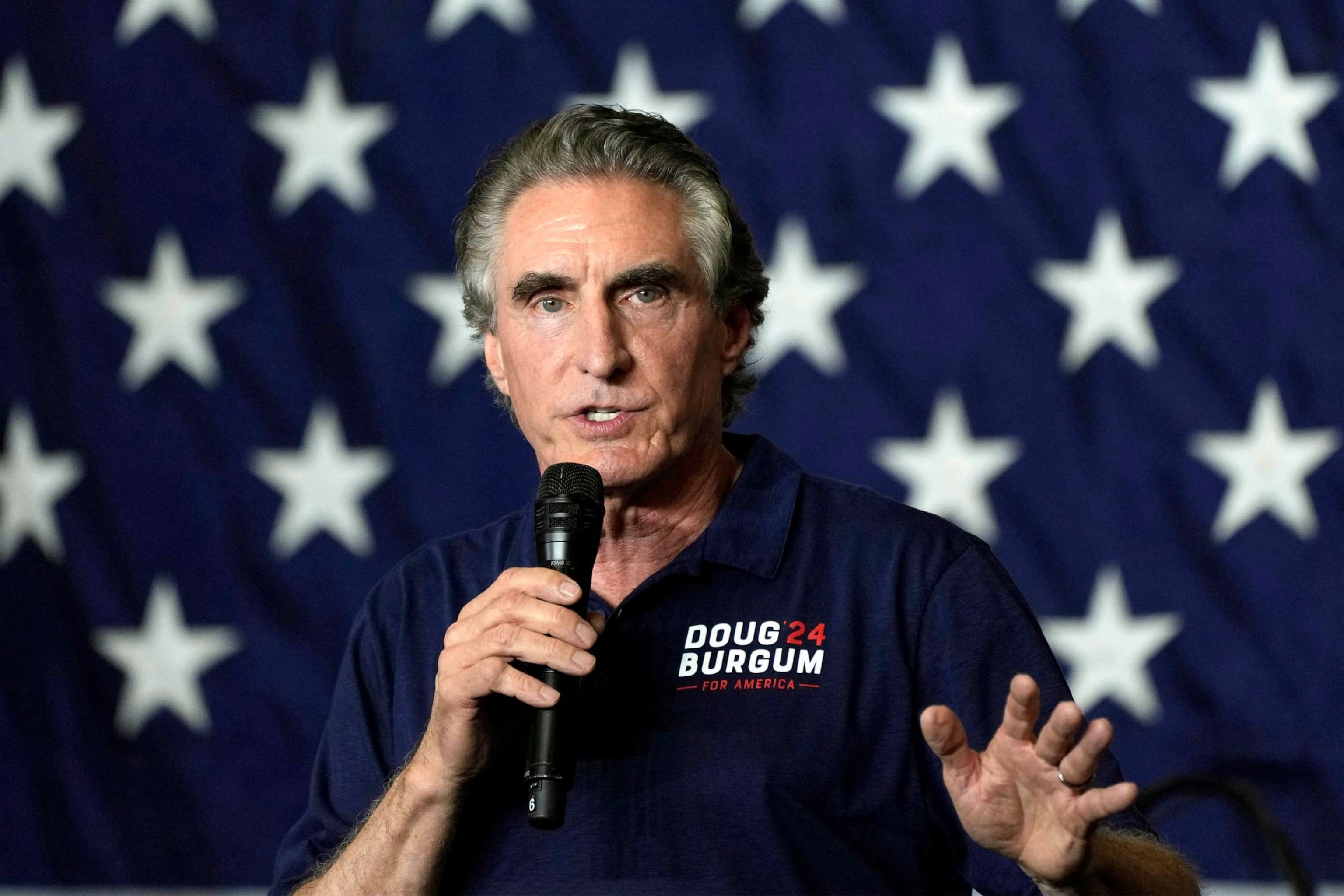 Burgum posted about noon Wednesday, "I've played lots of pick-up games in my day! This isn't the first time one has sent me to the ER. Appreciate all the well-wishes!"
Basketball is Burgum's form of stress relief, his campaign spokesman Lance Trevor said.
"Obviously, everybody has a different way to relieve themselves stress. So, the governor is an all-conference basketball player in high school, a track runner. He's a very active person. He's on the ranch in North Dakota all the time. So, he went out to play some basketball, a pickup game with some of the staff members and some of his family. Last night, went up for a shot, came down and kind of injured his leg and had to go the hospital," he said.
Burgum is one of eight GOP hopefuls set to take the stage in Milwaukee.
The news of Burgum's injury was reported by CNN.