North Korea announced that its leader Kim Jong Un observed a "successful" and "highly significant" test of an "ultramodern tactical weapon," according to state media Friday.
While the report did not say what kind of weapon it was, the announcement comes amid some renewed tensions with the U.S. and an impasse in talks over its nuclear weapons program.
Just last week, North Korea's chief nuclear negotiator abruptly canceled a trip to New York to meet Secretary of State Mike Pompeo, with those talks now postponed.
The North Korean regime also announced Friday that it had detained an American last month and would release him soon – a gesture of goodwill despite the weapon test.
North Korean state media did not show the test, but said Kim was visiting a test site – the first time he has supervised a weapons test since their last missile launch, an intercontinental ballistic missile tested in November 2017. The weapon's development began under Kim's father Kim Jong Il and its success made the young dictator miss him "very much," state media reported.
A U.S. official told ABC News there was no missile launch and no missile trajectories were detected. At this point, they say this was probably a small tactical weapon, but an assessment is still underway.
Perhaps a troubling sign, a second official told ABC News there is no intelligence on the North Korea report beyond what state media has revealed.
But the Trump administration is trying to lower concerns about the test, brushing it off as bravado and a tit-for-tat response to recent developments.
"We remain confident that the promises made by President Trump and Chairman Kim will be fulfilled," a State Department official told ABC News.
The U.S. and South Korea militaries conducted unit-level joint training earlier this month, exercises that the Pentagon says were never canceled as part of the agreement at the Singapore summit in June, while command-level major exercises were. But North Korea did not make a distinction and protested the training as an aggressive move by its neighbor and the U.S.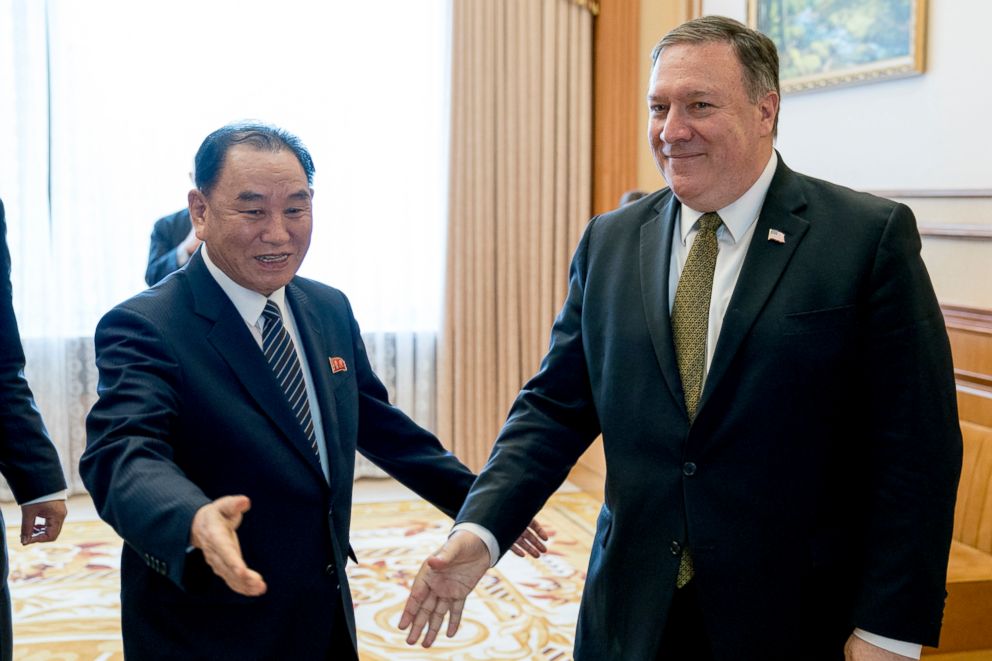 It was also reported Monday that the country continues to develop ballistic missile sites at more than a dozen locations, according to a new report by the Center for Strategic and International Studies' Beyond Parallel project.
Vice President Mike Pence said the U.S. will not require North Korea to provide a full list of its nuclear weapons facilities before Trump and Kim meet again – an important demand that Pompeo had been pursuing in his talks, but that North Korea had been denying.
Instead, Pence told NBC News in an interview, the U.S. wants the outcome of that meeting to be a plan to identify all of North Korea's weapons and sites, grant inspectors access to them, and outline how to dismantle them – a tall order that critics say should have been outlined and agreed to before Trump ever met Kim.
North Korea also announced it will deport an American citizen it detained on October 16 for illegally entering the country from China, according to state media. They said the man, reportedly named Bruce Byron Lowrance, will be released.
The State Department would only say that they are "aware of reports of the release of a US citizen who had been detained by the DPRK," but provided no other details.