— -- Trump's First 100 Days with ABC's RICK KLEIN and SHUSHANNAH WALSHE
Day No. 19
THE BIG STORY: The blame game has begun – and there's nothing, really, to blame on anyone yet. President Trump on Monday said the "very, very dishonest press" isn't reporting on terrorist attacks in Europe. The White House followed up with a typo-filled list of attacks that were in fact covered by the media, but that the White House press secretary said weren't covered enough. That comes after a weekend where the president suggested that a federal judge would be at fault if a terrorist attack happened after his ruling halted the temporary travel ban: "If something bad happens blame him and the court system." What motivation would Trump have for creating the perception that the nation is in more peril, and is being ill-served by institutions other than the White House? Finger-pointing after the fact is one thing. Policy making with non-facts is another.
THE SLEEPER STORY: Betsy DeVos still appears likely to be confirmed as Secretary of Education on Tuesday – the type of activity that typically means the disappearance of Betsy DeVos from the national political dialogue. But her nomination – capped by Senate Democrats' overnight talk-athon in opposition – has revealed the first outlines of a roadmap for how to oppose Trump. Attention to DeVos' hearings reverberated far outside of Washington. The pressure campaign did reach Capitol Hill, via congressional offices that were inundated with input. Democrats' play for more time focused attention, as it also has on Trump's choice for Labor Secretary, Andrew Puzder. (What Puzder has admitted to – employing a housekeeper who was an undocumented immigrant – has been enough to sink Cabinet nominees in the past.) There's no cause for Democrats to celebrate their strategy, but at least it looks like they have one.
THE SHINY STORY: Don't believe the polls, of course. But do believe President Trump when he tells you that President Obama really likes him. "I don't know if he'll admit this, but he likes me," Trump told Bill O'Reilly. The statement mirrors the pride with which Trump displayed the letter Obama left for him in the Oval Office, a letter he told ABC News was "long," "complex," and "thoughtful." It's a curious argument to make, that the ex-president who put so much on the line to defeat his successor – and who saw his very legitimacy explicitly questioned by him – would suddenly become a Trump fan. (It might be more interesting if Trump claims Michelle Obama likes him, too.) We won't know what Obama really thinks of this until his next interview, if he ever tells the full story. But we do know that Trump, who hates perceptions of illegitimacy, is doing what he can to get some reflected presidential glory to shine on him.
TLDR: The president blasted the "very, very dishonest press" yesterday when he spoke to service members at MacDill Air Force Base in Tampa, alleging reporters are not covering terrorist attacks in Europe. The White House followed up last night with a list of attacks that were covered, but the administration says didn't get enough attention, changing their tune a bit. And last night the Dems held an all-night talkathon bringing more attention to the close fight to bring down Betsy DeVos. Even with the effort (and lack of sleep), she looks likely to be confirmed as Secretary of Education.
PHOTO OF THE DAY: Democrats spent all night on the Senate floor trying to win over one more Republican vote to block the nomination of Secretary of Education nominee Betsy DeVos. So far, only two GOP votes have defected and Mike Pence may be brought in to break a 50-50 tie. (Senate TV via AP)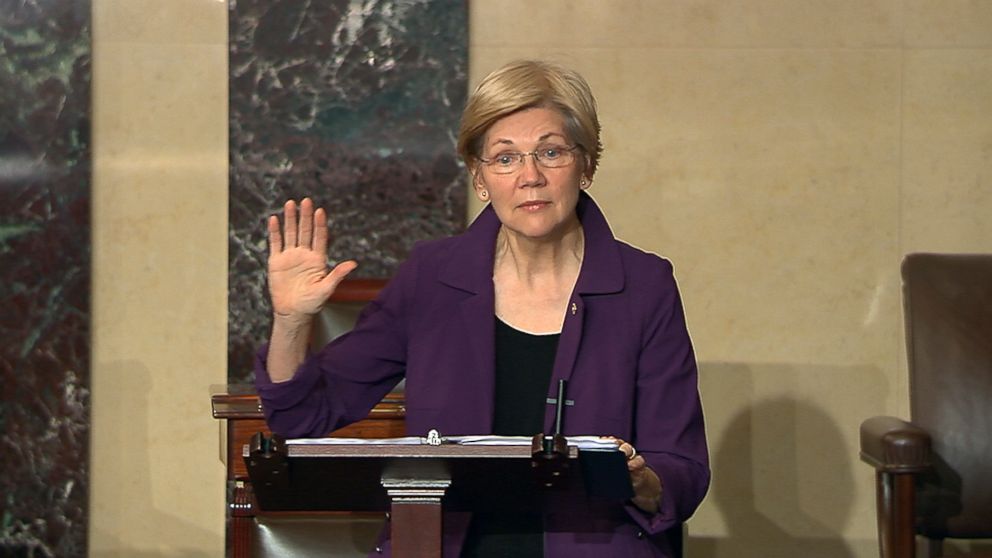 THIS MORNING'S TRUMP TWEET:7:11 A.M. I don't know Putin, have no deals in Russia, and the haters are going crazy - yet Obama can make a deal with Iran, #1 in terror, no problem!
NOTABLES
--HAPPENING OVERNIGHT: SENATE DEMOCRATS PROTEST AGAINST BETSY DEVOS: As the Senate prepared to vote on President Trump's nominee for education secretary on Tuesday, Senate Democrats began their last-ditch effort to convince one more Republican to vote against her — which would block her confirmation, ABC's ALI ROGIN notes. Led by Sen. Patty Murray, D-Wash., the ranking member on the Senate committee charged with overseeing DeVos' confirmation, members of the minority party began what they said would be a 24 hours of floor speeches against Betsy DeVos, a Michigan advocate of charter schools and school vouchers. http://abcn.ws/2kAeTJu
--DEPT. OF JUSTICE CITES 'NATIONAL SECURITY' IN CALLING FOR TRUMP IMMIGRATION ORDER REINSTATEMENT: The Department of Justice blasted a court ruling that imposed a nationwide restraining order on President Donald Trump's immigration executive action, citing "national security" as a reason for it to be reinstated. The appeals court scheduled oral arguments in the case for 6 p.m. today. "The State argues...that the injunction does not impose any irreparable harm. But the injunction reinstates procedures that the President determined should be temporarily suspended in the interest of national security," the reply brief to the 9th Circuit Court of Appeals, filed Monday evening, says ABC's MERIDITH MCGRAW. http://abcn.ws/2jVTxnN
--TRUMP SAYS 'VERY DISHONEST PRESS DOES NOT WANT TO REPORT' ON TERROR: President Trump on Monday lambasted the "dishonest press" for what he says is an unwillingness to report on terrorist attacks, writes ABC's TOM KUTSCH. "We have seen what happened in Paris, Nice, all over Europe," Trump said while speaking at MacDill Air Force Base in Tampa, Florida in his address to U.S. service members. "It has gotten to a point where it is not even being reported. And in many cases, the very, very dishonest press does not want to report it." http://abcn.ws/2kAGbzm
--TODAY AT THE WHITE HOUSE: President Trump will have two listening sessions this morning -- one with county sheriffs and the other on Veterans' Affairs. The President will also meet with Rep. Jason Chaffetz as well as separately with Secretary of State Rex Tillerson this afternoon. In the evening, President Trump will host Green Berets Qualification Course Young Officers. Press Secretary Sean Spicer will make his first appearance since Saturday night's "SNL" sketch this afternoon at 1:30 p.m.
SPEED READ with ABC's ADAM KELSEY
LABOR SECRETARY NOMINEE ALSO IN TROUBLE? Labor Department pick Andrew Puzder tells ABC's KATHERINE FAULDERS: "My wife and I employed a housekeeper for a few years, during which I was unaware that she was not legally permitted to work in the U.S. When I learned of her status, we immediately ended her employment and offered her assistance in getting legal status. We have fully paid back taxes to the IRS and the State of California and submitted all required paperwork regarding her employment." http://abcn.ws/2lktkRE
INCREASING CONCERN ABOUT 'INSIDER THREATS' AT US AIRPORTS, SAYS GOVERNMENT REPORT. There is an increasing concern that America's airports are vulnerable to "insider threats" by would-be "lone wolf" attackers with access to secure areas, according to a new report by the House Homeland Security Committee, reports ABC's ERIN DOOLEY. "Current security standards would likely fail to prevent a determined adversary with insider access from causing harm to an airport or aircraft," the report says. Most of the 900,000 people who work at airports across the country can bypass normal security screening on a regular basis, according to the committee. http://abcn.ws/2kB2l4n
WHO'S TWEETING with ABC's MERIDITH MCGRAW
@ABCLiz: Paul Ryan "was much more interested in talking to me about meatloaf than he was the earned tax credit." http://nyti.ms/2kIR5ph
@jasondhorowitz: Bannon in the Vatican! How Trump's ideological eminence allied with church traditionalists against Pope Francis. http://nyti.ms/2jYxgKM
@elianayjohnson: These are the writers Steve Bannon is reading and encouraging his colleagues in the West Wing to read - http://politi.co/2kNGj0q
@mattbai: Are we really going to a lighthearted, black-tie dinner with a president and senior aides who say the media ignores terrorism? Not me.
@tarapalmeri: White House rattled by McCarthy's spoof of Spicer http://politi.co/2kMncDP