WASHINGTON, D.C. -- The TAKE with Rick Klein
President Donald Trump's pick for the Supreme Court continues to enjoy the backing of Senate Republican leadership, much of the conservative movement and media, and the White House itself.
But standing behind Brett Kavanaugh is carrying costs that grow by the hour. The week since Christine Blasey Ford went public with her allegation has been marked by missteps, miscalculations, and potentially costly misjudgments by those who want Kavanaugh confirmed.
Now, with the list of allegations starting to grow in advance of Thursday's scheduled hearing, the price of his defense could come into starker view.
Already, a prominent conservative legal voice was forced to retract an unfounded theory of mistaken identity. A top Senate Judiciary Committee staff member was forced to resign because of a past harassment allegation. The president himself spoiled a few days' worth of silence by starting to question what took so long for Ford to come forward.
Down the ballot, a Republican senator up for reelection suggested Ford's allegation represents a "hiccup." A GOP congressman seeking a new job in the Senate called the alleged incident "supposedly an attempt or something that never went anywhere." And another Republican congressman made light of all of it with a joke about Justice Ruth Bader Ginsburg being groped by Abraham Lincoln.
All of this has happened before Ford or any other accuser have a formal public hearing. And all has happened around a nomination that was once supposed to energize Republican voters going into the midterms.
The RUNDOWN with MaryAlice Parks
World leaders, including President Trump, gather in New York City Monday for the beginning of the United Nations General Assembly.
The problems facing the world are serious and complex, while the prospects for teamwork, problem-solving and unity among countries feels fleeting and far-off.
Sure, there have been success stories this year. The world has welcomed a dramatic deescalation in the Korean peninsula following the United States and South Korea's leadership and intervention there. Still, denuclearization remains a major question mark.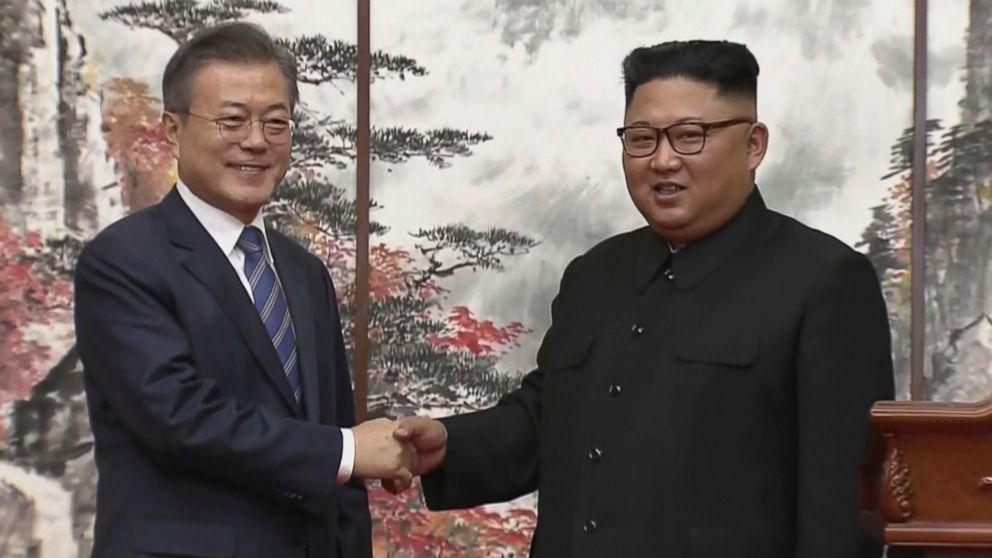 The challenges on the table include: the ongoing civil war in Syria and heartbreaking humanitarian crisis that has resulted because of it; climate change; the uncertain future of the Iran nuclear deal following the United States withdrawal; and much more.
Considering President Trump's focus on the southern U.S.-Mexico border and immigration, why are conversations with our closest neighbors not taking place? Is there a summit to be had with Latin American leaders to strengthen democracies, stem violence and boost economies there?
The TIP with Meridith McGraw
In catching up with Sen. Chris Coons, D-Del., a member of the Senate Judiciary Committee, on a Sunday evening Amtrak train to Wilmington, the senator told ABC News he's been working overtime to prepare for Thursday's hearing between Supreme Court nominee Brett Kavanaugh and accuser Christine Blasey Ford.
One thing he and other Democrats will likely press Kavanaugh on? Underage drinking and details related to Kavanaugh's friend Mark Judge, who Ford claims was present for the alleged assault.
"I'm reviewing materials now that Mark Judge wrote in an odd, disturbing sort of shadow newspaper that he wrote that details a fair amount of hard drinking and inappropriate behavior," Coons said.
"I think a closer view of Mark Judge and Judge Kavanaugh's high school yearbooks, Mark Judge's writings, and other circumstantial evidence about their high school conduct suggests regular participation in high school parties where there was no parental supervision but a lot of alcohol."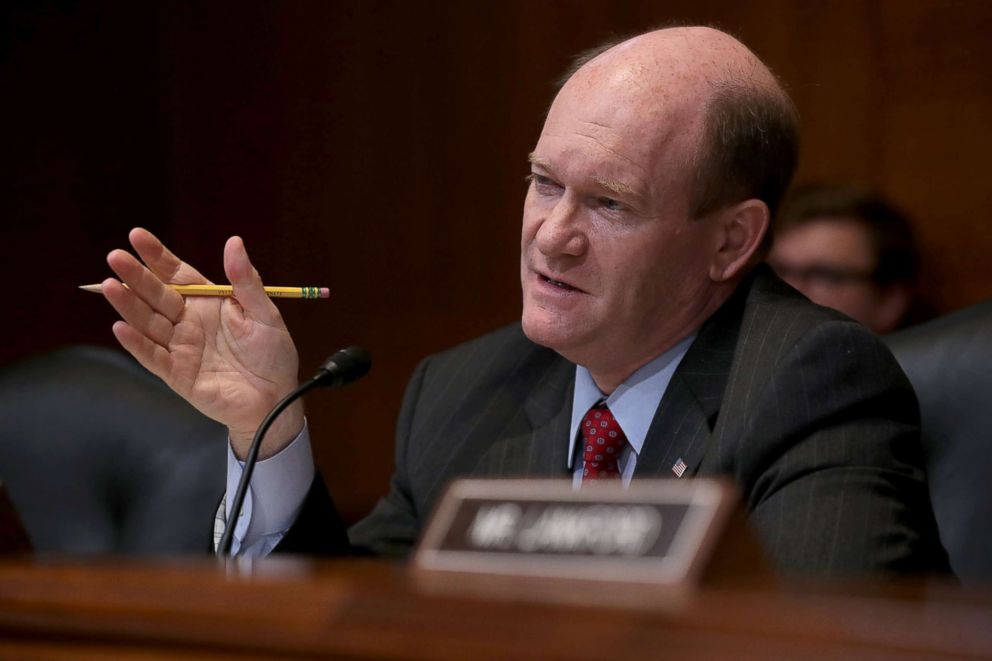 Watch out for potentially more fallout. Coons said all week he's been fielding text messages, calls and emails related to new, still unsubstantiated, claims against Kavanaugh.
GOP senators still on the fence about Kavanaugh will be listening closely to Ford's testimony, Coons said.
"This isn't a criminal trial — if senators are persuaded she's more likely than not telling the truth that should have an impact on their votes. And I have spoken to a number of Republican colleagues in the past days who are going to listen closely and are likely going to make their decision based on an assessment of her credibility."
Coons scolded Republican senators for wanting staff or outside counsel to question Ford.
"If we have senators who can't conduct respectful questioning perhaps they should reconsider their service in the Senate. It's a pretty basic part of our job."
WHAT YOU NEED TO KNOW TODAY
President Trump participates in the "Global Call to Action" on the world's drug problem at the United Nations in New York City at 8:30 a.m. ET.
The president participates in a signing ceremony for the United States-Korea Free Trade Agreement in NYC at 3:45 p.m. He then holds bilateral meetings with the president of the Arab Republic of Egypt, Abdel Fattah el-Sisi, and the president of France, Emmanuel Macron.
Attorney General Jeff Sessions delivers remarks at the U.S. Department of Justice National Public Safety Partnership Symposium in Hoover, Alabama at 8:30 a.m. ET.
QUOTE OF THE DAY
"I think it really speaks to her credibility at this moment. What in the hell did she have to gain by doing this?" -- Sen. Dick Durbin, D-Ill., on ABC's "This Week" when asked about Christine Blasey Ford, the woman who has accused Supreme Court nominee Brett Kavanaugh of sexual assault.
THE PLAYLIST
ABC News' daily podcast, "Start Here." Monday's episode features ABC News' Trish Turner on the latest accusation of sexual misconduct against Supreme Court nominee Brett Kavanaugh – she says the allegation dates back to Kavanaugh's freshman year at Yale. ABC News Supreme Court contributor Kate Shaw tells us there should be a different approach for weighing evidence at the hearing. Clare Malone from our partners at FiveThirtyEight games out the Texas Senate race between Beto O'Rourke and Ted Cruz. And, ABC News' Conor Finnegan previews the United Nations General Assembly – he says Iran will loom large. https://bit.ly/2Ohkpz8
NEED TO READ
2nd woman accuses Brett Kavanaugh of sexual misconduct: Report. A former Yale University classmate of Brett Kavanaugh, President Trump's Supreme Court nominee, alleges that he sexually assaulted her 35 years ago at a party, according to The New Yorker. https://abcn.ws/2PZG5jb
Kavanaugh accuser and Senate panel agree on timing of hearing, but unclear who will question her. The California professor who has accused Supreme Court nominee Brett Kavanaugh of sexual assault has reached an agreement with the Senate Judiciary Committee on some details of her upcoming testimony, but not on who will question her. (Bill Hutchinson, Meredith McGraw and Ali Rogin) https://abcn.ws/2xxZj8K
Top Dem on Kavanaugh accuser's credibility: 'What in the hell did she have to gain' with allegation? A top Democrat on the Senate Judiciary Committee said the woman accusing Supreme Court nominee Judge Brett Kavanaugh of sexual assault is "a credible witness" who has been subject to death threats since coming forward with her allegation. (Quinn Scanlan) https://abcn.ws/2I8wEeF
What to expect from President Trump's week at the UN General Assembly. When he attends this year's United Nations General Assembly this week — in what will be his second time attending the gathering of heads of state as president — Trump returns as a known quantity. (Jordyn Phelps) https://abcn.ws/2O661Mw
Roger Stone sought contact with WikiLeaks' Julian Assange, email suggests. As the special counsel's office appears to be focusing in on President Donald Trump's longtime political ally Roger Stone, an email recently obtained by ABC News suggests Stone sought contact with WikiLeaks publisher Julian Assange during what may have been a critical moment in the 2016 campaign. (Ali Dukakis) https://abcn.ws/2QT4CaM
'I've never heard' President Trump's Cabinet members discuss removing him from office: Nikki Haley. U.S. Ambassador to the United Nations Nikki Haley said she has never heard anyone in President Donald Trump's Cabinet talk about the possibility of trying to remove him from office by means of the 25th Amendment. (Kris Schneider and Quinn Scanlan) https://abcn.ws/2Dl40bg
Congressman Paul Gosar's siblings support opposing candidate in stunning political ad. Most political ads follow a familiar formula: tout accomplishments, public testimonials and wrap with the mandatory message of endorsement. Arizona congressional candidate David Brill's ad is no different — until those criticizing his opponent reveal their last names. (Mark Osborne) https://abcn.ws/2MTJEp5
How Donald Trump upended a myth about sports and politics. From waging a constant campaign against the National Football League — a feud Trump ignited exactly one year ago — to his Twitter fights with some of the nation's top athletes, the president has repeatedly made himself a part of the sports story. And by doing so, he's shattered the myth that politics and sports don't mix. (Deena Zaru) https://abcn.ws/2NyCxHS
As Senate Republicans press for a swift vote to confirm Brett Kavanaugh, President Trump's nominee to the Supreme Court, Senate Democrats are investigating a new allegation of sexual misconduct against Kavanaugh. The New Yorker reports. https://bit.ly/2Q1nkvT
The Note is a daily ABC News feature that highlights the key political moments of the day ahead. Please check back tomorrow for the latest.