The TAKE with Rick Klein
Congressional Democrats are just starting to flex some muscle. Congressional Republicans are just starting to feel the consequences.
Tuesday is expected to bring a rebuke of President Donald Trump that would never have happened if Republicans had kept full control of Congress. House Democratic leaders scheduled a vote to halt Trump's declaration of a national emergency -- "to defend our democracy," as House Speaker Nancy Pelosi put it Monday.
Passage in the House is not in doubt, but the number of Republican defections is, particularly after a series of former GOP lawmakers appealed to their onetime colleagues to reject Trump's move based on a "Republican fundamental principle."
Republicans still control the Senate, but Sens. Susan Collins and Thom Tillis have said they will support the Democrat's resolution. Two more defections would be enough to pass it, forcing Trump to wield his veto pen for the first time in his presidency.
Reminders are everywhere of what Democratic control of the House looks like now. Hearings are taking place on gun control, climate change and health-care access. And Trump's former personal lawyer Michael Cohen's three days on Capitol Hill start Tuesday.
So far this year, some of the newest voices in the party -- and many from the ideological edges -- have tended to dominate discussions. But don't ignore what Democratic congressional leaders can push now that they have some mechanisms to do the pushing.
The RUNDOWN with MaryAlice Parks
Big bosses from top pharmaceutical companies, including several household brand names, are bracing for a bruising on Capitol Hill Tuesday.
Lawmakers will try to drill down on some companies' expanding profits and exploding product price tags as they grill the seven CEOs.
Expect tough questions from Finance Committee Chairman Chuck Grassley at the hearing Tuesday morning as well as two Democrats on the committee who are considering possible 2020 presidential runs: Sens. Michael Bennet, D-Colo., and Sherrod Brown, D-Ohio. Earlier this month Brown rolled out proposed legislation that would allow Medicare to negotiate drug pricing and the federal government to greenlight generics on occasion.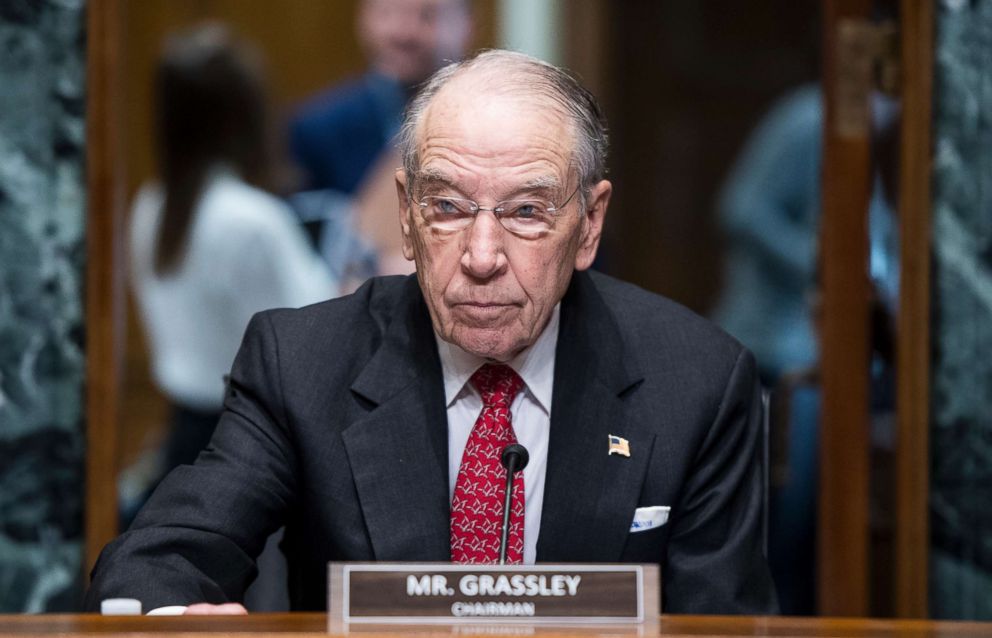 Drug prices and health care costs in general are almost talkers on the campaign trail and all political stops outside the beltway.
Finding solutions to combat the rising price of prescription drugs has become an increasingly bipartisan mission too. Republicans in the Senate, who have traditionally been cozier with health care industry leaders, partnered with Democrats to make sure this hearing got on the books, and the president has said repeatedly that it is a priority for his team to bring costs down.
The TIP with John Verhovek
In 2018, a slew of Democratic hopefuls for the U.S. House and Senate swore off corporate PAC money in a bid to begin a shift in the party away from the big-money, high-dollar fundraisers that the say tarnish its image as a champion for the working class.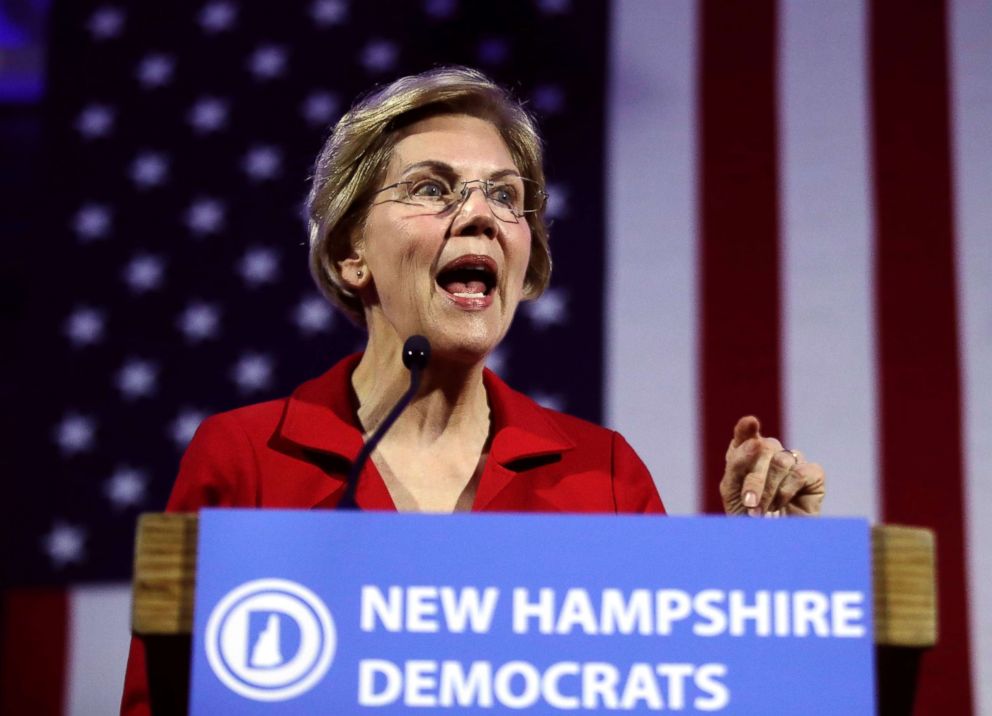 Now Sen. Elizabeth Warren is hoping to take that bid a step further, announcing in an e-mail to supporters this week that she is swearing off "fancy receptions," "big money fundraisers" and the hours of "call time" with campaign donors that she says takes up far too much of a candidate's time. The move is the latest in the push to weed big money's influence out of the Democratic Party's nominating process. Most of the major contenders who have announced a bid for the presidency have sworn off donations from corporate PACs during the 2020 campaign.
However, Warren has only committed to the policy of no big donor events during the Democratic primary, saying her campaign will do "what is necessary to match [the GOP] financially," if she emerges victorious in the primary.
THE PLAYLIST
ABC News' "Start Here" Podcast. Tuesday morning's episode features ABC News Chief National Affairs correspondent Tom Llamas, who tells us about his exclusive interview with disputed Venezuelan president Nicolas Maduro. ABC News Chief White House correspondent Jonathan Karl tells us North Korea will be angling for sanctions relief as Trump meets with Kim Jong Un in Vietnam this week. Then, ABC News Political Director Rick Klein tells us why Sen. Elizabeth Warren's promise to not take meetings with big money donors could affect the entire Democratic presidential primary. http://apple.co/2HPocUL
ABC News' "The Investigation" Podcast. In a wide-ranging interview, Clinton insider John Podesta reveals his thoughts on Roger Stone: "When the cell door clanks, he'll feel a bit more remorse"; on sitting down with the special counsel: "I couldn't tell which way they were going"; and being victim to a 2016 email hack orchestrated by Russia: "We forget sometimes that those hacks were themselves crimes." He also details one area of Trump's life he says deserves more scrutiny and warns of Russian interference in 2020. Then, the ABC News Investigative team previews Michael Cohen's highly anticipated testimony on Capitol Hill. https://apple.co/2BlcX0Nng;" and being victim to the 2016 email hack orchestrated by Russia: "We forget sometimes that those hacks were themselves crimes." He also details one area of President Donald Trump's life he says deserves more scrutiny and warns of Russian interference in 2020. Then, the ABC News Investigative team previews Michael Cohen's highly anticipated testimony on Capitol Hill. https://apple.co/2BlcX0N
FiveThirtyEight's "Politics" Podcast. North Carolina's 9th Congressional District will be the first to redo an election since 1975. The new election comes after evidence of absentee ballot fraud in 2018. Elections analyst Nathaniel Rakich joins the FiveThirtyEight Politics podcast to discuss the evidence of fraud and what to expect from the redo. The crew also debates what would constitute a serious primary challenge to President Donald Trump and plays a round of the game "Guess What Americans Think." https://apple.co/2mKrhcF
WHAT YOU NEED TO KNOW TODAY
Michael Cohen, Trump's former personal attorney and fixer, testifies privately before the Senate Intelligence Committee Tuesday morning on Capitol Hill.
The House Judiciary Committee holds a hearing on oversight of the Trump Administration's Family Separation Policy at 10 a.m. in Washington.
The Senate Finance Committee conducts a hearing on drug pricing in America at 10:15 a.m. in Washington.
Progressive activists with Need to Impeach, a group led by billionaire Tom Steyer that is pushing Democrats to impeach the president, will drop off over 76,000 petition signatures at House Judiciary Committee Chairman Jerry Nadler's Washington office on Tuesday morning, asking the New York Democrat to begin an impeachment inquiry immediately.
The House is expected to consider H.J. Res. 46, an effort to terminate Trump's national emergency proclamation, during session on Tuesday.
Former Vice President Joe Biden hosts a discussion with Jon Meacham, historian and author of "The Soul of America: The Battle for Our Better Angels," at 3 p.m. at the University of Delaware.
Chicago residents vote in the city's mayoral election. Polls close at 7 p.m. CST.
The Note has a new look! Download the ABC News app and select "The Note" as an item of interest to receive the day's sharpest political analysis.
The Note is a daily ABC News feature that highlights the key political moments of the day ahead. Please check back tomorrow for the latest.