— -- The TAKE with Rick Klein
Robert Mueller has a particular way of making his presence known. And his footsteps are starting to be heard just outside the White House itself.
We continue to know approximately as much about the special counsel's investigation as Mueller wants us to know. Keep that in mind while digesting the news that his team has spoken to both Attorney General Jeff Sessions in recent days and reportedly to fired FBI Director James Comey as well.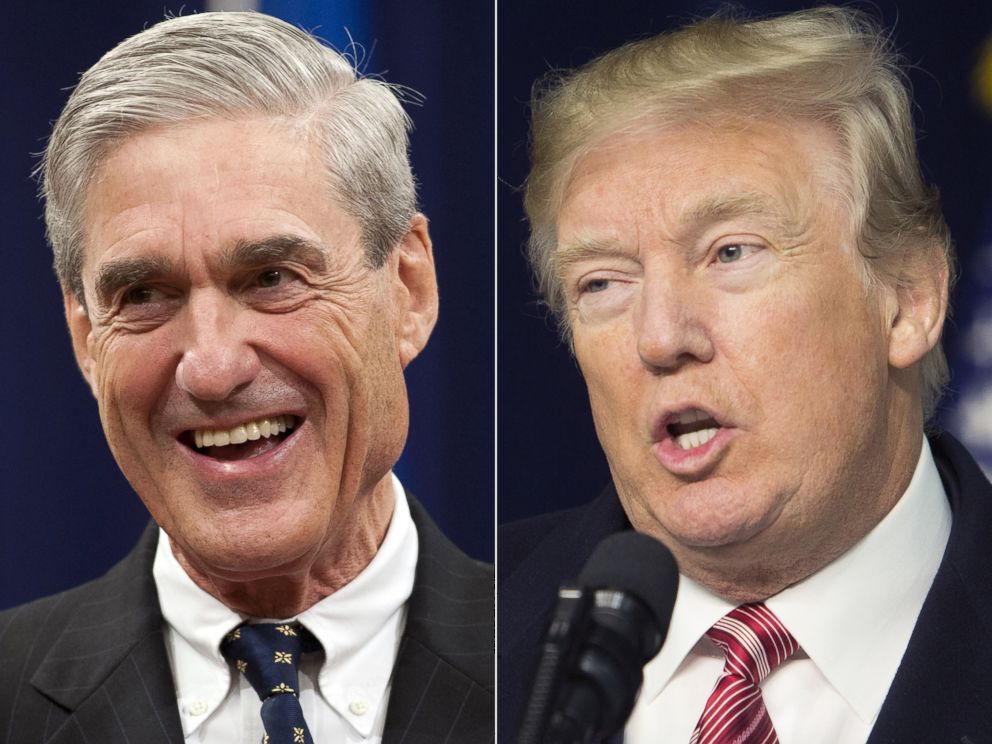 Now comes news that Mueller wants to learn more – directly from President Donald Trump – about the circumstances around the firing of Comey and former national security adviser Michael Flynn.
Mueller sure looks like he's trying to get the president's attention. He appears close to reaching at least some conclusions in his investigation, based on who he's bringing in.
The questions confronting the president: Can he afford, from a legal perspective, to cooperate? And can he afford, from a political perspective, not to?
The RUNDOWN with MaryAlice Parks
This is the president who talked about creating a deportation force during the campaign. The president, who his first month in office, signed an executive order calling for a three-fold increase in the number of Immigration and Customs Enforcement officers and giving them wide latitude in determining who exactly to prioritize for removal.
Now, with six weeks left until the Deferred Action for Childhood Arrivals program officially ends (again, the president's decision), the White House is dodging questions about whether President Trump is comfortable with the so-called Dreamers being deported.
Tuesday, White House press secretary Sarah Sanders said only that the president is willing to sign a permanent solution, though 87 percent of Americans think the nearly 800,000 Dreamers – the undocumented immigrants brought to the U.S. as children – should be allowed to stay in the only country they know.
After months of debate, it is hard to see how the situation for these Dreamers and their families has changed at all.
It is possible the ticking clock and pubic commitments from Republicans will spring lawmakers into action this time, but what if that doesn't happen?
The TIP with Emily Goodin
Let them eat pork.
Sens. Jeff Flake, R-Ariz., and Claire McCaskill, D-Mo., will host a pork lunch today at 2:30 p.m. in the Russell Senate Office Building.
The purpose? To talk about pork barrel spending, the colloquium used to describe earmarks, the funding lawmakers insert into legislation to support projects back home.
The senators assure the media some Rocklands BBQ and Arthur Bryant's original Kansas City barbeque sauce will be available for consumption, depending on the senators' appetites of course.
Oh, they'll also be introducing the Earmark Elimination Act, but hopefully not until after the food is served.
This week the House Rules Committee held hearings on lifting Congress' self-imposed ban on earmarks.
McCaskill, the Missouri Democrat who's facing a tough reelection contest this year, and Flake, the Arizona Republican who opted not to run in what would be a tough reelection contest this year, don't appear to have much in common.
However, they have teamed up against earmarks before.
In October 2015, they jointly urged then-Environmental Protection Agency Administrator Gina McCarthy to give a detailed accounting of $137 million worth of unused earmark funds, known as orphan earmarks.
WHAT YOU NEED TO KNOW TODAY
President Trump is off to Davos, Switzerland today to attend the World Economic Forum – the first U.S. president to do so since Bill Clinton. Trump will use the forum to tell world leaders the U.S. is "open for business," the White House said.
Senator Ted Cruz, R-Texas, will speak on the threat from North Korea this afternoon at the Hudson Institute. Cruz is calling for harsher economic sanctions against North Korea, which he says would "put Kim Jong Un on his heels and set conditions on America's terms."
The former Director of National Intelligence under President Barack Obama today will participate in a "Year in Review" conversation at the International Spy Museum in Washington, D.C. James Clapper has been outspoken about Trump's relationship with Russia, calling him an "asset" to Russia President Vladimir Putin.
A "Mass of Remembrance" will be held tonight for the 272 slaves sold to keep Georgetown University afloat in 1838 when the university was on the brink of financial ruin. Direct descendants will attend and the names of all of the slaves sold will be read.
QUOTE OF THE DAY
"I'm not at all concerned." – President Trump said when asked about the interview Attorney General Jeff Sessions had last week with investigators for Special Counsel Robert Mueller.
NEED TO READ
Special Counsel Mueller to seek answers directly from President Trump, sources say. Special Counsel Robert Mueller has indicated to lawyers for President Donald Trump that his office will seek answers directly from the president on the circumstances around the firings of former national security adviser Michael Flynn and former FBI Director James Comey, sources with knowledge of the matter confirm to ABC News. (John Santucci) http://abcn.ws/2DC871H
6 in 10 have hope for lasting change on sexual harassment (POLL). There's hope for a good outcome from the recent controversies over sexual harassment: Sixty-two percent of Americans in a new ABC News/Washington Post poll -- men and women alike -- think the debate will create lasting change in the way U.S. society deals with the issue. (Christine Filer) http://abcn.ws/2DCOwiR
Pence to campaign for Republican in Pa. special election as outside money floods in. Pence's visit on Feb. 2, confirmed by Saccone's campaign to ABC News, will be the first official White House involvement in the prominent midterm race. (John Verhovek and Soo Rin Kim) http://abcn.ws/2ryNQFq
Senators uncertain of what's next for immigration reform. On their first day back at work since voting to reopen the federal government, senators spent Tuesday regrouping on immigration reform. But the path forward remained murky Tuesday as lawmakers on both sides of the aisle couldn't give details on what a possible compromise would look like nor was there clarity on who in the Senate was leading the effort. (Emily Goodin, Mariam Khan, John Parkinson, Meridith McGraw and Christopher Donato) http://abcn.ws/2DAbK95
Pentagon provided funds to Afghan units accused of child sexual abuse: Government watchdog. 37 individuals and organizations were interviewed for the report, twenty-four of which said they were aware of child sexual assault incidents or related exploitation by Afghan security forces to include bacha bazi — an Afghan term which translates to "boy play" and encompasses sexual relations between adult men and boys. (Elizabeth McLaughlin) http://abcn.ws/2GasVeX
Tillerson: Russia 'ultimately bears responsibility' for chemical attacks in Syria. In the aftermath of another "apparent chlorine gas attack" by the regime of Syrian President Bashar al-Assad, Secretary of State Rex Tillerson blasted the Assad regime for its "crimes against humanity" but also laid some of the blame on Russia. (Conor Finnegan) http://abcn.ws/2F9sAYR
Sen. Tammy Duckworth pregnant with 2nd child. Sen. Tammy Duckworth, D-Ill., is expecting her second child, and when she gives birth this spring, she will be the first senator to do so while in office. (John Verhovek) http://abcn.ws/2DD7VQA
New tariffs could raise price of washing machines, hurt solar industry jobs. President Donald Trump signed a measure Tuesday that would enact new tariffs on residential washing machines and solar cells imported to the United States. (Stephanie Ebbs) http://abcn.ws/2F7QiVg
Analysis: Shutdown winners and losers. A shutdown winner? Sen. Mitch McConnell, R-Ky. A shutdown loser? The Dreamers. (MaryAlice Parks) http://abcn.ws/2BnNmBx
Pence concludes Middle East trip with visit to Western Wall in Jerusalem's Old City. It is a move that will further anger Palestinians already enraged by the U.S. administration's recognition of the contested city of Jerusalem as the capital of Israel. (Julia MacFarlane) http://abcn.ws/2n72e25
Sen. Collins says she used 'secret weapon' in shutdown negotiations. "I would hand the stick to whoever was seeking recognition and until that person was finished, no one could interrupt him or her. And then I would take the stick and pass it on to the next person," Collins said. (Avery Miller) http://abcn.ws/2n9hDzd
Attorney General Jeff Sessions is pushing FBI director to clean house at top of agency. The attorney general's push comes as many Republicans, including President Donald Trump, continue to hammer Deputy Andrew McCabe and others at the FBI for what they allege is political bias in their law enforcement work. (Pierre Thomas and Mike Levine) http://abcn.ws/2GdCI4b
Congressman saw aide as 'soul mate,' but denies misconduct. A Republican congressman from Pennsylvania who settled a former aide's sexual harassment complaint with taxpayer money said Tuesday that he developed a deep affection for her and reacted badly when she began dating another man, but never harassed her or pursued a romantic relationship. (Associated Press) http://abcn.ws/2E3pkPi
According to The Washington Post, President Trump asked then-acting director of the FBI Andrew McCabe who he voted for in the 2016 election. http://wapo.st/2E29TGY
It wasn't bridesmaids upstaging the bride at a Washington, D.C., wedding last weekend. Former President Barack Obama officiated a wedding for two former staffers, the Washingtonian magazine reports. http://bit.ly/2BnYfDs
The Note is a daily ABC News feature that highlights the key political moments of the day ahead. Please check back tomorrow for the latest.