Trump's First 100 DAYS with ABC's RICK KLEIN and RYAN STRUYK
Day No. 7
READ THE FULL TRANSCRIPT OF DAVID MUIR'S INTERVIEW WITH PRESIDENT TRUMP: http://abcn.ws/2k2BjVe
THE BIG STORY: It might be a good thing that congressional Republicans are huddling with President Trump and Vice President Mike Pence in Philadelphia, because official Washington is already drowning. Less than a week in to the new administration, it's already impossible to keep up with the sheer pace of activity and purported activity. For even members of Congress, that means there's no keeping straight what's a priority, what's a policy, what's a proposal, and what's just bad information floating out there. That can work in Trump's benefit in the short term. But for the real meat of his agenda, he'll need a bought-in and plugged-in congressional leadership. So far, the Trump administration is veering as wildly as his campaign did. Even friends and allies want direction, a roadmap, and a calendar.
THE SLEEPER STORY: President Trump is readying new policies when it comes to interrogation techniques and CIA "black site" prisons, as he confirmed in his interview with ABC's David Muir. That, though, appears to have come as a surprise to Trump's new Defense secretary and CIA director, according to The New York Times and other media reports. Both James Mattis and Mike Pompeo have expressed skepticism about torture techniques' efficacy and legality. Trump told Muir he will follow their advice, but then dropped this doozy: "I have spoken as recently as 24 hours ago with people at the highest level of intelligence. And I asked them the question, 'Does it work? Does torture work?' And the answer was, 'Yes, absolutely.' "
THE SHINY STORY: Size matters – big league. And don't look for it to change for the president. Trump came back to the sheer number of his supporters repeatedly in the interview with Muir, defending both his inflated crowd-size estimates at his inauguration and his false assertion that he actually won the popular vote if illegal votes were eliminated. Pressed on that latter point, Trump added that he definitely would have won the popular vote if he had campaigned to win it. And why does any of this matter to a man who's unquestionably now president? "I said the men and women that I was talking to who came out and voted will never be forgotten again," the president told Muir. "Therefore I won't allow you or other people like you to demean that crowd and to demean the people that came to Washington, DC, from faraway places because they like me. But more importantly they like what I'm saying."
TLDR: The wall is moving forward: President Trump signed an executive order yesterday laying the groundwork for a border wall with Mexico, telling ABC's David Muir that the United States would be "reimbursed" for the project at a later date.
PHOTO OF THE DAY: For the first time since becoming President of the United States, Donald Trump talked with ABC's David Muir in the Oval Office about the start of his presidency and the direction of the country over the next four years.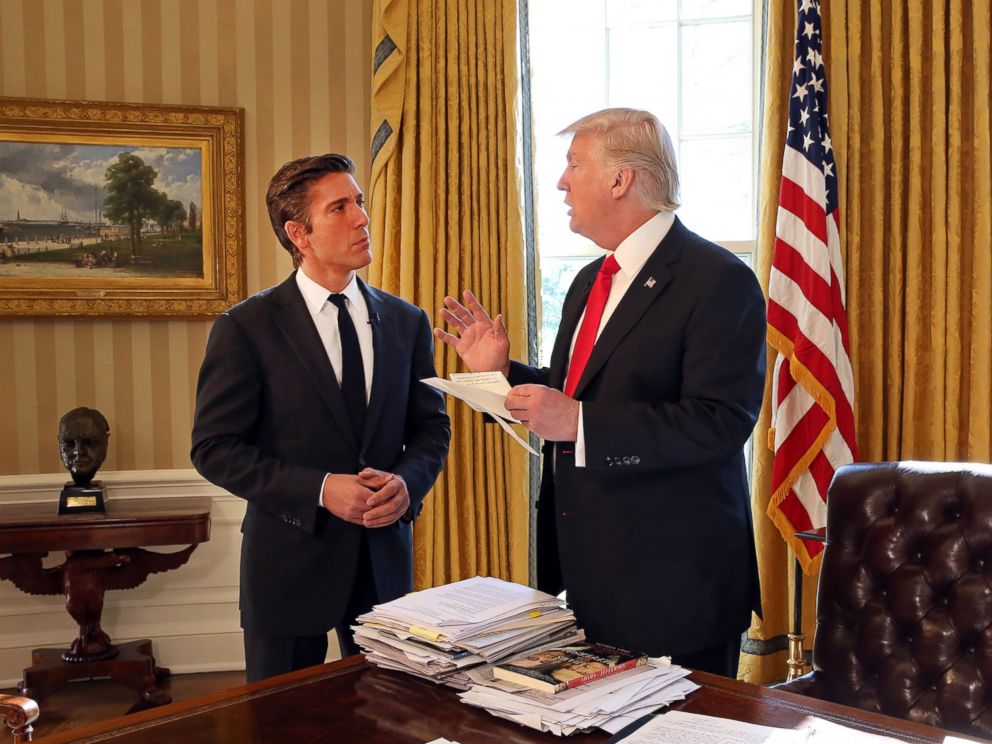 --THIS MORNING'S TRUMP TWEETS: 6:04 AM: Ungrateful TRAITOR Chelsea Manning, who should never have been released from prison, is now calling President Obama a weak leader. Terrible! 8:51 AM: The U.S. has a 60 billion dollar trade deficit with Mexico. It has been a one-sided deal from the beginning of NAFTA with massive numbers... 8:55 AM: of jobs and companies lost. If Mexico is unwilling to pay for the badly needed wall, then it would be better to cancel the upcoming meeting.
FROM PRESIDENT TRUMP'S EXCLUSIVE INTERVIEW with ABC's DAVID MUIR
--TRUMP TELLS MUIR ALLEGED VOTER FRAUD PROBE HAS 'A LOT TO LOOK INTO:' In an exclusive interview with ABC News, President Trump insisted there is "a lot to look into" as he said he will call for an investigation into alleged voter fraud following his unsubstantiated claim that millions of people illegally cast ballots during the 2016 election. "You have people that are registered who are dead, who are illegals, who are in two states. You have people registered in two states. They're registered in a New York and a New Jersey. They vote twice. There are millions of votes, in my opinion," Trump said during an interview Wednesday at the White House. ABC's ARLETTE SAENZ has more: http://abcn.ws/2k4VlPm
--TRUMP TELLS MUIR HE 'ABSOLUTELY' THINKS WATERBOARDING WORKS: In an exclusive interview with ABC News, President Donald Trump said he "absolutely" thinks waterboarding works and would consider reinstating it as an interrogation technique, depending on the advice of Defense Secretary James Mattis and CIA Director Mike Pompeo. "I will rely on Pompeo and Mattis and my group. And if they don't want to do, that's fine. If they do wanna do, then I will work toward that end. I want to do everything within the bounds of what you're allowed to do legally," Trump told ABC's DAVID MUIR during an interview at the White House. http://abcn.ws/2jgbTzj
--TRUMP TELLS MUIR: CONSTRUCTION OF BORDER WALL WILL BEGIN IN 'MONTHS:' In his first one-on-one television interview since being sworn in as the 45th president of the United States, President Donald Trump told ABC News anchor David Muir that Mexico would be paying for the proposed border wall and that negotiations between the two nations would begin "relatively soon." "Ultimately, it will come out of what's happening with Mexico ... and we will be in a form reimbursed by Mexico, which I've always said," Trump said. During the interview, which took place at the White House Wednesday morning, Trump said that Mexico would pay the U.S. back "100 percent." ABC's ARLETTE SAENZ has more. http://abcn.ws/2jRX1cz
--TRUMP SAYS HE MAY SEND IN 'THE FEDS' TO CHICAGO. IN SOME WAYS, THEY'RE ALREADY THERE: A tweet by President Trump Tuesday night signaled curbing violence in Chicago is near the top of his to-do list: "If Chicago doesn't fix the horrible 'carnage' going on … I will send in the Feds!" But when pressed by ABC News' David Muir on what that means in an exclusive interview, Trump offered no specifics. "I want them to fix the problem. You can't have thousands of people being shot in a city, in a country that I happen to be president of," Trump told Muir. "Maybe it's okay if somebody else was president. I want them to fix the problem. 'Kay, the problem is very easily fixable." As it turns out, the "feds" are already very involved in efforts to combat violence in the city, report ABC's JACK DATE and PIERRE THOMAS. http://abcn.ws/2kn3uvT
--HOW A PRESIDENT CAN USE ORDERS AND MEMOS AND WHO CAN STOP THEM: During his inauguration, Donald Trump painted a bleak picture of life in America and said that the buck stops with him. "The time for empty talk is over," he told the crowd assembled in front of the Capitol. "Now arrives the hour of action." In the days since he has taken office, Trump, who has long cast himself a doer in a world of talkers, has been furiously issuing what he calls "orders" and what are formally known as "executive orders" and "presidential memorandums." As of Wednesday he had issued four executive orders and eight presidential memorandums since taking office, ABC's VERONICA STRACQUALURSI and TOM LIDDY note. http://abcn.ws/2jAGQ2q
--TRUMP'S ORDER MAY MARK 11 MILLION UNDOCUMENTED IMMIGRANTS FOR DEPORTATION: EXPERTS: The nation's undocumented immigrants -- approximately 11 million by a 2014 Pew Research estimate -- could be made a priority for deportation as a result of the executive order signed by President Donald Trump Wednesday, according to legal experts. The order delineates several categories of undocumented immigrants who are priority for removal from the United States including those who have been "charged with any criminal offense" or those who have "committed acts that constitute as a chargeable offense." According to ABC's JULIA JACOBO and LAUREN PEARLE, on the campaign trail, Trump has vacillated several times on the issue, at first indicating that all undocumented immigrants would be sent back" if they've done well they're going out and they're coming back in legally." Then he tempered his remarks to focus on undocumented immigrants who committed crimes. But Trump's executive order appears to extend beyond this. http://abcn.ws/2j7MCw3
--TODAY AT THE WHITE HOUSE: President Trump will attend the Congress of Tomorrow Republican Member Retreat in Philadelphia early this afternoon. He'll return to the White House for a meeting with Sen. Hatch and Rep. Brady and then sign an executive order late this afternoon.
--TODAY IN PHILADELPHIA: Republicans have two breakout sessions planned today to discuss their national security and healthcare agenda. But Trump's burst of executive order activity has forced Republicans to adjust their agenda, injecting the wall and immigration orders into the topics of the day, reports ABC's BENJAMIN SIEGEL. Top lawmakers were frustrated by the lack of warning on Trump's plans, as they try to cement their own.
SPEED READ with ABC's ADAM KELSEY
SOME SANCTUARY CITIES VOW TO DEFY TRUMP IMMIGRATION ORDERS. Elected officials throughout the United States have doubled down on their commitment to protect immigrants in light of President Donald Trump's actions, reports ABC's JENNIFER HANSLER. As part of one of the executive orders signed Wednesday, Trump threatened to block federal funding to cities and states that willfully shield undocumented immigrants from deportation. "The American people are no longer going to have to be forced to subsidize this disregard for our laws," White House Press Secretary Sean Spicer said of the order later. However, officials in some of these so-called "sanctuary cities" are pushing back, saying they have no plans to comply with the orders. http://abcn.ws/2j6yvHs
WHY DEFENSE SECRETARY'S FIRST TRIP IS TO JAPAN AND SOUTH KOREA. The Pentagon has announced that James Mattis' first overseas trip as Defense Secretary will be to Japan and South Korea, highlighting the Pacific region's importance to U.S. security interests. "The trip will underscore the commitment of the United States to our enduring alliances with Japan and the Republic of Korea, and further strengthen U.S.-Japan-Republic of Korea security cooperation," said Captain Jeff Davis, a Pentagon spokesman. Mattis' visit is intended to reassure U.S. allies in the region that it will maintain its security commitments especially at a time when North Korea has grown increasingly provocative in the development of its ballistic missile and nuclear weapons programs. ABC's LUIS MARTINEZ has more: http://abcn.ws/2kuWbp8
TRUMP TARGETS SANCTUARY CITIES, PROMISES BORDER WALL IN EXECUTIVE ORDERS. President Donald Trump signed two executive orders Wednesday on immigration, proclaiming the measures will "save thousands of lives, millions of jobs and billions and billions of dollars." "Beginning today, the United States of America gets back control of its borders," Trump said in remarks at the Department of Homeland Security. The orders will increase the number of border patrol enforcement officers and lay the groundwork for building a wall on the border with Mexico, note ABC's JORDYN PHELPS and MEGHAN KENEALLY. http://abcn.ws/2kkSpLQ
WHITE HOUSE CLARIFIES TRUMP TWEET ON SENDING 'FEDS' INTO CHICAGO. The White House appears to be softening a cryptic tweet from President Trump threatening federal intervention over rising crime in Chicago, writes ABC's ALEXANDER MALLIN. Fielding questions from reporters Wednesday, White House Press Secretary Sean Spicer said Trump was referring to his desire to "provide the resources of the federal government" to struggling law enforcement in the city. "It can span a bunch of things. There's no one thing," Spicer said. "It can be -- there can be aid, there can be -- if it was requested up through the governor, through the proper channels, that the federal government can provide on a law enforcement basis." http://abcn.ws/2jfZcEW
WHO'S TWEETING with ABC's JENNIFER HANSLER
@NormEisen: 1/ WARNING: Mr. Pres. your Muslim ban excludes countries where you have business interests.That is a CONSTITUTIONAL VIOLATION.See u in court
@SenJohnMcCain: .@POTUS can sign whatever executive orders he likes, but the law is the law - we're not bringing back torture
@VeronicaStrac: As of Jan. 20, President Donald Trump has signed: -4 executive orders -8 presidential memorandums -1 proclamation
@markknoller: Do you know what a Quaich is? It's a two-handled cup or bowl from Scotland. Pres Trump to get one tomorrow from British PM Theresa May.
@RogueNASA: Science is not a partisan issue. Science is the foundation of our society—we owe so much to peer-reviewed scientific research. #resist
@KFaulders: Spotted in my @Flywheel class today: @IvankaTrump.